You will never hear that there is nothing to eat when you venture to Las Vegas (just as you will never hear that there's nothing to do).  From world-famous Pink's hotdogs to Le Cirque or Guy Savoy, there is something for everyone.
Gone are the days of the really inexpensive buffet meals.  Well, I shouldn't say that they are all gone – there are some but you get what you pay for (and in my case, it is a stomachache 95% of the time).
Nobu
Nobu in Caesar's Palace takes the cake as my favorite Japanese restaurant ever.  We started our meal with the black truffle salad that isn't on their menu but offered as an occasional special.  Being truffle fanatics, this salad was perfect for us.  We followed it with king crab ceviche, served a lettuce wrap style.  Of course, we tried their sushi, but by far a MUST try is their black cod.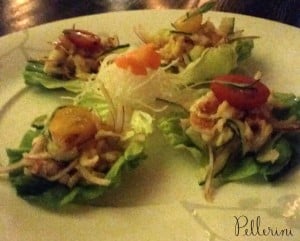 Il Mulino
If you're looking for Italian, there's no better place in my opinion than Il Mulino.  When we mentioned to our friend that we were going there, he was quick to say, "Don't over order."  I wish we listened.  Our eyes were much bigger than our stomachs, but as you read the menu and hear about the specials, you can't hold back.  Well, at least we couldn't hold back.  Our dinner started out with fresh cheese and bread, and salami.  We shared a delicious salad and then moved on to the white truffle pappardelle (see the truffle love here?) and stuffed veal chop.  All was delicious BUT we do also recommend the veal osso bucco (also not on their menu but ask for it!).  My husband, a total foodie, has dubbed it the best osso bucco he's ever had – even better than his own!
SW Steakhouse
The Wynn offers a lot of great food options – SW Steakhouse being my favorite.  Ask for a table outside so you can experience the Lake of Dreams show boasting over 4,000 lights, holograms, and puppetry.  The shows run nightly every half hour from dusk until 11:30 pm.  I thoroughly enjoyed their Tuscan kale salad, followed by the chile-rubbed double rib eye. SW is definitely pricey but great for a special night out.
China Poblano
Situated in the heart of the Cosmopolitan, China Poblano offers a fresh take on a fusion of Mexican and Chinese food.  Seriously.  Whether looking for a light bite or a full meal, you'll find a dish that is both inventive and fulfilling.  Think noodles meets tacos.  My favorites include their traditional siu mai, langosta tacos, ten treasure noodles, and twenty-vegetable fried rice.
The Henry
Open 24 hours, The Henry is ready and waiting for your appetite at any time of the day, but my favorite meal there is breakfast.  I start off with their freshly squeezed orange juice so aptly served in a martini glass.  I always order The Henry Breakfast and choose gluten-free bread.  Their gluten-free bread is the best I have ever had.  EVER.  My hubby usually goes for either the all-natural omelet (with extra tomato coulis) or the pulled pork breakfast sandwich.  Everything has been spot on yummy, service is great – it is, what I consider, the best way to start your day.
Joe's
Originated in Miami (and always packed), Joe's is just as well-received here in Vegas.  Joe's is the standard when it comes to Florida stone crabs, but be sure to try some of the delicious salads and sides.  The seafood salad is phenomenal.  The hash browns are my all-time favorite and their key lime pie takes the cake (no pun intended).  Joe's also offers a gluten-free menu, from appetizers to salads, main courses, and more.
Bacchanal
Noted as the best buffet on the strip Bacchanal is located within Caesar's Palace.  Seafood and dessert top the list as must-eats here.  In lieu of the conventional strip buffets where food is mass cooked, here the food is prepared to order.  There are more than 500 daily offerings, so I feel comfortable saying there is something for everyone for sure!  Definitely taste the fried chicken and waffles, mini wagyu sliders, and crepes – but don't forget the macarons and gelato alongside other gluten-free desserts.  Avoid the insane lines by using the check-in kiosk.
BLT Burger
Looking for a good burger?  Check out BLT Burger in Mirage.  Known for "hip burgers", I had to check them out during a business trip – I used to eat a cheeseburger almost every day (back in the day).  I highly recommend the Interstate 80 – between the bacon, pickles, and BBQ sauce, one cannot go wrong.  Also, I recommend adding some onion rings to boot!
Lotus of Siam
You'd never expect to find some of the best Thai food in Las Vegas, and I may even go so far as to say in the United States, in a somewhat rundown strip mall OFF the strip.  Lotus of Siam is a hidden gem, worthy of setting foot off the strip for sure.  Start with Tom Kah Kai soup.  Follow that with one of their legendary main dishes – meat, chicken, fish – so many delicious options to choose from.  We loved the braised short ribs with panang.
Secret Pizza
You know how when you're out late at night there are times you crave a delicious slice of pizza?  Enter Secret Pizza in the Cosmopolitan.  It's somewhat of a secret as there are no signs and it is located down a long record-lined hallway in between Blue Ribbon Sushi and Jaleo.  Follow the smell to what I consider the closest to New York pizza that you'll find on the strip.
Honorable Mentions
Stack – Stack's adult tater tots stuffed with bacon and brie are insanely delicious, along with their cucumber martini which was like a salad due to the ornate topper of cucumber and tomato.
Bouchon – Aside from Laduree, Bouchon has some of the best macarons!  Grab a delicious cup of hot cocoa or tea to go along with these delicacies.
Do you have any favorite eateries in Las Vegas?  I'd love to learn about new ones to visit on our next trip!