My husband has been going to the Consumer Electronics Show for the past 10 years (or more…) in Las Vegas.  This show is one of the largest shows that Vegas hosts, the annual car show being a big contender.  I would always hear from him about the coolest electronics that were coming out…what we HAD to get, yada yada.  Three years ago I met him in Vegas during the show, but I never really went to the show until last week.
I arrived Thursday evening at about 8 pm,which was 11 pm my normal time (EST).  My husband was all ready to go to dinner and hang out and I truly wanted to go to bed. BUT…I was in Vegas…I had to suck it up.  I took a shower, dressed up and we went to a very interesting restaurant in the Cosmopolitan (the hotel we were staying at).  This restaurant was very interesting – China Poblano – a fusion of Chinese food and Mexican food.  Seriously.  I was so tired but had to check out the menu, order my usual glass of pinot noir and steamed dumplings, while my husband ordered a mexican soup and then some more dumplings.  It was so odd, but very cool at the same time.  The menu offered a mixture of tacos and beef a broccoli but with a twist.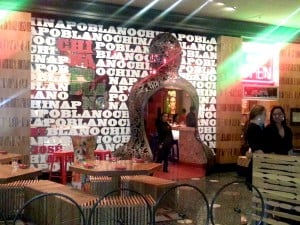 After a super long day of work and then traveling, I couldn't wait to get back to the room and sleep.  The room was very nice!  You walked into a nice sized seating area with a huge flat screen TV above a desk.  Across from that was a mini kitchen with a dishwasher, fridge, sink and microwave.  Walk into the dressing area and there is a nice-sized closet backed with Fornazetti wallpaper…nice!  The bathroom – so nice.  If you look into the insanely huge shower, you see the soaking tub (all in one space).  Ridic!!
Please excuse the terrible quality of photos.. I had to use my phone's camera which I thought was great until now LOL.
The hotel was filled with very cool art installations
That was Night One…stay tuned for the actual CES show 🙂