**Please note that although I received admission to Lion Country Safari and lunch from Dunkin' Donuts, all opinions are 100% my own.  I had a blast!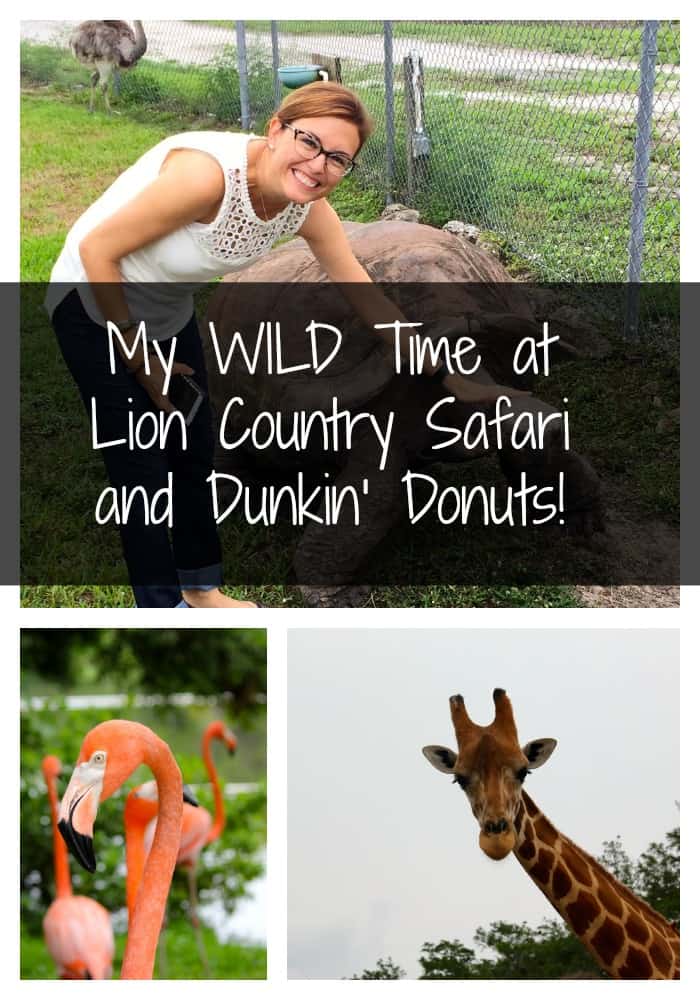 I was so excited when I was asked to take a behind-the-scenes tour of Lion Country Safari in West Palm Beach, followed by a tasting of some of Dunkin Donuts' new products – all part of the #DDRoar campaign.
I woke up early that morning, kind of like a kid on Christmas morning…I was so excited about the Lion Country Safari!  My boys did shoot me some not-so-happy looks when they realized I was going without them – they LOVE Lion Country Safari and ask to go there all the time.  We've gone as a family a handful of times, and it is always included in the itinerary when family and friends visit from out of town.  But now was MY chance to go and get a cool tour, learn more about the animals and then try some yummy food and drinks.
Once everyone arrived, we spoke a bit with the marketing team and met our tour guide for the day, Brian Dowling.  This guy was a walking wealth of information about Lion Country Safari and all of the animals.  You could feel the passion he had for his animals.
We then all piled in a minivan and off we went!  Our first stop on the behind-the-scenes tour was to meet Sir Lancelot, a 100-year old tortoise that weighed in at about 770 pounds. He let us pet him – I don't know if "cute" would be the appropriate word for him, but definitely "cool".
As we drove past the different inhabitants, Brian offered up some cool tips.
Lion Country Safari houses the largest giraffe and white rhino herd in North America.  And we were going to see them all!
They also are home to the largest herd of zebra outside of Africa.
LCS was the first "cageless zoo" in the nation.
The next stop was to the Gorongosa Reserve, where the lions live – and we were going IN there. Obviously in the minivan, but still!  Brian explained to us that they were going to set up an enrichment for the lions, something in collaboration with Dunkin Donuts (hence the DD part of #DDRoar).  Since Dunkin recently introduced their cheesecake squares, Brian's team was going to try to "replicate" a raspberry cheesecake square for the lions by taking 4 cardboard boxes and covering them entirely in the vanilla pudding (a new food for the lions – would they like it?!) and then raw meat and blood.  I think they did a pretty darn good job!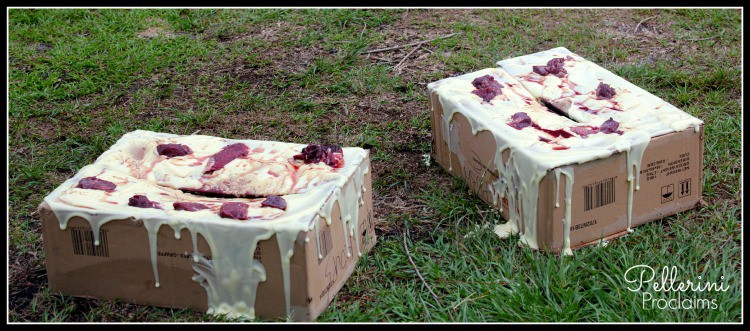 When we got the news over the radio that the lions were being let into the area, we were all pointing our cameras and camera phones in the direction of the gate. Here's a photo just to give you a perspective of the proximity of our vehicle to where the lions and the makeshift squares were.
Here's how some of the lionesses reacted to the enrichment:

Lions are magnificent animals.  They like vanilla pudding too!
Next, we went to, what Brian said, was what he believes is the best part of our tour.  We were introduced to Buck, a 48-year-old Southern White rhino.  Weighing in at about 4,300 lbs., this was one gentle giant.  He loves to be pet and get his belly rubbed.

Keeping with the rhino theme, we visited Blossom and her mom.  Blossom is only 2 months old and needs to stay in a pen along with her mama for another month.  Then she will be introduced to each member of the herd individually.  She's a cutie!
On to the giraffes!  We fed them lettuce and got to see up close their beautiful eyelashes and insanely long black tongues.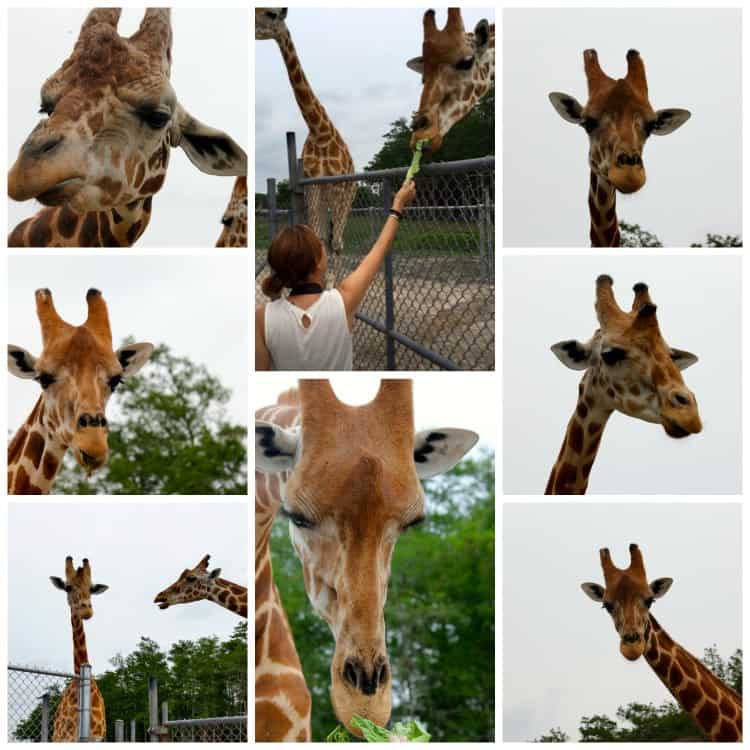 We also fed the Lorys (one was very fond of Toby's head) and spent some time with the flamingos.  The flamingos, although really beautiful, were a bit intimidating.
At the end of our tour, we were gifted Summer Savings Passes – I was so HAPPY (and the boys were super happy when I showed them the passes that evening – I was off the hook)!  From May 18 – September 30, you can visit Lion Country Safari, Miami Seaquarium, Museum of Discovery and Science and Zoo Miami as many times as you want.  Adult passes are $56 plus tax each and a child pass is $46 plus tax.
What better way to end the day with some Dunkin Donuts!  We caravanned over to the local D&D and tried their bacon guacamole flatbread sandwich and pretzel roll chicken sandwich.  Refreshments included their new mango passionfruit Coolatta and my personal new favorite, the Arnold Palmer Coolatta (you can also get a sweet tea, lemonade, and sweet tea/lemonade combo) – delish!  Dessert included the Oreo and Raspberry cheesecake squares.  I didn't leave empty-handed either.  My new favorite coffee drink is the iced cookie dough latte…ridiculously yummy!
Just so you know, every day from 3 pm – 6 pm medium hot or iced lattes are just $1.99 at participating South Florida locations.  I might need to go there this afternoon!