My husband loves his osso bucco.  So much that he orders it wherever we go that offers it as well as cooks it (wonderfully) at home.  This is a great comfort-food dish!  Ready to learn how to make it?
YOU WILL NEED:
3/4 cup flour, we use Cup4Cup gluten free flour (you can substitute for conventional)
1 tsp salt
1 tsp pepper
4 two-inch veal shanks, tied (you can ask your butcher to cut them to this size)
Medium yellow onion, chopped
2 carrots, peeled and chopped
1 celery stalk, chopped
4 cloves of garlic, chopped
1/4 cup olive oil
2 tablespoons tomato paste
1 can (14.5 oz) diced tomatoes, strained
2 cups red wine
2 cups beef broth
1 tablespoon thyme
1 tablespoon dried oregano
1 bay leaf
2 tablespoons veal or beef demi glace (we used Demi-Glace Gold)
4 tablespoons fresh parsley, chopped
Salt and pepper to taste
TO DO:
Preheat oven to 325 degrees.   Heat 1/4 cup olive oil in a dutch oven on medium to high heat on the stove top.  Pat veal shanks dry with a paper towel. Combine flour, salt and pepper in a small shallow dish.  Dredge the shanks in the flour mix (all sides) and make sure to shake off excess.  Add veal shanks to dutch oven and cook for 15 – 20 minutes, cooking all sides.
Once all sides have browned, remove the shanks and set aside on a plate.  Add onions, carrots, and celery to the dutch oven, cooking for 6 – 8 minutes, until soft.  Add garlic and cook for another minute.  Add the tomato paste, cook for 1 – 2 minutes.  Add the red wine and scrape the bottom of the pot to get all pieces up.  Add beef broth, demi-glace, thyme, oregano, and strained tomatoes to the pot.  Stir to combine.  Add veal shanks back into the pot, and 1 tablespoon of salt and 1 teaspoon of pepper and bring all to a boil.
Cover and put in the oven.  Cook until fork tender, approximately 2.5 – 3 hours.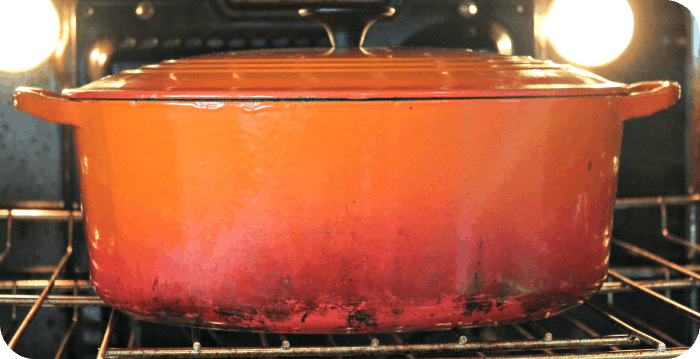 Remove the shanks from the pot, trying to keep the meat and marrow together (we use a spatula).  Simmer remaining sauce over medium heat for 15 minutes – this reduces the sauce.
Serve with your favorite pasta or rice.  We prefer fettuccine (gluten-free if available).  Spoon sauce over osso bucco and carb of choice.
Here is the final product…it tastes even better than it looks!