*There are affiliate links in this post. If you purchase via one of these links I may receive compensation. I purchased Trendsend totally on my own and the opinions are 100% my own!
Of course on the day that I go shopping with my mom and sister, my latest Trendsend is left at my front door. We had a fun and successful shopping experience at Nordstrom and H&M and I thought I was all set for the Fall season. Then I opened the box, and I have to say – this is one of my most favorite clothing subscription boxes yet. My stylist has what I like down pat.
As I opened the box, I really believed that I didn't need anything more and that I would just show my sister and mom what was sent, and then package it up to send back. That totally did not happen. (If you know me, you probably figured this would happen, right?!)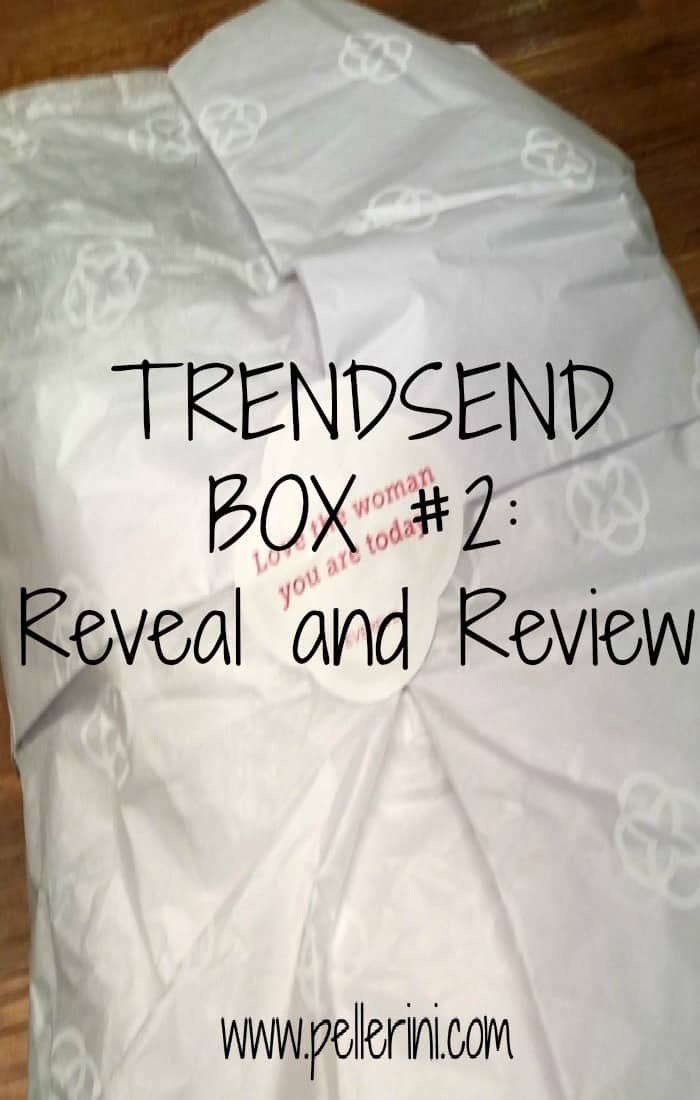 Basics are the building blocks of any wardrobe, and this cute white tank fit the bill. I loved the high-low hemline. It was on sale for $29.99, which was nice, but it was a bit tight in the upper area so I had to send this one back.
PEYTON JENSEN MANITOBA BRUSHED TUNIC
Soft is an understatement when it comes to this tunic. Wow…I want to pet it all day. I love the color (you know me…I love my white, black, grey, navy…) and the pocket is perfect. It was recommended to wear this over the tank mentioned above, and the legging mentioned below. I can see myself wearing this with any leggings or jeans, as it is super versatile!
EXCELSIOR ROCK AND FRINGE PENDANT
This was fun and trendy, and my new thing is longer necklaces. I didn't keep it though because #1 it was $38.00 and #2 the rock and fringe weren't laying right against my shirt. Oh well.
I would have NEVER picked these leggings up in a store to try on. If I saw them online, I would've scrolled right past them. That is why I love these subscription boxes…I don't know how Jill, my stylist, did it but she found my style. They are pull-up leggings in a great navy and black plaid. I loved it with the tunic mentioned above but could also see myself wearing a black top with them as well.
Here is the finished outfit!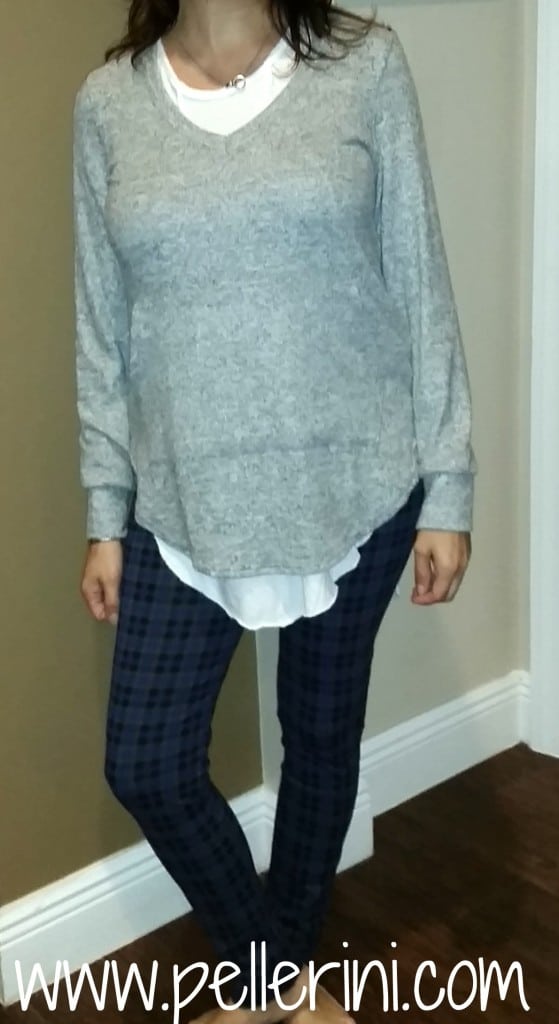 As you may have noticed, I am big into plaid. I picked the plaid boyfriend shirt from my last Trendsend box and cannot wait for the weather to get a bit cooler so I can wear it! When I first saw this dress I was less than impressed. It looked OK, but you know what they say – you have to try it on. That is so true. I found a tank in H&M immediately caught my eye and I could visualize how cute it was going to look with black leggings. I tried it on and it looked fabulous…on the hanger.
This dress fit perfectly. I couldn't believe it. I am picturing this with leggings and high black boots. Jill recommended a bootie, wedge or anything with a little heel as well.
This scarf is great. I loved the dark charcoal grey and the fringe. My sister loved it more so it went home with her. A great buy at $28!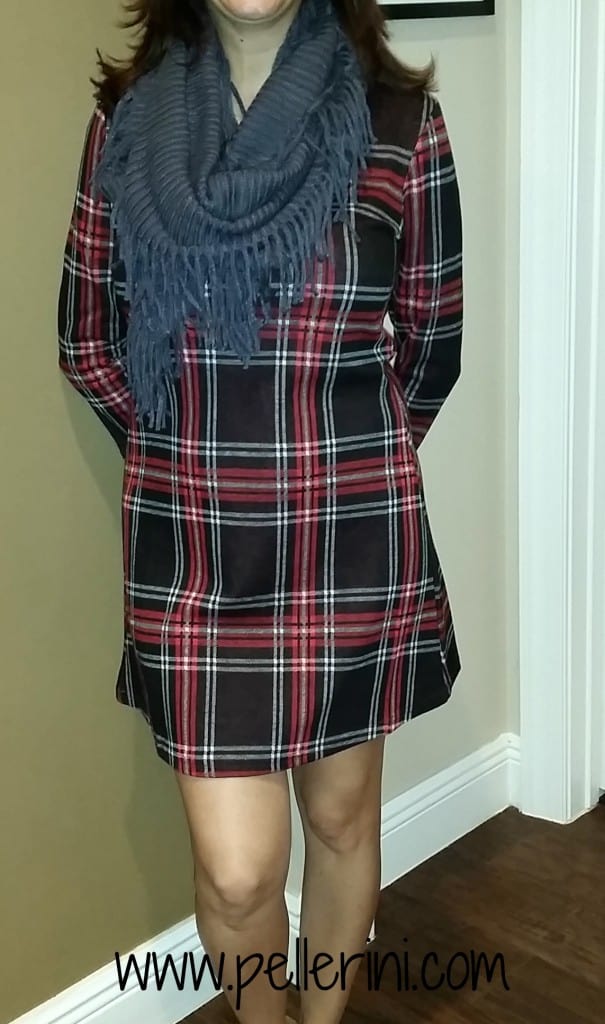 All in all, I received an AWESOME box. I love that I receive outfits. It's not that I cannot put an outfit together, but I have a tendency to pick up pieces here and there, to get home and realize it doesn't go with anything I have. Super frustrating. This is a no-brainer box.
The box is geared toward busy moms which is a great niche to speak to. As a working mom, I love to go to the mall and shop but I hardly ever have the time to do so. Why would I step foot in the mall when I have my new best friend, Jill, picking out great pieces for me. I try them on in the comfort of my own home. I am not charged for anything that I send back (no stylist fee either!).
Do you receive any clothing subscription boxes? If so, which one?