*Please note that the links below are affiliate links.  They incur no extra cost to you, should you purchase from one of the links, but they help support this blog!
If I had a million dollars…if I had a million dollars.  That is what I think when I peruse through fashion magazine after fashion magazine oogling at the 2016 Spring fashion trends.  (I also think of the song by The Barenaked Ladies, but I digress.)
There are so many fun trends this season that I couldn't pick my favorite, so I opted to show you my top 5.  It was hard to choose but I mustered through.
FLORALS
I never in a million years thought I would like florals.  Yes, they are beautiful and feminine but when I would think of florals, Laura Ashley would pop into my mind and I would immediately envision a comforter and frilly dust ruffle.  The modern floral has come a long way.  Now you see designs in watercolor, embroidery, not so squished together floral patterns.  Below are my favorites.
FRINGE
Fringe has been in style for ages, and I don't see it going away any time soon.  Season after season, I see fringe on just about anything – and love just about anything with it!  Fringe adds movement to whatever it embellishes.
CUTOUTS
This trend took a little bit to get used to.  Cutouts are now found on shirts, pants, shoes.  That little peek of skin add a "wow" to the piece.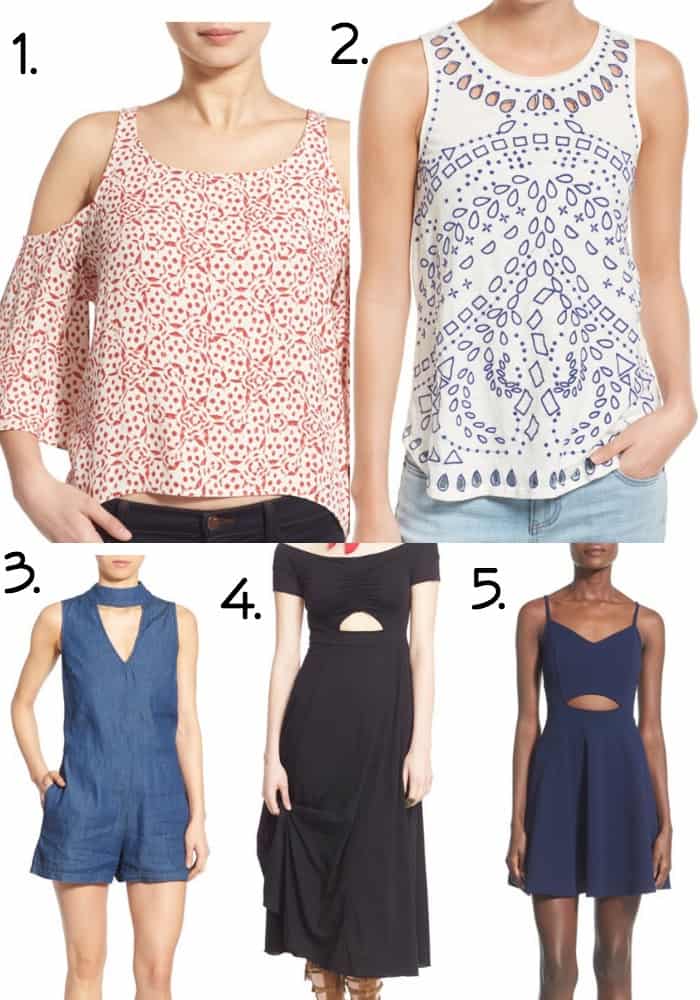 COLD SHOULDER
First off, I love the name of this trend.  It aptly defines what it is.  The shirts you find within this trend show off the shoulders – possibly making them cold.  Either way, I can't wait to get my hands on one or two tops.  There are a lot to choose from – form fitting or blousy and flowly.  Both exude sexiness.
DENIM
Jeans go many ways this season.  The flared jean stays in the picture (thankfully as I love my miH jeans so much!) as does the high-waisted skinny jean that my midsection adores.  Which style is best?  The one you feel most comfortable in.  Aside from style, there is a myriad of washes and lengths as well.  Options seem endless, so you can pick the style that you foresee will make it through a few seasons.  I highly recommend investing in at least one quality pair of jeans – the pair that makes your butt look fabulous and makes you feel like a million bucks.  After that you can pick up some cute trendy styles for less.

SPRING FASHION TRENDS RECAP
So if you had to choose one Spring trend as your favorite, which one would it be?