My family was invited for a two-day Boca Raton staycation at the AAA Four Diamond Waterstone Resort and Marina – what better way to celebrate my birthday weekend, right?
A Bit of History
When my husband and I were dating, he worked as a concierge and valet at this hotel, once called the Radisson Bridge.  We used to go to the restaurant at the top of that same hotel for special events such as Mother's Day.  It's been quite a few years since those fun days, but memories flooded in when we pulled into the parking lot.
BUT – there was a HUGE change.  The Hilton has since taken over, renamed it Waterstone Resort and Marina, and renovated it into the beautiful Boca destination it has now become.
A Quick Tour
Back in the day, you would drive up to the entrance of the hotel which was almost like driving into a cave.  The front desk was immediately inside in front of you, with Watercolors the waterfront restaurant immediately behind that.
Now, you drive up to a light and airy entrance.  You can either valet or self park, both being $22.00 per night (I personally opted to valet.).
We learned that they took special care when redesigning your first impression of the hotel.  By transforming what was once a portion of the driveway up to the old entrance, and some of the covered garage, you are now welcomed into a short hallway, directing you to the front desk.  I loved seeing a guest check it with a dog – the hotel is dog-friendly (up to 25 pounds).
On your way to your room, you pass a super cute gift shop that carries the necessities plus some gifts to bring home to the family.
Both Boca Landing, known for prime seafood and crafted cocktails, and Waterstone Rum Bar & Grill are next on the way to the elevator.  You will always find the perfect waterfront spot for a bite to eat.
The Room
The rooms are best described as contemporary with clean lines.  Each room at Waterstone has its own private balcony overlooking Lake Boca.  Our room had two!  We entered into what I'd like to call a living room – super cool couch that pulls out to a bed, flat screen TV, fridge, and wet bar.  A door lead to the main bedroom with a king size bed, flat screen TV, and a huge spa-like bathroom.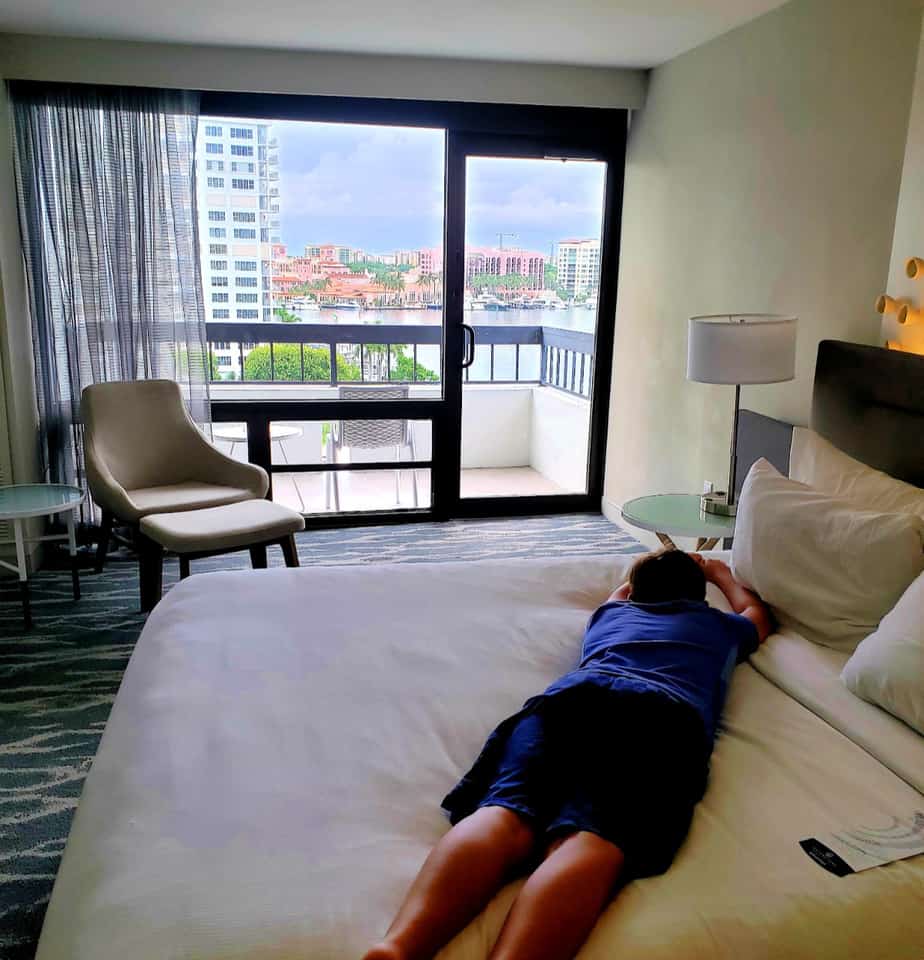 Activities
There are quite a bit of activities to do during your stay!  You can rent jet skis, kayaks, and paddle boards right onsite.  (And you don't have to be a hotel guest to do so!).  There's so much to do The daily resort fee includes beach chairs, towels, and umbrellas; two bike rentals for two hours per day, 24-hour fitness room access, and local shuttle service within a three mile radius.
Minutes from the beach, Deerfield Beach pier, and the amazing shopping centers, Waterstone is the perfect staycation location!
Check out all that the Waterstone has to offer and if you're in the area, be sure to drop a line and say hi!