I've heard from so many families that they have a love/hate relationship with going to Disney World for vacation. It is undeniable that seeing the joy in your child's eye the first time they meet Mickey Mouse, or the shear awe of of walking down Main Street and seeing Cinderella's castle is one of the most special things you can experience as a parent.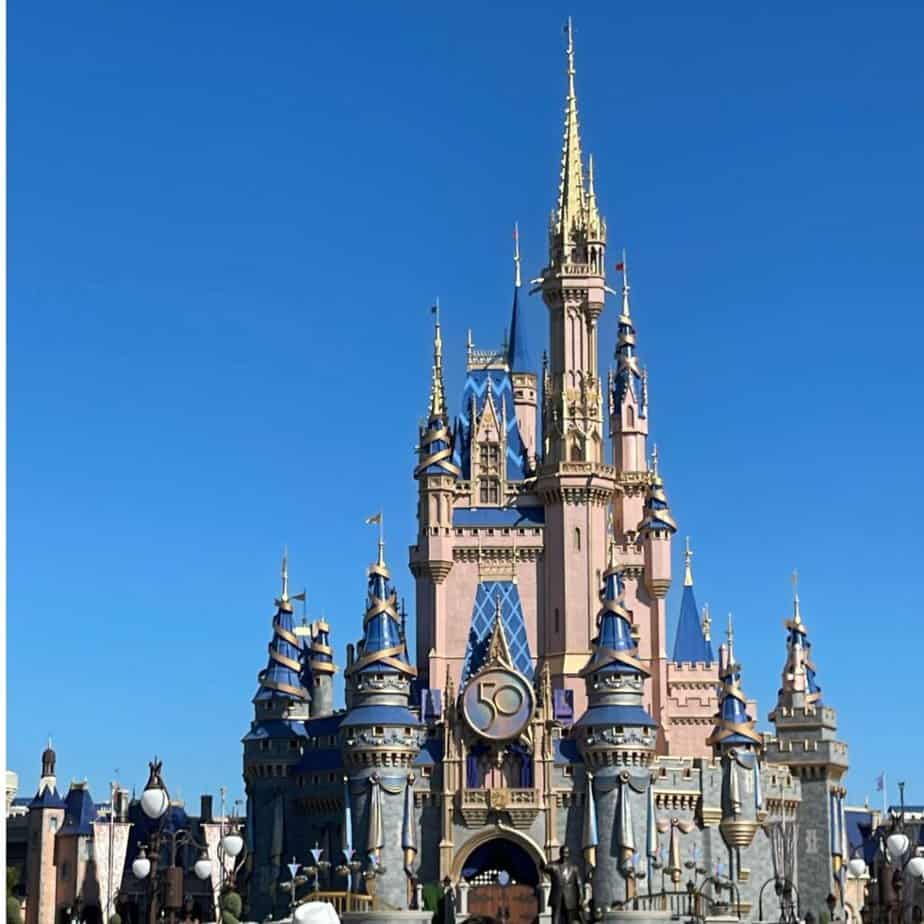 The flip side of this is it is often fraught with stress. Long lines, heat, tons of walking, trying to rush to get to your next fast pass/genie reservation, tired/temperamental kids (we've all been there), etc. As the kids get older, the Magic Kingdom often falls near the bottom of the priority list in the kids' eyes – they think it's too childish and would prefer Star Wars in Hollywood Studios or Guardians of the Galaxy in Epcot. 
Have you ever been to Magic Kingdom without kids? Had a couples trip or went with a few friends? When was the last time you visited the Magic Kingdom? Done the right way, this is one of my absolute favorite ways to spend the day. Here's my rules, tricks and tips to make it a Magical Day.
Rule #1 – Don't wait in line
Rule #2 – Don't stress over dining
Rule #3 – Go at your own pace
Rule #4 – Don't setup and wait for a parade.
Rule #5 – If you see a character with no line – take a picture with them!
Rule #6 – Relive your childhood. Be a kid!
Tip #1 Start the day right. Arrive close to the time that the park opens.
The park starts to surge around lunch time. As you are going in to the park, in your Disney mobile app, purchase the Disney Genie option ($22 per person) for your tickets and also book a lightening lane reservation ($11 per person) for the Seven Dwarves Mine Train (best ride at Magic Kingdom). If you don't do this early it will sell out. The ride averages a wait of 2-3 hours. When you pick up your tickets figure out what you're celebrating and get a button – this makes for a lot of fun :), Figure out what your favorite attractions were as a kid  – Haunted Mansion, Thunder Mountain, Space Mountain, Pirates of the Caribbean? Start booking lightening lane reservations to your favorites. You can book one every 2 hours. Adulting is now officially over :). It's time to enjoy and see Disney like you haven't before.
We always opt to ride the Ferry to the park instead of being packed in like sardines on the  Monorail. It's a pleasant ride with the open air and wind in your hair. After arriving at 10am, we walked down main street at a relaxed pace, pausing to take as many silly pictures we could along the way, skipping down main street as well. All part of the fun and setting the mood.
At that point we were thinking we hadn't had breakfast. How many times have you told your kids they can't eat sweets for breakfast? Guess what, we didn't have those rules today! Our breakfast was a peanut butter chocolate chunk cookie, a chocolate covered frozen banana, and a strawberry lemonade popsicle. All three are my absolute favorites, the frozen bananas taking me back to my childhood. 
At 11:30 it was time for our first lightening lane at Thunder Mountain – one of the classic Disney rides. It brought back memories of being so scared to ride this big scary roller coaster. Now it is just enjoyable. Not scary or intense like some of the roller coasters that make you dizzy. Is it just me that notices as you get older your tolerance for roller coasters diminishes? I love just taking in the thrills of the ride, waving at people, singing, and other nonsensical things. 
After that we wandered into Fantasyland to look at It's a Small World – the line was 45 mins  (see rule #1).
Right next door to Fantasyland was Be Our Guest. One of the two signature restaurants in the Magic Kingdom – the other being Cinderella's Castle. Both are notoriously hard to get reservations for. But guess what, we walk up to the host in the front of the chateau and asked if they had a table for two. He said of course they did (see rule #2). We waltzed right in like Belle and the Beast and enjoyed a nice relaxing lunch while being delighted by the whimsy of the castle. And oh by the way, we also had a nice bottle of wine with lunch :). Not something you would typically do with kids. Beast even stopped by to wish me a Happy Birthday and to give me a card – the buttons work!
Tip #2  Gaston's Tavern next to Be Our Guest sells beer!
For much of Magic Kingdom's history you could not get alcohol outside of the signature restaurants. 
Now our next lightening lane appointment was ready – the Haunted Mansion! In a weird way, there is something very romantic about this ride. The private pods make it the perfect place to sneak in a kiss. For being a classic Disney ride it really holds up well. Make sure you read all the tombstones for the corny wittiness. We spent fifteen minutes then making up our own ridiculous tombstone slogans. Upon leaving the ride we booked our next lightning lane for Pirates of the Caribbean.
Post lunch the temperatures were rising so we decided to head over to Tomorrow Land, but along the way we saw the Hall of Presidents. I had wanted to go there for over two decades (last time I was there Reagan was President), but for some reason I could never figure out why the kids never wanted to go???  Along the way to Tomorrowland we popped in and caught the next presentation that was starting in 5 minutes. This gave us time to look at some of the historical artifacts on display and on loan from presidential libraries around the country. The show was a quick 15 mins and the animatronics are amongst the best in Disney. 
Walking over to Tomorrowland I realized I had never been on Carousel of Progress and M was beside himself. It is only the longest running show in the history of America theater and the oldest attraction in Disney World that was touched by Walt himself. This was arguably his favorite ride in the Magic Kingdom and I had never been on it. Now you maybe asking yourself – really, why is the best ride at Magic Kingdom? 
Tip #3 – Cool off and recharge at the Carousel of Progress mid-day.
There is never a wait and the theatre is nice and cool. The show is 21 minutes in length and is the perfect place to take a nap. If you're really tired ride it twice!!! Honorable mention goes to the People Mover.  After coming off the exhilarating performances, we were singing "Its a great big beautiful tomorrow" for the next 10 minutes.
It was time for another strawberry lemonade popsicle, just because I can. Then it was time to zigzag back to Adventureland for the Pirates of the Caribbean. At this point I was regretting I didn't reserve an electric cart. Nothing more fun that zipping through people on the scooter, with attached bluetooth speaker, and cup holder for choice beverages. Along the way we stopped at several shops. At each stop, we tried on every piece of headwear possible and took silly pictures – all flavors of mouse ears, tiaras, etc. In the shops we played with all the things we would yell at the kids for, especially sword fighting with the plastic swords.
Tip #6 – Look around. The people watching is often more entertaining than the rides itself. I won't say much more about that.
Pirates of the Caribbean is yet another classic, but was revamped after the Johnny Depp movies to incorporate Captain Jack Sparrow. If you last rode this when you were a child, did you notice they changed the scene where the pirates were chasing the women to now where the women chase the pirates?
At this point we had about 30 minutes until our lightening lane reservation for the Seven Dwarves Mine Train. One of the parades was going on so, we enjoyed it as it passed by . No setup (see Rule #4) and watched it for 10 mins as it passed by. We still had 20 mins to kill so guess what? Time for another popsicle!
Finally it was time to go on the Seven Dwarves Mine Train. With the reservation we went right to the front of the line. The other line was a 120 minute wait! This ride is brand new and visually stunning – without a doubt the second best ride at Magic Kingdom behind the Carousel of Progress.
Tip #5: Have dinner outside of the Magic Kingdom. Disney Springs is the best option.
The day was winding down and we decided to head out to enjoy the rest of the night, riding the ferry back and enjoying a beautify sunset. We had secured reservations at Jaleo in Disney Springs for a tasting menu filled with Sangria and Iberia Jamon de Pata Negra. The icing on the cake was a late night night trip to Jellyrolls at the Disney Boardwalk, which is hands-down the best dueling piano bar we'd ever been to. It is 18+, so the drinks flow freely and the songs can get rather hilarious. That was the end to a Magical Day at the Magic Kingdom.
To recap:
Total Rides = 6
Time spent in line = 0
Stress = 0 (if you don't include picking between the frozen banana and the popsicle)
Naps taken = 1
Playful kisses = A lot
Strawberry Lemonade Popsicles eaten = 3
The Magic Kingdom truly is the Happiest Place on Earth no matter how old you are.