*I was given a complimentary photo session in exchange for an honest review.  All opinions are 100% my own!
Photographs capture memories that last a lifetime.  Ever since I can remember, my father would be behind a camera taking pictures of my sister and I – and there are albums upon albums to prove it.  In today's world filled with technology, it is easy to pick up your smartphone and snap a pic of your kids playing in the sand or at their first school play or concert.  But there is something about a true photographer.  Her love for the art comes through in the final product.  Can she been there on the beach or in the school auditorium with you? No, but when you get together for a sitting, it is like magic happens!
A few weeks back, my boys sat for a photo shoot with Courtney Ortiz.  I was quite excited considering the last time I had professional pictures taken of the boys (aside from the obligatory school pictures with the sterile blue background) was over 5 years age – eeek!
We picked the kids up from school and off we went.  On the car ride to the studio, I tried to explain to the boys what to expect and how to act.  They are awesome boys but, in the same respect, they are BOYS.
The studio was light and airy with examples of Courtney's work throughout.  I couldn't believe how nervous I was and I wasn't the subject matter!  Right away, Courtney started interacting with the boys, making them feel at home.  The photo shoot went smoothly.  I was so impressed with how Courtney was able to evoke the smiles and "real"-ness of my little men.
R and I were called in for some pics as well, and I have to say – it was a lot of fun!  Who doesn't want to tickle their kids, smile and laugh – and then have the outcome be this:
This is how the photo shoot ended, in typical N & G style!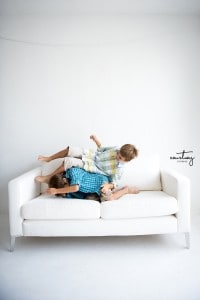 When I received the proofs via email, I couldn't stop saying, "Awwwww", and "O-M-G", and "Babe, can you please come over here and see these?! They are amazing!" I had the honor to get to know Courtney a little better.
Interview with Courtney Ortiz:
Coffee or Tea? Coffee, although I haven't had a drop of coffee in two months since using the "Thrive" Vitamin supplements. But that's an interview for a different day!
Red or white wine? Red in the fall and winter and White (sauvignon blanc) in the spring and summer.
Favorite place to visit? My aunt's blueberry farm outside of Tampa "Lyna Berry Farms" and/or Asheville, North Carolina to visit my grangran.
Flower of choice? Hibiscus and Tulips
What would your ideal day look like? Sleep in till 8, go for a run, and have an amazing day with my 3 kids free of guilt and ending with an fabulous meal.
Now about Courtney Studios:
When was the first time you picked up a camera? My dad was always the official family photographer growing up and I always loved taking pictures, but truly the first time I picked up a camera was after the birth of my oldest son.
When did you realize it was going to turn into a career? As soon as I picked up the camera (see question above) I immediately thought it would be fun to turn into a business and I immediately did it. I knew nothing, learned everything and never looked back.
If you could pick one person to take photographs of, famous or not, whom would it be? I'd love to travel to NYC and photograph Joe Scarborough and Mika Brzezinki from morning Joe. And one celebrity family that I'm currently in conversation with and have been putting out in the universe for years.
Who is your favorite famous photographer and why? In my industry (family and child portrait photography) Lena Hyde is always one that I looked up to since day one. 8 years later, I'm proud to call her a friend and colleague.
What inspires you most? Determination and other successful business owners/entrepreneurs who have created something out of nothing.
What does a typical workday look like? during the school year we all get up at six and are out the door by 7:30. I'm either at the studio by 8:15 or if I hit the crossfit gym I'm in the studio by 10:30. I work school hours. I'm done for the day by 1:45 before I pick up the kids and start after school activities. I cook dinner most nights and best case all three kids are in bed by 8. I may or may not work at night (I am tonight), but honestly I hate working at night. It's my time to relax with my husband.
What is your best bit of advice to give women when it comes to balancing work and family? There's no such thing as balance. I'm always thinking "I should be more present at home" or "I should put in more time at the studio." So my best advice is "Don't feel guilty!" Do what you have to do. I love what I do, and I'm truly grateful that I created this amazing life/career/business for myself and my family, but the truth of the matter is I work because I have bills to pay and my studio contributes greatly to our family's income. I can't feel guilty for working when it's what puts food on the table and pays the mortgage. I take pride that I am showing my children what it means to work hard and to develop a life I love. I pinch myself to think that each day I walk into an amazing portrait studio that I created for myself. I have no one to answer to
Where do you see yourself in 5 years? Wow, in 5 years Courtney Studios will be celebrating 13 years in the portrait photography industry. We're currently working on building a school portrait division as well as increasing the number of clients that come to the studio for portraits. I'd like to have a handful of associate photographers working for me in the studio all the while continuing to provide our clients with the high touch intimate customer service that results in gorgeous one of a kind pieces of high quality portrait art, that we've been known for since 2007.
How can my readers learn even more about Courtney Studios?
Please connect with us: