It is so important to me to get in quality one-on-one time with each of my boys.  Last night I took my oldest son to the special screening of Disney Pixar's Inside Out.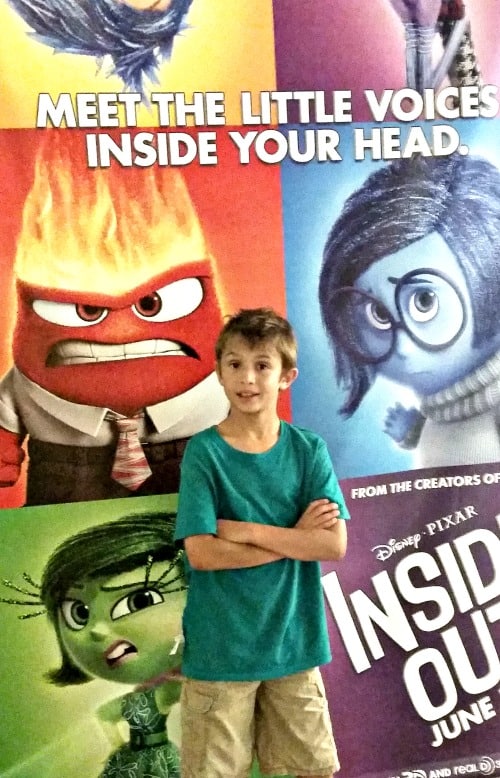 We grabbed a quick bite to eat with the family and off we went to the theater!  Laden down with popcorn and water (me), and Twizzlers and fruit punch (N), we found our seats and donned our 3D glasses. Based on the director Pete Docter of Monsters, Inc. and Up, we had a feeling it was going to be yet another awesome movie – and it was! It's hard growing up these days – add to that having your parents uproot and move the family to another state for a job transfer. Riley, a super happy young girl, is now in a foreign place without her friends and ice hockey teammates.  All of Riley's emotions:
Joy (Amy Poehler)
Fear (Bill Hader)
Anger (Lewis Black) 
Disgust (Mindy Kaling) and
Sadness (Phyllis Smith)
living within her mind, have to help her get through these hard times.  Riley's main emotion, Joy, tries her hardest to keep the team of 5 on track but something happens that shakes everything up – including Riley being able to handle her new life. The movie itself evoked different emotions, mostly joy (which I personally loved), but there were some times of fear, anger, disgust (she was funny too, in her own little way), and sadness.
This movie spawned from the often pondered question of parents of teenage children, "What is she/he thinking?"  My boys aren't teens YET, but I always wonder what's going on in their minds…how do they really feel?  Inside Out is like the answer to that question – each of the emotions have a job, and it is to evoke and manage their particular emotion.  What happens when one emotion go awry or even disappears?  The movie was so well thought out.  I enjoyed how the inner workings of our mind was depicted, in an educational yet fun way. This movie is perfect for both children and adults.  I appreciated the adult innuendos/humor that was injected throughout and loved the innocence as well.  I highly recommend checking out Inside Out…I can't wait to take my little guy to see it on Friday! In case you have yet to see the trailer, here it is below! Print up the FREE Family Activity Sheets and recipes to get your family super excited for opening night. Follow the emotions on social media too:
Follow and like INSIDE OUT on Facebook. 
Follow INSIDE OUT on Twitter.
Follow INSIDE OUT on Instagram.
Follow INSIDE OUT on Pinterest
Visit INSIDE OUT on Tumblr
Follow Disney/Pixar on YouTube
Coming to theaters this Friday, June 19th!
*I was invited to the preview in return for a review…all opinions are 100% my own.