I was very happy when Amber volunteered to guest post this week!  I live vicariously through her when reading about her various adventures.  Check out her latest one to White Mountain!
Hi! I'm Amber and I blog over at hungrymountaineer.com. I love to share my adventures in travel, trail running and the great outdoors in general. Whether I am camping or fishing or just taking my dogs for an early morning forest hike, crazy things seem to happen to me and I love to write about all my mountain adventures above six thousand feet.In the last two years I have been trying to transform myself into an athlete and trail runner and turn my diet into one that's extremely healthy (but without giving up my one true love, cheese!)
This is my tale of what happened to my boyfriend and I when we were off adventuring in the White Mountains of the Eastern Sierras. If you enjoy off roading, camping or hiking, this is a place you really must check out!
I woke up this morning covered head to toe in frost. Perhaps sleeping in twenty degree weather in the back of a pickup truck was not the best idea. To be fair, it's late July. We had planned out every aspect of our sierras camping trip months in advance and had no idea we were in store for the chilliest July in many, many years.
The plan was to tackle at least part of Mt Whitney on Wednesday. Before our trek up Mt Whitney we would be hiking White Mountain at 14,252 feet on the Saturday prior. The best way to do this would be to drive four hours to Big Pine, than drive another hour to get to the Ancient Bristle Cone Forest. From there it is an hour of off roading down a road that is just littered with extremely sharp rocks.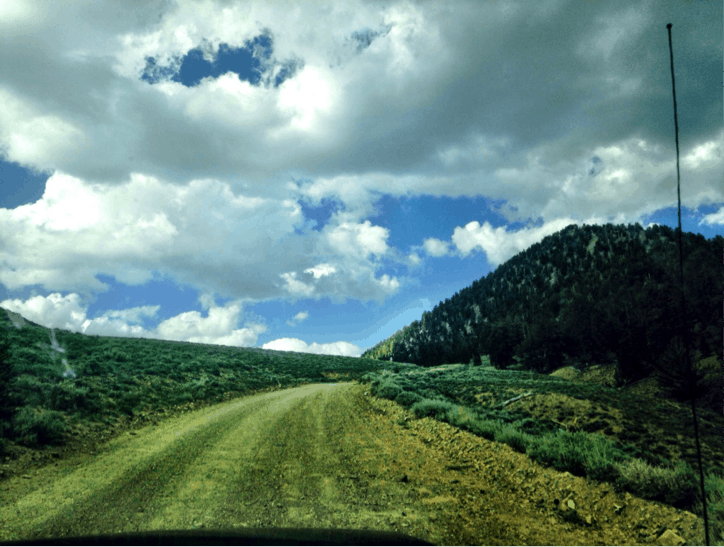 Now let me just begin by saying I did not want to Whitney Prep at White Mountain. I looked up pictures in advance and starting this hike at 11,680, feet it did not look pretty at all.
I like to hike in nature and all its green alpine glory. Trees barely grow above 12,000 feet and here in the highest area of the bristle cone forest they rarely see rain. The top of White Mountain looked as desolate as the moon. This was not going to be my kind of hike.
That's what I thought anyway in the days before.  Than we began off roading up White Mountain Road into one of the most breath taking ( in a high desert kind of way) forests I have ever seen in my entire life. This bristle cone and pinion pine filled forest looked like another planet.

As we continued up the long, long road to the locked gate where we would camp for the night I was shocked to see that even well over 10,000 feet all the fields of native flowers I saw on the sides of the road were lavender lupine and ruby red Penstemon.
As we continued deeper into this bleak yet unbelievably gorgeous forest we passed a few trucks here and there on the dusty dirt road but practically no one.
It felt like we were on top of the entire world as we stared down at the rust colored land that surrounded the tiny town of Big Pine.
I was just musing on how there must be not to much wild life at these elevations when we saw a beautiful brown stallion, his shiny coat glistening in the late afternoon sun! I felt like we were seeing a mirage! I mean I know wild mustangs still graze out here but this horse was so beautiful; he looked like Triple Crown champion American Pharoah!
He wasn't in any kind of corral or paddock so even though he was such a gorgeous horse we are just assuming he had to be a wild mustang.
We stopped to get a few pictures of "American Pharoah" than continued on, we had been off roading for so long at that point, almost an hour. Where was this locked gate/campground spot already?!
Every crest of the green hills we made as we stared at all the sage brush in the distance, we mused "That tall mountain there, MUST be White Mountain!"
Than the road would continue…
Finally, after almost an hour of off roading we came to a locked gate, with a Prius parked next to it ( a Prius?! Really?'! We were worried about popping one of the giant snow tires on the four wheel drive truck! It takes balls to drive a Prius up here!)
It was after six by the time we parked, celebrated the fact that there was indeed a pit toilet ( I honestly did not believe my boyfriend that there would be toilets all the way out here, of any kind) and ripped into our absolutely delicious sandwiches we had procured from the Lone Star Bistro in Big Pine, hours ago.
After dinner we went for a quick little walk up the beginning of the trail to White Mountain. (I'm glad we did; hiking at almost 12,000 feet is a challenge!)
Originally we had brought our mountain bikes and had been planning to bike the first few miles. As soon as we saw what the beginning of the trail up looked like I knew there was no way on earth we could bike it ( although the next morning we would see numerous cyclists more fit than me biking up White Mountain. The beginning of the trail was a super steep up hill and even harder as we had just arrived at the 12,000 elevation an hour earlier.
Adrian tried a mile of it on his mountain bike as I walked up with him. He gave up about thirty minutes before me and turned back around, completely missing the exceptionally cute marmot family I stumbled upon a few minutes later.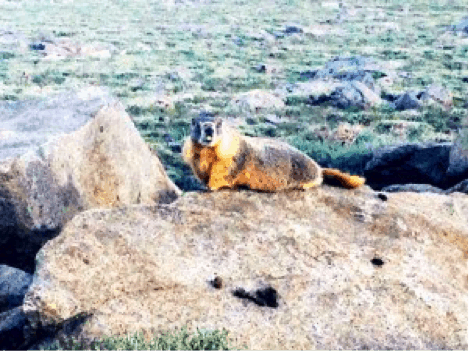 At least I thought they were cute until the next morning when our neighbors told us we should have wrapped chicken wire around our engine as marmots were known to sleep in nice warm engines and chew through wires.
The Marmot.
Natures biggest jerk.
We had made our comfy bed in the back of the truck after dinner and the hike. We layered our Teton sleeping pad, sleeping bags and pillows and gathered lanterns, head lamps and ear plugs and settled in to watch an amazing Eastern Sierras sunset from our truck "bed"
No joke, this fantastic sunset lasted almost two hours. It was so tempting to have a glass of wine in the evening as we were watching the sunset but I wanted to feel refreshed for the next mornings hike to White Mountain so I decided to say no to Pino Grigio just for tonight.
Six hours later I was thinking, I should have just had the wine; maybe it would help me sleep. Even with the expensive sleeping pad below me, my bony hips were digging into the bed of the truck. My hips were aching almost any way I lay. I was more comfortable if I lay on my back, flat but for some weird reason my toes were freezing when I lay like that. It was weird as our sleeping bags were rated to 15 degrees.
When we finally got up, freezing cold and desperate for a hot mug of coffee I saw why my feet were so cold…
I don't know how cold it had become during the windy night but the bottoms of our sleeping bags were completely caked with a layer of frost!
No wonder my toes were Popsicles!
As much as I just did not want to get out of my slightly some what warm sleeping bag, we had a mountain to conquer.
——————————————————————————————————————————————————
I hope you enjoyed this post as much as I did!  You can follow Amber on Twitter and Facebook!