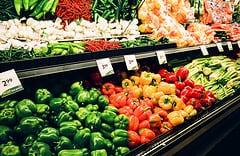 A few weeks ago I took a blood test at my doctor's office, called the Immuno bloodprint test.  This test was to determine if I have any food sensitivities, which in turn could be causing some of my ailments.  I didn't realize that food could be that "powerful" (for lack of a better word).  If you are sensitive or allergic to a food, that food could cause you to have headaches, joint pains, insomnia, nervousness, anxiety, depression, sinus issues, and the list goes on and on.
Last week I met with my doctor for a follow-up and test results, and wow was I surprised!!  I was shown the list of foods that I have a sensitivity to.  Out of 154 foods, I am sensitive to FORTY!!  Please note, that I was told numerous times by many of the staff at my doctor's office, that was the largest amount of foods ever seen in their office.  I didn't know how to really take that, so I just smiled and nodded.
Basically the the forty foods have numbers associated with each of them.  If there is a "1" next to them, it is a mild sensitivity – if there is a "4" next to the food, then I have a high sensitivity to it.  Brewer's and Baker's yeast were both 4's for me NOOOOOOOOOOOOOOO…that's bread (and wine, but we aren't even going to go there)!  Other big foods that I have a sensitivity to are cow's milk, eggs, cheese, mushrooms, tomato, cranberry, black and white pepper, and vanilla.  The rest I either don't eat or won't miss LOL.
Sunday I went to Whole Foods and my sister, niece and I went from aisle to aisle reading off ingredients, trying to find what I CAN eat.  It wasn't that hard.  I found a cereal, which was my biggest concern as I didn't know what I would be able to eat for breakfast.  I started my new diet on Monday – I cannot eat ANY of the foods on my list for 90 days.  Once the 90 days are up, I can slowly reintroduce foods back into my diet.
Since Monday I have been eating chicken, veggies (allowable ones), lettuce, and fruit.  I think I feel better, although it may be mind over matter.  I do get cravings for cookies, which I never really did before (wanting something I can't have is becoming more prevalent).
Do you know anyone that has food sensitivity issues?  Do you?  I'd love any advice that you can pass along, recipes, contacts, words of wisdom – to keep me motivated and moving toward making myself feel better!
photo credit: theperplexingparadox via photopin cc
photo credit: PetitPlat – Stephanie Kilgast via photopin cc