Thanksgiving has come and gone and I am knee-deep in ideas for this year's gift guides.  I've already chatted about the perfect gift for the sports fans on your list as well as some really cool kids' gift ideas.  My over 50 under $50 are budget-friendly picks for just about everyone on your list!
FOR HIM
One of my go-to websites for gift ideas is UncommonGoods.com.  Their selection of unique and useful gifts is bar none the BEST! Here are some gifts I may or may not be purchasing for the males on my list!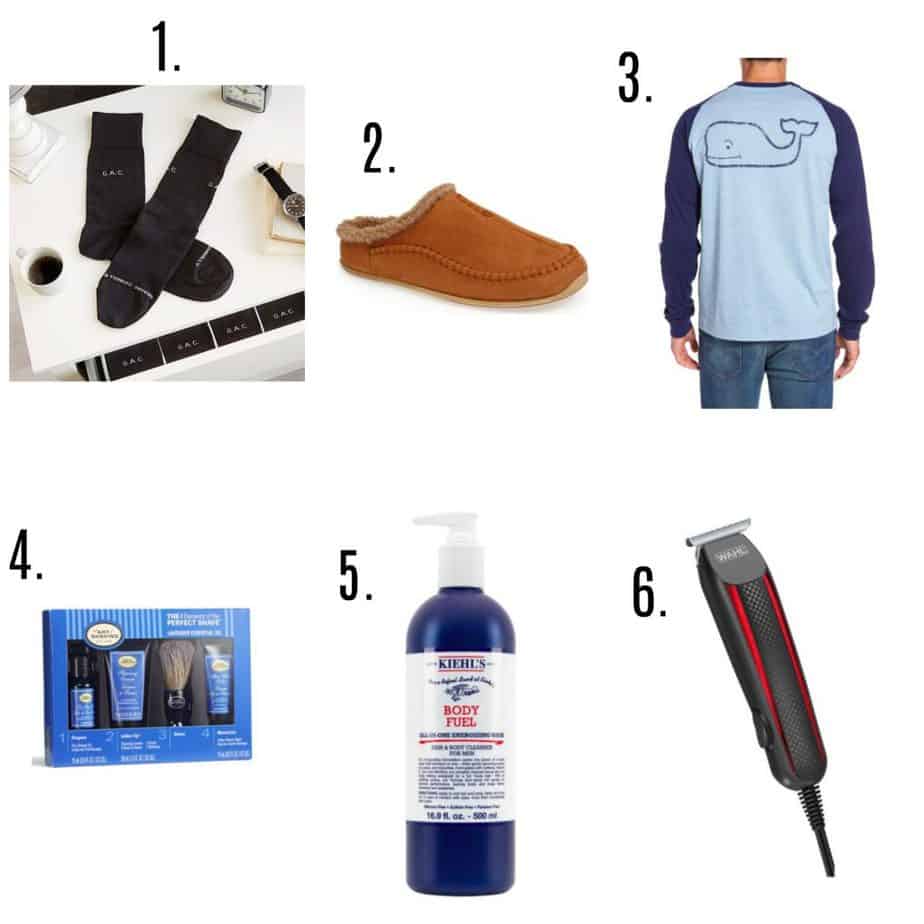 PERSONALIZED SOCKS: I happen to have an avid (actually, extremely avid is a better description) sock lover in my family.
COZY SLIPPERS: Who wouldn't want a cozy pair of slippers after a long day on your feet?
VINEYARD VINES: This brand has become a mainstay in our household.  I like the raglan style of this particular shirt (and blue is my favorite color too!).
SHAVE KIT: There are a bunch of shaving kits out there, the Art of Shaving being one of my favorites to gift!
KIEHL'S: Anything Kiehls is a hit with my hubby.  From the face wash, to mask, to sunscreen you'll bet there will be tubes of it in his stocking and under the tree!
GROOMER: I like this Wahl groomer because it comes with 12 different blade guards.  I know a lot of people like the rechargeable versions, but to me, a corded version is better.  (No need to remember to recharge!)
FOR HER
SEA GLASS NECKLACE: When I was little I would go to the beach in search of sea glass.  There's something about washed away muted colors that make it so beautiful!  This necklace is a great memory for those days!
KENDRA SCOTT BIRTHSTONE NECKLACE: I am a huge fan of Kendra Scott and her birthstone necklaces are perfect for anyone!
KIEHLS: This gift set allows you to try out a variety of Kiehl's face and body products. Love!
FUZZY SLIPPERS: How cute are these slippers?  I can only imagine how toasty they are too!
OMBRE TASSEL EARRINGS: The House of Perna tassel earrings are a must-have (I happen to have them in blue 😉
NAIL POLISH GALORE: This set by e.l.f. is perfect for the manicure lover on your list.  That's a whole lot of weeks of manis in one box!
MAKEUP BRUSHES: You can never have enough makeup brushes.  These by e.l.f. are great, but also check out the other ones Target offers!
BATH BOMBS: Who doesn't love a quiet, relaxing bath?  I'm all about adding scents to my bath and these bath bombs are the perfect way to do so!
FOR KIDS
SCARY BINGO: Another game that will more than likely end up under our tree.  Who doesn't love Bingo?!
COOLEST CHESS SET: What better way to learn chess than with this beautiful chess set?!
GIANT COLORING POSTER: Want to be a hero to your coloring fanatic family member?  This huge coloring poster will keep little ones happy and busy for hours.
SNAP CIRCUIT: I try to find gifts for kids that are both fun and educational.  Snap Circuits are a super cool way to teach creativity!
MAKE-A-BALL: I love these personalized sports balls!  I made one for my little guy and cannot wait to see his face when he opens it Christmas morning! (Some are over $50).
SMARTWATCH: VTech created this GREAT smartwatch for kids that can take photos and video, over 55 face designs, and is splash-proof.  This is a perfect gift for the kid that is not yet ready for an adult smartwatch but keeps bugging you for one!
SEWING MACHINE: I wish I had one of these when I was little!  This is a great way to get your little one into textiles!
NEVER FLAT BASKETBALL: I am totally getting this as I can't tell you how many times the kiddos come running in the house asking for me to inflate their basketball!  Score!
FOR THE FOODIE/CHEF
MAKE YOUR OWN HOT SAUCE: This kit was on last year's gift guide and was a hit, so I was excited to see it's still available on Uncommongoods.com!
FOOD STYLING PRECISION TOOL SET: These tools will let the foodie on your list finish their dishes off with a flair!  I'm talking oranges that look like swans garnishing the plate!
MY FAMILY COOKBOOK: What better way to preserve your family's traditions when it comes to food than with a cookbook by you!  How many times have you heard, "I wish I asked so-and-so how to make that dish?"  Now you can jot it down and pass the recipe down from generation to generation.
SALAD BOWL: Everyone needs a wooden salad bowl.  Why do you ask?  I was told that when I was registering for wedding gifts from my mom.  That's why.  Pair it with a cute set of salad utensils or your favorite dressing to make it more personal!
SERVING BOARDS: This serving board duo is perfect for cheeses, meats, crackers – just about anything!
FOR THE WINE LOVER
WINE PAIRING TOWEL SET: Ever wonder what wine goes with what you are cooking?  These towels are a great resource for that as well as cleaning up spills!
COPPER WINE GLASSES: A cool take on the stemless glass!
DECANTER: Everyone needs at least one decanter.  This one is perfect – both in size and price.
CHAMPAGNE BOTTLE OPENER: I didn't even know there was a specific bottle opener for champagne!  This one is cool looking too!
MUST HAVE COFFEE TABLE BOOK:  Hint, hint honey…
FOR THE TRAVELER
TRAVEL CORD ORGANIZER: This would've come in so handy when we were traveling overseas last year!  I think I still may grab it for the hubs for when we go to Alaska this year!
CONVERTIBLE TRAVEL PILLOW INFINITY SCARF: How ingenious!  I always wear a scarf when I travel because it tends to be chilly on the plane, but now to have a pillow attached – I need this!
JEWELRY ROLL: My jewelry roll has saved me from many knotted necklaces!  This one is both functional and beautiful!
TRAVEL FITNESS KIT: This is perfect for the frequent traveler that loves to stay in shape.  I l especially like the portability.
BKR GLASS WATER BOTTLE: I am a huge fan of drinking out of glass bottles.  They are environmentally friendly and the water tastes better 😉
FOR THE WORKOUT LOVER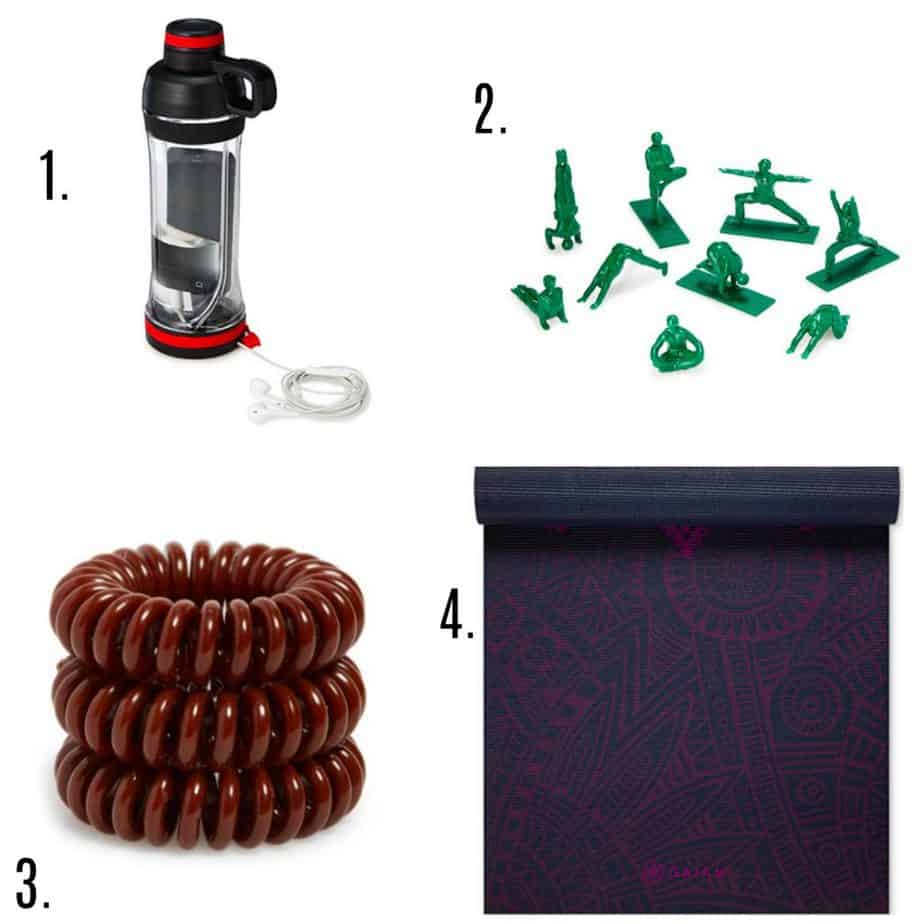 PHONE STORAGE WORKOUT BOTTLE: Know someone that loves to workout but needs to keep their phone handy?  I guess that would be just about everyone LOL…
YOGA JOES: These are super cute and perfect for the yogi on your list!
INVISIBOBBLE: These hair ties are my favorite.  They don't crimp your hair as conventional hair ties do, are easy to take in and out of your ponytail, and actually, look cute on your wrist!
YOGA MAT: Tis the season for a new yoga mat, right?  This one by Gaiam is functional and beautiful!
FOR YOUR FURRY FRIEND
DOG BOWL WATER BOTTLE: This is definitely on Sadie's wish list!  It's perfect for our dog park visits.
CATNIP FORTUNE COOKIES: I know that my cat would've loved these super cute catnip fortune cookies!
CHAMBRAY JACKET: I want to get this for Sadie even though it is so hot here.  If the furry friend on your list is in the cooler climates, grab this super cute jacket by Ellen Degeneres!
PAJAMAS: I will not confirm nor deny if I purchased this for Sadie (or the robe…).  LOL.
TENNIS BALL LAUNCHER: I can't throw so this little gadget has helped!  Now I just need to teach Sadie to actually go and get the ball!
FOR JUST ABOUT ANYONE
BLUETOOTH TRACKING TAG: I don't know about you, but I can't tell you how many times a particular person in my household loses his wallet, keys, or you name it!  I know this is a keychain, but maybe I can shove it in his wallet….hmmmmm.
TRICK QUESTION GAME: I love playing board or card games with my family and think this one would be a perfect addition to our collection!
DIFFUSER: Diffusing essential oils is the thing these days – to infuse calm and help with allergies are two of the handful of reasons why people turn to essential oils.  This diffuser is small, yet mighty.  Pair it with your favorite oil for the perfect holiday gift!
BB-8 SLEEPING BAG: Who wouldn't want a BB-8 sleeping bag for the holidays?
ERIN CONDREN PLANNER: I am a huge Erin Condren fan.  The planner covers and interior pages can both be customized, which makes it that much more personalized of a gift!  I am loving the hard covered planner!
OPERATION: I love board games – and Target has a huge selection of games in their Rustic Series!