I've been racking my brain to find the top 10 gifts for him – my husband that has just about everything.  After searching and searching I have finally created the Top Ten Gifts for Him!
You know I love subscription boxes, so when I stumbled across The Dollar Shave Club, I thought how great it would be to gift it! You can either send an e-gift card OR pick out the razor style and sign them up for a subscription. I'd probably recommend the e-gift card because otherwise you would have to pick from the selection of razor blades, etc. and I think that is something more of a personal preference.
If your gift recipient travels a lot and enjoys listening to music or watching movies with headphones, I highly recommend these
noise-canceling headphones by Bose
.  They are a bit pricey but they are worth every penny.  I was on a flight to NY and didn't even know that there was a crying baby on the plane.  When we started to descend, I turned off my headphones and that was when I heard the crying for the first time.  They work!
Ballpark Blueprints
 are perfect for the sports lover on your gift list.  You know…diamonds are forever!
On The Rocks Set
One of my friends is a big whiskey fan, so this would be perfect!  Adding ice to whiskey can eventually water it down (if it lasts that long in the glass).  These rocks, after being in the freezer for a bit, will chill the drink on its own!
BBQ Briefcase
 – perfect for the Grill Master on your list.  This case contains just about every tool imaginable for grilling out.  I love the stainless steel too.
Make Your Own Hot Sauce Kit

– perfect for adding a little sizzle to the holiday (sorry, that does sound a bit cheesy).  My husband loves hot sauce, so this would be perfect for him.  Produce a piquant variety of hot sauces with this DIY kit, offering cayenne, ancho, curry, and chili spice packs. Simply follow the instructions, combining the spices with the included peppers, vinegars, and brown sugar to create your own handcrafted condiments. Six bottles and customizable labels let you package and present up to six of your own small-batch sauces that'll turn up the heat on your favorite foods.

Costello Tagliapietra for Kiehl's Since 1851 'Men's Must-Haves' Collection – 
I've never met a man that liked facial products as much as my husband.  He's a huge Kiehl's fan, so this would be perfect for him!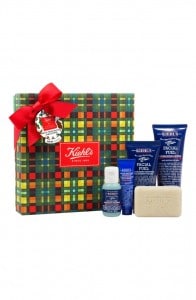 Herschel and Co Toiletry Bag – Every man needs a bag for their toiletries when they travel!  This one by Herschel and Co is the perfect size, and at $25, it is a great deal!
Fitbit Charge HR –  Nothing shows love and appreciation better than a gift that represents better health!  I have a Fitbit Charge and love it!  It counts my steps, calories, flights of stairs, miles, and sleep patterns – all synching to any smart device or your computer.  It's awesome!
So did any of these ideas make it on to your shopping list?  I hope this gift guide helps with the holiday shopping stress!   If you haven't already done so, check out my other gift guides:
Stocking Stuffers
For the Book Lover
For the Animal Lover