*If you purchase from a link from this post, I may receive compensation.
Christmas dinner will always be the best part of the holidays. Be it the grace of food or the gift of family, great and loving memories are made here. But once all the food has filled our tummies, and all the gifts have been opened, parting with our loved ones will be bittersweet.
Nothing says "Christmas party" more than the fun favors your guests get when they leave.
Here are 5 fun and festive options that your holiday guests will love.
Nutcracker Mini Party Crackers
If you've got a hard nut to crack, give them these fun Nutcracker mini crackers for a jolly good time.
Chocolate Covered Holiday Oreo Cookie Pops
Holiday Chocolate Covered Oreo Pop – Give guests something to "mmm" about at your next holiday party thanks to holiday chocolate covered Oreo cookie pops!
Everyone loves these delicious personalized holiday cookie favor bags decorated with your special message at your next party.
Personalized Vintage Holiday Milk Jars
Personalized Holiday Vintage Milk Jars – Add a vintage feel to your holiday party this year with help from these personalized vintage milk jars.
Personalized Holiday Bottle Stopper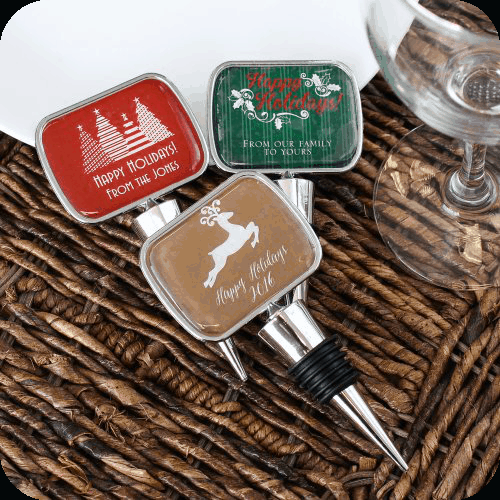 Bottle some holiday memories with personalized bottle stoppers with epoxy dome.