I am so glad that I opted to receive another one of the FabFitFun boxes.  The price is a bit more expensive than the other subscription boxes that I have reviewed in the past, but this box is FILLED with awesome goodies – very useful ones at that!  The FabFitFun box is a seasonal box – each box caters to the season at hand.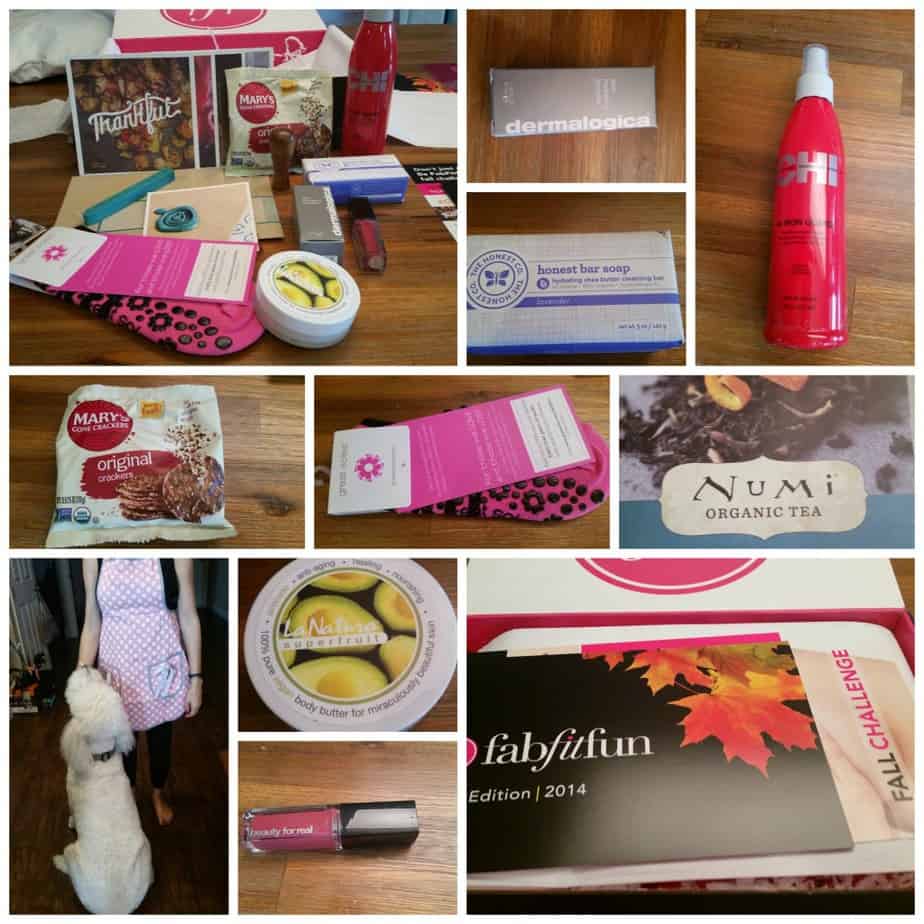 JESSIE STEELE APRON: So cute and feminine, the vintage-inspired apron immediately went on!  I didn't want to get it dirty right out of the box, so I took it off before cooking dinner, but I see many a meals prepared in this adorable apron!  Retail: $32
DERMATOLOGICA SKIN HYDRATING BOOSTER: I have heard wonderful things about the brand, Dermatologica, and look forward to trying out tho anew treatment.  My skin, in certain spots, has a tendency to get a bit dry – I'll keep you posted on the results!  Retail: $56
GRAMR GRATITUDE THANK YOU CARDS: I am a big proponent of the handwritten note, as you may already know.  These are super cute and came with a sealing wax and a wax press – I love the look of the wax seal so I can't wait to send out my next thank you card!  Retail: $43
GREAT SOLES PINK RIBBON BALLET BARRE PED: I immediately put these on (right after the apron).  They are super comfy and are a godsend – my flooring upstairs is slippery and I wasn't going anywhere wearing these!  I want to get another pair to wear when these are in the wash (and maybe something similar for the boys.  They get me nervous sliding all over upstairs!)  Retail: $12
BEAUTY FOR REAL TRUE COLOR LIP CREAM: The color of this non-sticky lip gloss is spot-on for me, but it was the built-in mirror that got my eye at first.  When I went to put it in my make-up drawer, I noticed a little rubber ball-like thing on the tip of the gloss.  Wondering what it was, I clicked it and lo and behold it was a LIGHT!  It is meant to illuminate your lips while you apply.  GENIUS!  Retail: $22.
CHI 44 IRON GUARD: I am a proponent of protecting ones hair from heating tools.  Just remembering the chicken fuzz hair that was a result of flat ironing without protection makes me shudder!  The weightless thermal protection spray is weightless and smells delish.  Retail: $14.50
THE HONEST CO. HYDRATING SHEA BUTTER CLEANSING BAR: I just got into The Honest Company with my recent purchase of their bug repellent.  It works and I am grateful…I look forward to trying this cleansing bar.  Retail: $4.95
LANATURA TRAVEL SIZE BODY BUTTER: This body butter does not contain paragons, sulfates, petrolatum, synthetic fragrances, colors, mineral oil, PABA or animal ingredients.  I tried it out this morning, it smells wonderfully but it is a bit thick for my liking.  I am sure if my skin was dry it would be loving this balm. Retail: (full size I believe) $18
FITFUSION 3-MONTH DIGITAL SUBSCRIPTION: I'm ready…Jillian Michaels here I come.  Just be nice to my back please!  Retail: $29.97
They also tucked in a sample of Numi tea, which I just read was recommended by Food Babe 🙂 and Mary's Gone Crackers sample.
Over all, this box would retail for $232.42.  When you think of it that way, $50 isn't so bad!  What are your thoughts?
If you'd like to try FabFitFun, click HERE!!