Who loves trying out new slow cooker recipes?  MEEEEEEEE!!!!!!!
One thing we all seem to have a lot of these days is time.  I've noticed that so many of my friends and family have taken this hiatus to hone their cooking and baking skills.
I enjoy cooking in the slow cooker because aside from the "set it and forget it" factor, there's something extremely comforting in these meals in particular.
I hope you enjoy this roundup of recipes that made my mouth water as I was putting this article together!  Click on the blue titles to access the slow cooker recipes and ingredients.
Every now and then I love a great chicken and dumplings (with biscuits) dish to warm my belly!  Erhardts Eat created a mouth watering slow cooker recipe with easy to follow directions.
I'm used to making my meatballs the way my parents taught me, but am all for a new way to try!  I appreciate that Recipe Pocket offers some tips to make the recipe even easier than it seems to be.  The recipe itself calls for chillies, so if you're not a "spicy" fan, you can omit them.
I love any recipe that dotes it is the "easiest ever" so was super happy to stumble upon this recipe from Taming Twins!  All you have to do is pop all of your ingredients, (apart from your Garam Masala) into the slow cooker and cook until soft and tender. Gently break up the meat and mix in with the sauce, plus the Garam Masala.
Easy Peasy.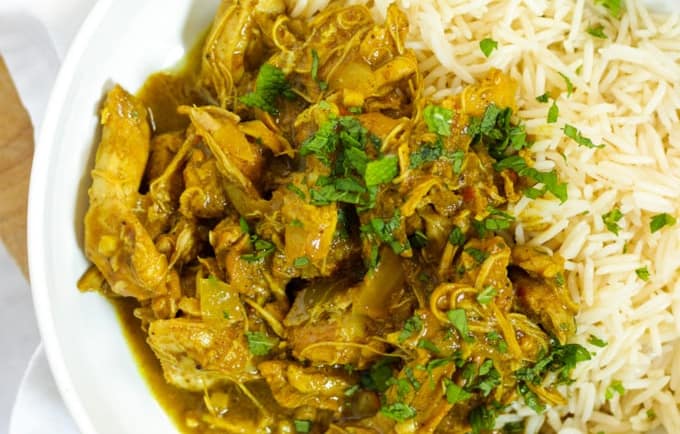 There are so many recipes you can make with pulled beef.  Imagine slow cooking for hours – how juicy and tender it will be!  Blackberry Babe included an easy au jus recipe so you can make french dip sandwiches – I can't wait to try it this week!
Tender, flavorful chicken thighs in a creamy sun dried tomato and basil sauce are so soft they pull apart without effort.  Keen for Keto is to thank for this recipe that is both healthy and delicious!  I love anything with sun-dried tomatoes AND the fact that you set it and forget it!
There is something about Beef Stroganoff that is so comforting.  Plating Pixels offers up an easy way to make it via your slow cooker.  Did you know that beef stroganoff can also be made with ground beef?  Stew beef offers a richer flavor and more authentic stroganoff. It's also healthier with much less fat since it's a leaner meat.
This easy pot roast with gravy from Skinny Comfort is a delicious and comforting dinner. It only takes 5 ingredients and a crockpot to make a tender, juicy roast with a delicious, thick brown gravy!  Can you say "comfort food" and "I'd like another serving, please!"?
Which of the above slow cooker recipes are you going to try first?  It's a hard decision, I know!
If you have an slow cooker favorites, I'd love to know them!