Here is a fun take on Taco Tuesday – with the most delicious Wild Alaskan Pacific Cod from Sitka Salmon Shares.
Tuesdays in our home are officially Taco Tuesdays.   We love that there are so many fun ways to get creative when it comes to tacos.  The fish taco recipe below happens to be my favorite way to enjoy tacos, alongside a margarita and chips with salsa!
There are four parts to this recipe, and it may seem overwhelming but it is actually super easy.  Most of the ingredients (especially for the seasoning) may already be in your cabinet or pantry.
I've taken the liberty of created a free shopping list and recipe card printable for you – it's at the end of the recipe!
FISH TACOS RECIPE
Makes 6 tacos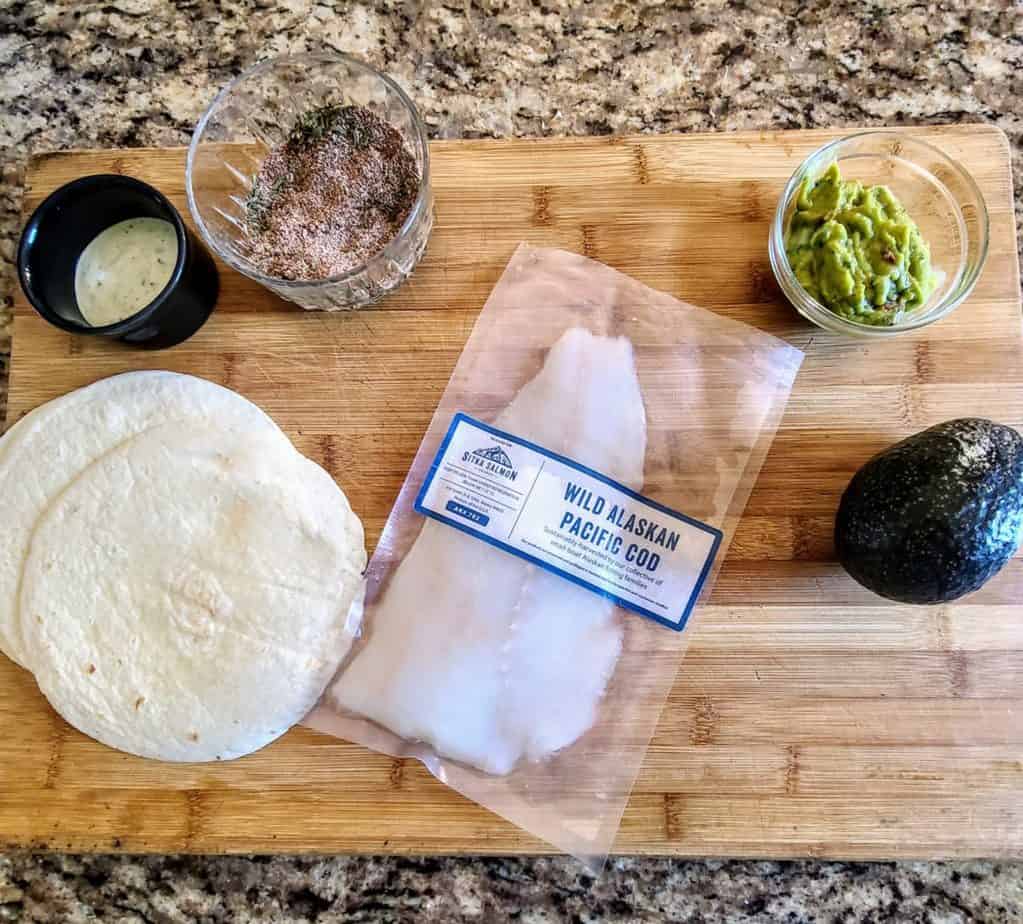 SEASONING FOR FISH
INGREDIENTS
1 tablespoon paprika
1 tablespoon cumin
1 tablespoon onion powder
1 tablespoon garlic powder
2 teaspoons oregano
2 teaspoons thyme
2 teaspoons salt
1 teaspoon chili powder
DIRECTIONS
Mix all ingredients listed above in a small bowl, put aside
GUACAMOLE
INGREDIENTS
2 avocados
1/2 lime
1 clove garlic, chopped
2 slices red onion, diced
4 grape tomatoes, diced
Salt and pepper to taste
DIRECTIONS
Cut avocado in half and remove pit.
Dice avocado and combine with garlic, tomato, onion, lime juice, salt and pepper in medium bowl.
Put aside.
FISH
INGREDIENTS
2 tablespoons butter
2 8 ounce Wild Alaskan Pacific Cod filets
Flour or corn tortillas
1 cup shredded iceberg lettuce or cabbage
DIRECTIONS
Pat dry with a paper towel.
Rub seasoning on both sides of the fish.
Let sit for 15 minutes.
Heat butter in non-stick skillet over medium heat.
Cook fish 3 minutes per side.
CREMA
INGREDIENTS
4 tablespoons reduced fat mayonnaise
4 tablespoons reduced fat sour cream
1/4 cup green onion, chopped
1/4 cup cilantro, chopped
1 tablespoon lime juice
Salt and pepper to taste
DIRECTIONS
Combine all ingredients in a medium bowl.
Set aside.
LET'S MAKE TACOS!
Warm tortillas either on griddle (2 minutes per side) or place between wet paper towels and heat in microwave for 15 – 20 seconds.
Spoon guacamole down the center of the tortilla.
Chop cooked fish and place atop guacamole.
Sprinkle on lettuce or cabbage.
Pour cilantro lime crema on top.
What other additions do you like to put on your tacos?
ABOUT SITKA SALMON SHARES
Sitka Salmon Shares is different.  Different how, you may ask?
More than 90 percent of seafood consumed on the US is imported (

NOAA Fisheries, 2014

).  Sitka's fish is wild-caught from the South Alaskan waters.

Sitka is owned by the fishermen.  It creates a more just system that values hard work, high-quality fish and low-impact harvesting methods.

Countless studies show that between 20 and 60 percent of U.S. fish is mislabeled (

CNN

).  Sitka's

relationships with their fishermen and transparent supply chain ensure that the fish is traceable to the source.
ABOUT THE MONTHLY SHARES
Each member receives a monthly share of the harvest – fish that's in season and respects the limits of nature. 
The shares come in many shapes and sizes that come individually portioned, vacuum-sealed and blast-frozen to lock in that fresh-from-the-ocean taste. 
Every month during fishing season, you would get a box of wild-caught Alaskan seafood hand-delivered right to your door by one of their Sitka Salmon Stewards or Fed Ex.
If you enjoy fish, I recommend trying out Sitka's service – aside from the fact that they are more responsible, transparent, ethical and higher quality than other similar shares – the fish is delicious! 
Use the code MODERNX to get $25 off your first share!
Check out my other recipes that are as delicious as this one!
Click the image below to get your free printable shopping list and recipe!