I don't know about your family clothing situation, but for some reason my boys never have enough shorts to get them through the week.  I swear we do laundry weekly, that they have a lot of clothes (to see their closets…oy).  Do they wear two pairs at a time?  Do they change halfway throughout the day?  I am so confused.  Top that with the fact that they are growing boys!!
Tea Collection, a favorite kids' clothing brand of mine, is having a sale on shorts.  No more shortage on shorts for me!  Tea Collection offers 20% off all shorts!  Here are some of the pairs I am going to pick up for the boys:

Tea Collection Sharp Sharp Beach Shorts –
You can never have enough of this type of shorts, and they come in a few colors to boot!

Tea Collection Patch Pocket Shorts – I love this color and they look so comfy!!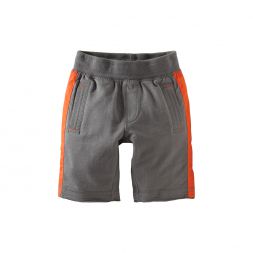 Tea Collection Side Stripe Gym Shorts – LOVE the color combo
Use code HEATWAVE for 20% off all shorts at Tea Collection valid 5/7-5/9!