Day 4 – Craft Supplies: I am still stuck on this one.  I know what I have to do, I just can't seem to find what I need to get it done.  Basically I have a gazillion different craft supplies, from the usual suspects – crayons, markers, my kids' school supplies; to all of the scrapbooking supplies that I HAD TO HAVE.
On an aside, I want to apologize to my younger son now and in public – I am sorry that there are more scrapbooks of N than you.  I jumped in head first into the world of scrapbooking and ended up drowning by the time you were born.  It doesn't mean I love you any less – check out all of the Shutterfly and Blurb albums I made of your pictures!
This is my vision for the craft area – bookshelves with cute bins (either woven like these or fabric), all labeled nicely.
If the room had a door, I would love to do this: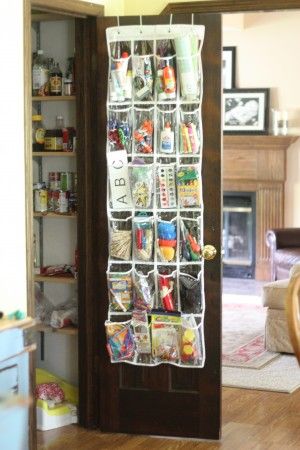 photo
I'll keep you posted on the progress.  I think I found the bookshelves, now I just need to order them!
Day 5 – Bedroom Closets: Thankfully I don't have to do too much to the closets, since we moved in only a few months ago.  For the most part everything has it's own place, but there were a few things floating around that needed "homes".  Here are some of my favorite tips for closet organization:
Hangers – I love when all hangers are the SAME.  I especially like the huggable hangers
 because they allow for a lot more hanging room.  Also, they are covered with a velvet-like fabric so your shirts and pants won't slide off.
I also like to hang my clothes by color and then style – so all whites together, then within the "white section" I cluster all tanks, then t-shirts, then long sleeve…I think you get the idea!  Shoes – I display my shoes on shelving so I can see what I have.  I used to put them in plastic shoe boxes with a photo of what pair was inside (my aunt taught me that), but I noticed that besides the fact that the shoe boxes took up too much space, I realized how lazy I was to put the pairs back in their respective boxes after wearing them (big show mountain on the closet floor).  Now I can see what I own, grab which ones I want to wear, and then just put them back on the shelf at the end of the day.  
Stay tuned for the next few days of Project Organization!  If you missed Days 1 – 3, you can check them out HERE.  Click HERE to get the full list of days and tasks!