I figured I would wait until I was into this Project Organization a few days before I wrote about it…actually, I wanted to make sure I stuck to it!
Day 1 – Medicine Cabinet:
First and foremost I went through all of the medicine we have, which was A LOT!  There were so many times we would be looking for Children's Tylenol or Motrin, couldn't find it and then ran out to the pharmacy to restock – to come to find the bottle either in a different bathroom's medicine cabinet or just somewhere it wouldn't normally be stored.
I think we also have every version of sinus and congestion medication, thanks to my fabulous sinuses…I hated having to throw away the unused, expired medication but I feel that after the expiration date they lose their efficacy anyway.  Right?
Another thing I did was centralize the medicine (relieving us of future multiples) in one covered bin and placed it in the laundry room.  They say you shouldn't really store medication in the bathroom because of the humidity that can be in the room.  Other than that, I cleaned the shelves and was good to go!
Day 2 – Coat Closet:
Living in Florida, we don't really need coats much (maybe a week at most).  I am still stuck on coats, being originally from the NE.  I do, however, have a closet in my house that has a few coats (maybe a little more than a few…).  I also got these GREAT coats from H&M…super cute and super inexpensive…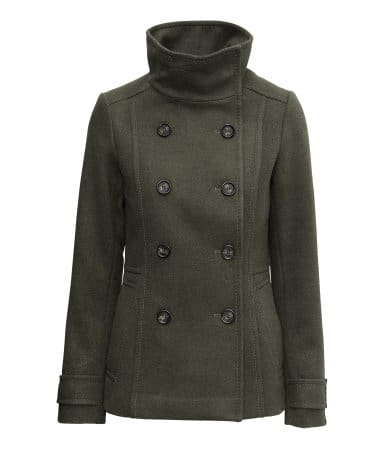 Day 3 – Linen Closet:
I cleaned out our linen closet drastically when we were packing up to move to the new house.  It bothered me that we had so many pillowcases that didn't match our sheets and visa versa.  Oh, and the number of pool towels was ridic…One of my favorite videos is on how to fold a fitted sheet.  I still cannot perfect the strategy but my sheets look a lot better than they used to!