This post is coming to you a bit later than usual.  By accident, my Birchbox was not mailed out to me on time.  I received email correspondence from the company promptly after they realized, apologizing for the delay and offering me another 100 Birchbox points (equivalent to $10 in product from their site).  That was super nice of them!!
The theme of the October box is "transformations".  The Birchbox team talks about how October symbolizes transformations – costumes!  Here are the items I received to help me in my October transformation.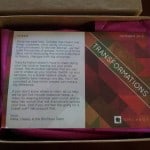 Kusmi Tea – I received two flavors to try out.  The green bag, Detox, is mate', green tea and lemongrass – YUM.  The orange bag, Euphoria, is roasted mate', chocolate and orange.  Which one shall I try first? Hmmmmm…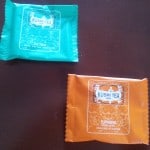 Kerastase Chroma Sensitive Balm: When you take the time (and money) to color your hair, you need to invest in making it look its best, keeping the color vibrant and shiny as long as you can!  Kerastase is known for their luxurious hair care line – I can't wait to try this tonight in the shower.  I just got my hair did, so this came at the perfect time!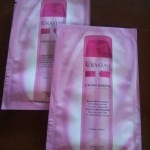 blinc eyeliner: I have tried this eyeliner before and it is GREAT.  I am excited that I have a super cute small version to take with me when I travel!  It doesn't smear or smudge and comes off with just warm water.  I used it last night and it is super smooth to apply and really comes off easily!
beauty blender: I do have to tell you that when I first opened the box and saw this, I thought it was a bright Fuschia clown nose.  Seriously…ask my mom LOL.  This blending sponge is super soft and definitely will not get lost in my makeup bag!  I am going to use this with my under eye concealer for sure.
theBalm Mary Lou Manizer:  First off, I love the name!!  I had never really used a highlighter before, and Birchbox was kind enough to include a card illustrating five ways to update your look with a highlighter (warning you to not do all of them at once).  I used this last night on my inner eyes and felt that I looked more awake than I really was!
Brow bones: blend some right below your eyebrows (on the brow bone)
Inner eye: putting a highlighter in the inner corner of my eyes deflects the light there (instead of to my under-eye circles).
Cheekbones: swipe toward your hairline
Cheeks: place on the apples of your cheeks
Lips: blend on your cupid's bow (didn't know it had a name!) and below your lower lip and then put lipstick or gloss on
 Interested in trying out Birchbox?  Click HERE.  You can sign up for just one month to get a taste of what Birchbox offers.  It's only $10.  Click HERE for more information!