We've been HUGE fans of Cirque du Soleil – ever since the hubby and I went to our very first traveling show back in 2000. Cirque shows are like no other. The combination of acrobatics, music, scenery and costumes brings you into another world – a different world for each show. I had the honor of taking a behind the scenes tour of the latest traveling show, OVO, as well as interview Cirque's publicist, Nico, AND watch some of the performers practice.
HISTORY OF CIRQUE DU SOLEIL
What started as a small traveling troupe of jugglers, fire breathers, and musicians performing provence-wide in Quebec, morphed into a worldwide extravaganza. Cirque du Soleil, or translated Circus of the Sun, attained its name because Guy Laliberte stated that, "the sun symbolizes youth, energy, and strength".
BEHIND THE SCENES
Nicolas Chabot, publicist for OVO, was kind enough to give us a behind the scenes tour of OVO. Directly behind the stage we checked out where the musicians reside during the show. We love that all music is original to Cirque du Soleil as are the costumes!
Behind there, we watched some of the performers who were practicing their acts on a small-scale apparatus.
Walking through the cavernous halls of the arena, Nico pointed out that the show basically unpacks their 19 truckloads of equipment and take over! They actually travel with their own washers and dryers. After each show, the costumes are washed and then air dried overnight.
Portable workout equipment took over one area, making it convenient for the performers to get their exercise in before and after each show. I eyed what I thought was a pilates reformer (and it was), and Nico explained that they hired a local pilates instructor to work with the performers – how cool! (Do you think if I continue my pilates I can be like these amazing performers? Hahahahaha)
One whole room was designated for costumes. As mentioned before, Cirque has its own costume makers and while my boys asked which costumes were which bugs, we watched two tailors at work. So cool.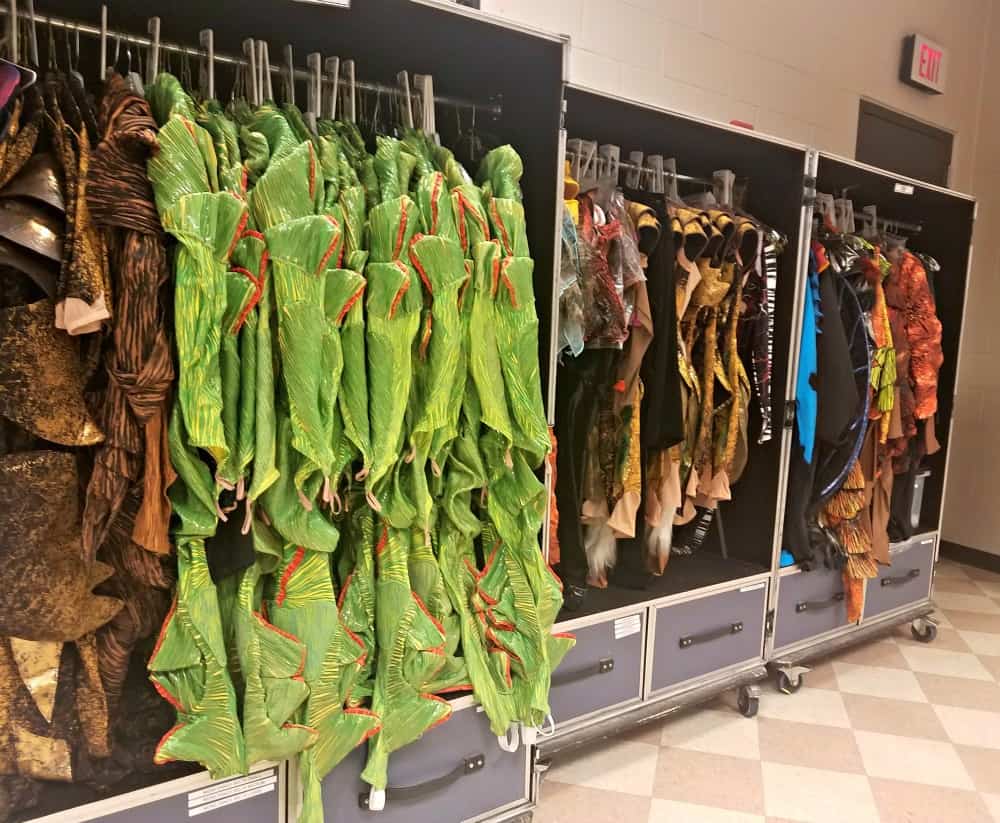 One of my most proud moments of the day was when my little guy interviewed Nico!

PRACTICE TIME!
It takes approximately 15 hours to build the stage, as well as all of the surrounding infrastructure (and only 3.5 hours to break down!). Just by looking at the stage itself, you can see a lot of work was put into crafting this new world! We were thankful that we were able to watch the tumblers and other performers practice for their final scene.
CIRQUE DU SOLEIL OVO
OVO has been dubbed our new favorite traveling Cirque show (<> in Las Vegas is our favorite overall). A story of love is told intertwined with crazy bugs performing amazing feats. Every show that my boys have been to has left them with their jaws dropped. OVO didn't disappoint. I enjoy that before the show some performers walk through the arena and interact with the audience. One of the bee keepers came up to me, and without saying a word, pointed to the box he was holding insinuating that he wanted me to open it. I did so and out jumped a hairy something. It was hysterical!
N was sitting there waiting for the show to begin and all of a sudden was netted by a bee keeper. It was so funny!
One of our favorites acts is in the video below – this video doesn't even do it justice!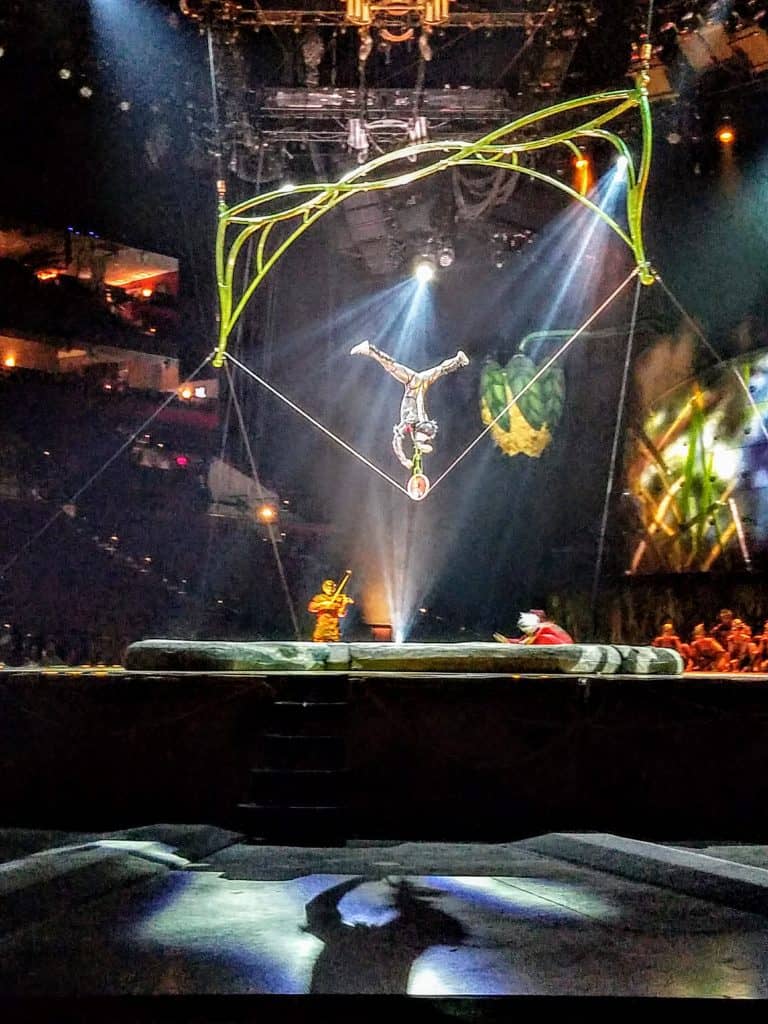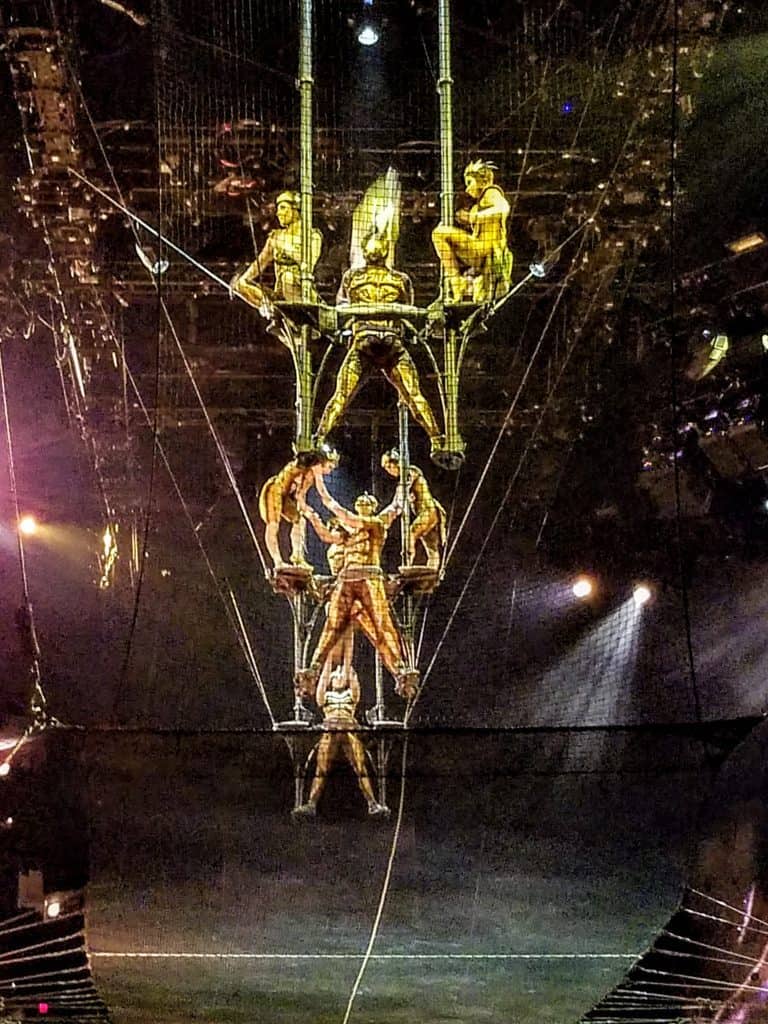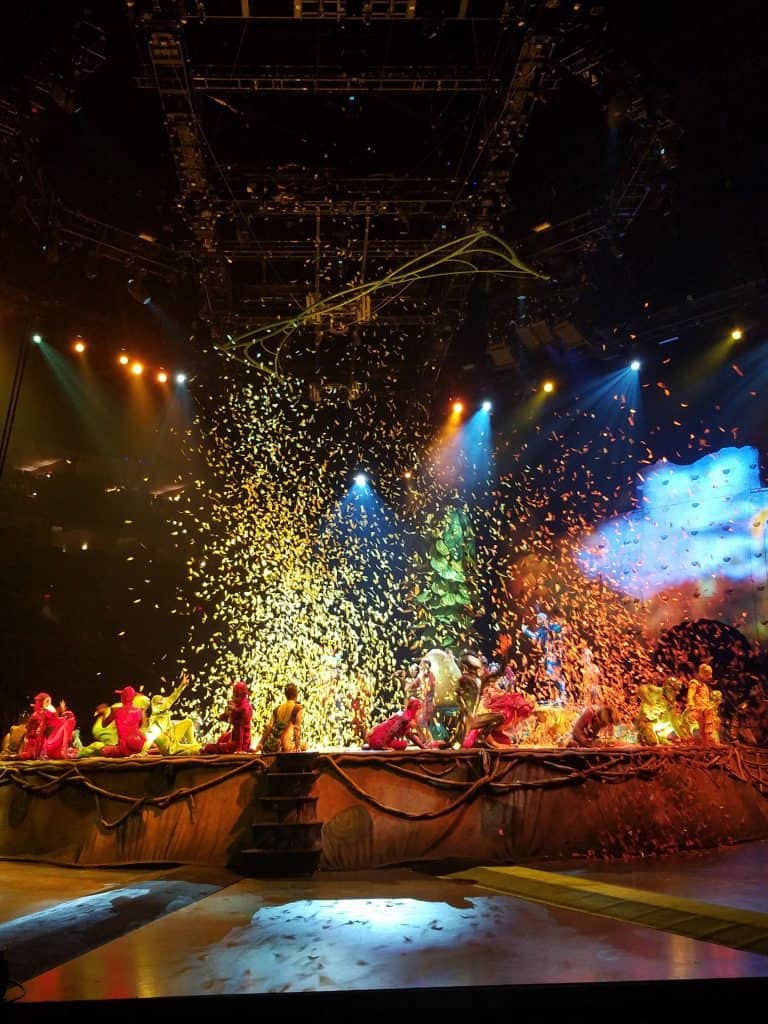 Events like these are so different and memorable. I love opening my boys' eyes to different experiences and we look forward to a Cirque show every year. OVO will be at the BB&T Center in Sunrise through July 23rd. Next stop is America Airlines in Miami, Florida from July 28th (my birthday!) through July 30th. Want to see if they are visiting your city? Click here.
Buy Tickets | Follow Cirque on Facebook | Follow Cirque on Twitter