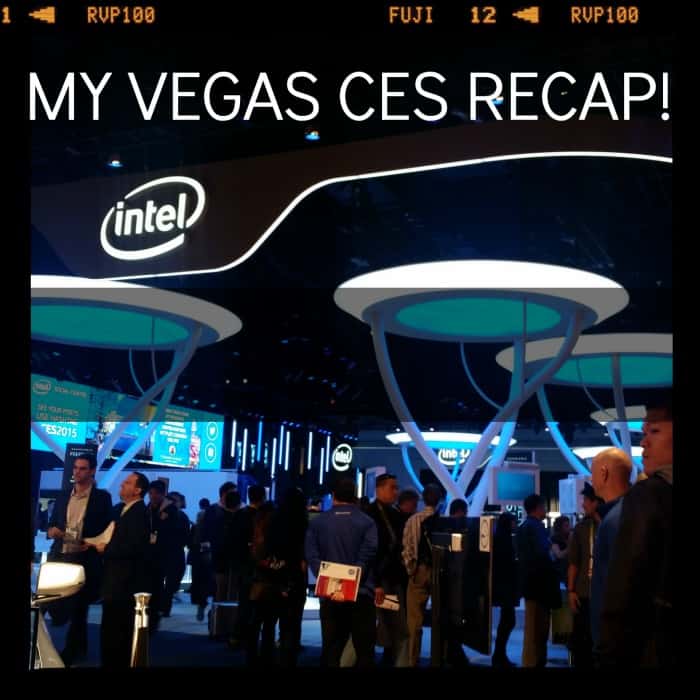 I have finally recouped from my weekend in Las Vegas.  My hubby goes there every year for the Consumer Electronic Show, commonly known as CES.  My parents were awesome enough to watch the boys so I could fly out and join him for the tail end of the show combined with a weekend away.
To give you a bit of background on CES:
Over 160,000 attendees each year
Over 140 countries represented via the attendees
One of the largest, if not the largest, electronics show in the world!
Over 20,000 new products are introduced
Friday we walked the Central hall, which to me is the best hall.  All of the HUGE names in electronics are there – LG, Sony, Intel, Audi, Samsung…you name it, they are there.  Knowing that there was a lot of walking ahead of me, I dressed comfortably (translation – flats) and we were off!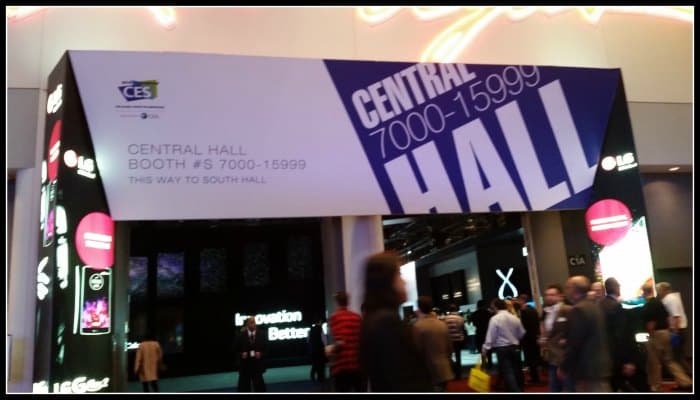 Please excuse some of the photo quality!
There was so much to see, but here are my favorites:
Wearables were HUGE at this show…I feel like everywhere I turned there was a booth showcasing their latest and greatest wearable.  By wearable, I mean anything that can be worn that is also technology-related such as the Fitbit, or Jawbone UP, etc.  You wear the item and it computes your heartbeat, steps…you get the idea.  This one particular wearable that was created by Intel in conjuction with Opening Ceremony is so cool!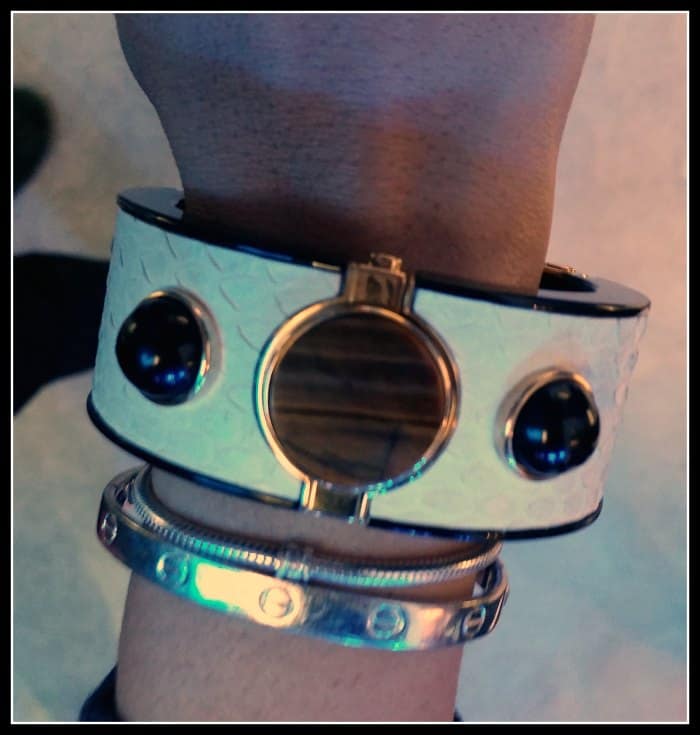 The thick bangle closest to my hand looks like a cool, fashion accessory?  Well it is, BUT when you turn your wrist over, there is a tiny sapphire glass touchscreen that displays a myriad of information.  MICA, or My Intelligent Communication Accessory, allows you to view messages, calendar entries and and alerts from your VIP contacts.
Now this isn't optimal for when you go walking at the dog park or running your next 5K, but it is meant to be worn when you are going out for date night and don't want to have your phone out or wear your not-so-fashionable Fitbit with your new hot dress.  I feel like this is one of those things that you definitely don't NEED but should you have a few hundred dollars free and want to be totally connected while looking fabulous, it is a great addition to your wardrobe!
It's so weird how as you get older, the weirdest things make you happy.  In this instance, I am speaking of a vacuum.  I guess as you get older and your responsibilities increase, different things appeal to you and make your life easier.  Enter the Samsung vacuum below.
That puppy has the best suction of any of the Samsung robot vacuums and even can be guided via remote.  Let's say the POWERbot has already vacuumed a certain area and then your kids come running in tracking dirt there.  All you have to do it point the remote back to that area, and the vacuum will go back and clean up.  Anything to make my life a bit easier is OK by me!
I am no tennis buff but we did get the kids rackets for Christmas, hoping they may enjoy the sport in lieu of Nintendo DS games!  Check this next item out!  Talk about wearable technology for tennis…the pink tip at the bottom of the racket collects all sorts of data about your game including shot analysis, video recording and slow motion replay all to your smartphone via Bluetooth.  Right now there are only certain rackets that this device will be compatible with, but the person we spoke with hopes to see its compatibility span across all brands of rackets.
My two favorite kids-related items were the Audi integrated tablets in their back seats.  Perfect for long (or short) rides with the kids, your kids can watch their own shows or play their own games without fighting (hopefully).  The tablets can be removed as well.
I found a line of kids' outdoor accessories that looked very cool…telescopes, microscopes, you name it!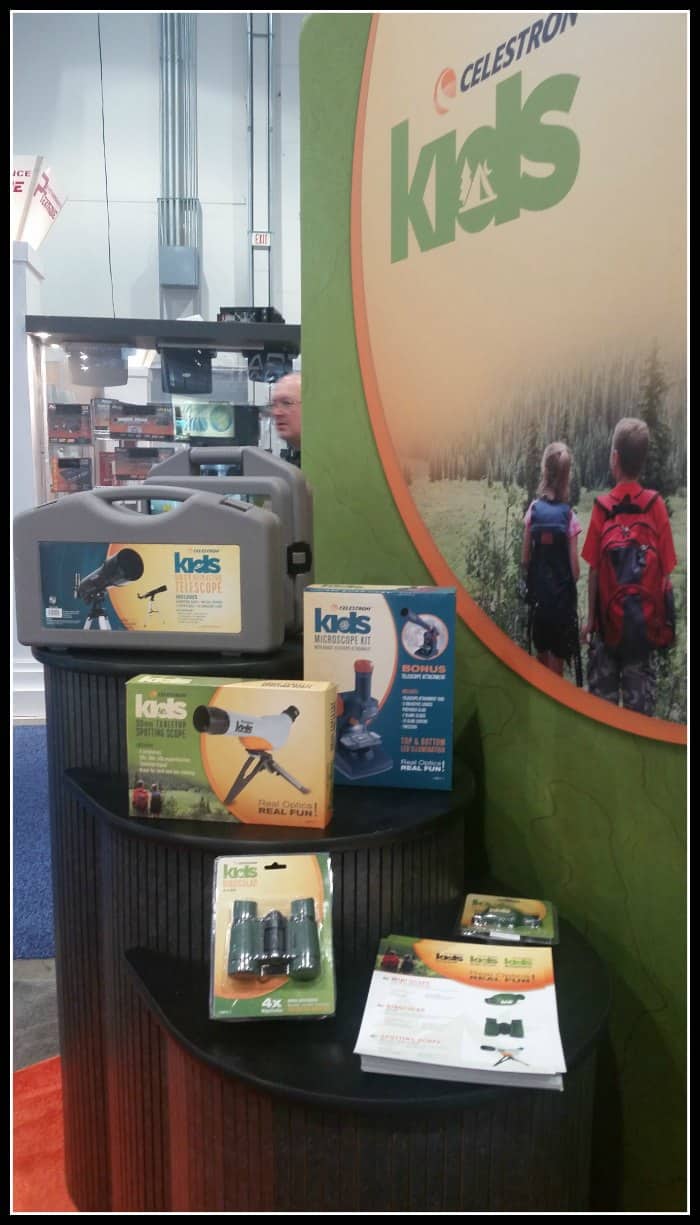 Other than that, I was introduced to a really real-looking robot…it was fascinating and scary at the same time.  Once she said that she can show emotions like a human (we're not talking Rosie from the Jetsons people), I got a little freaked out.
We had an amazing weekend overall…we ate great food, caught two shows, walked A LOT, and were able to spend some quality time together.  Have you ever been to Vegas?