Children's playgrounds are every parent's blessing. They were invented to give parent's a little rest out in the fresh air, to meet up with and make new friends, to give you a little respite from the day-to-day, to tire out your kids so they sleep more. That's why they were invented.
You might think they are there for the benefit of children? Well, OK, I'll admit. They are a great place for children to play, to test themselves, to try out new skills, to solve problems, to show off a little, to interact with other children, to learn to cooperate, to share and share-alike, to make new games, to use playground equipment in ways that had never been imagined before, to assess their own growth levels … and so many other benefits too. A good playground is a great place for a child to learn, play, and develop.
But, bearing in mind that in the USA, more than 200,000 children ages 14 years and younger seek medical care for playground injuries every year, how can you help your children play safely?
How to Keep Your Kids Safe on the Playground
1. Choosing the Playground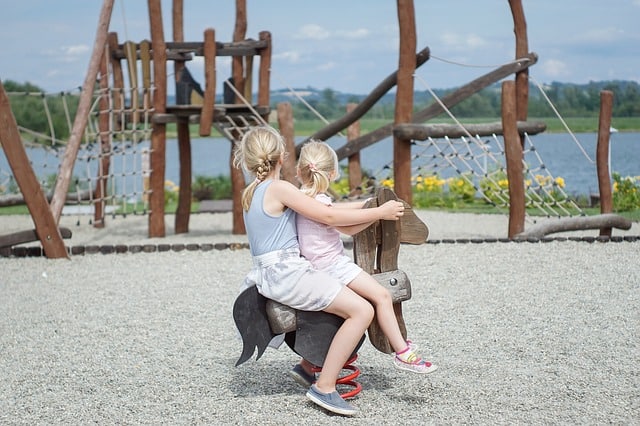 You can't always choose the playground where your children like to play the most, but take a sensible approach. Try to steer them away from the ones without a soft surface, or the ones that are regularly littered with broken glass or animal droppings. Stay away from sandpits.
Many larger play areas also offer separated sections which group equipment by the appropriate age range for your children. They learn to handle a short slide before a giant slide with twists!
If you have children crossing the age groups, a well-organized playground offers you the scope to keep an eye on your older kids while staying close to your younger ones.
2. Supervise your Children
We all know you're here for a break! But don't get engrossed in your smartphone – it sets a bad example. By getting close to your children, not only are you able to keep an eye on them and help out if they get into a tricky situation, but you'll be around when they try a new move or experience a thrill of achievement for the first time.
Oh, and you don't have to capture it all on your phone either! Put it away. Just make sure your child plays safe and comes back another day.
3. Choosing the Right Equipment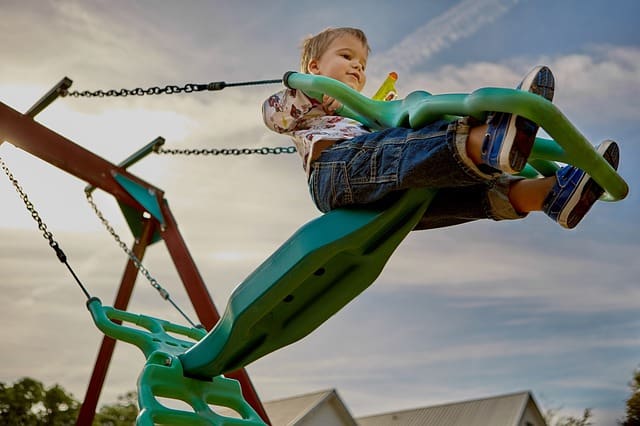 You can usually tell which piece of equipment is popular and works well with the number of kids milling around, waiting (or fighting) for a turn. But take a few precautions yourself to check them out. Look out for faulty equipment and steer kids away. Look out for dangerous debris and get rid of it to a safe place. In summer, you may need to check the temperature of some equipment to ensure it won't burn the skin. Be aware of what other parents are warning their kids about as well.
4. Don't Over-Protect
You want to know your children are safe while they're playing. However, don't forget you've already chosen a suitable playground. Let them get on with it. Let them explore their limits. That's why they're here: to bring out their inner super-hero.
But don't neglect them. Keep an eye out. Listen for them calling you to show off or even for a rapid rescue from an awkward situation. Just think about how capable they are this time than they were last time they tried that maneuver.
5. Clothing Choice
A playground is not just for summer. They can be enjoyed in all weather provided you all have the right clothing. But the clothing has to be suitable for energetic play. It's a big temptation to bring your favorite toys to the park, but avoid bringing things that are precious.  You don't want them broken or lost. Also, avoid dangly scarfs or necklaces that might get in the way when clambering around.
And footwear …. No flip-flops. Not exactly sensible shoes all the time, but make sure your children are wearing shoes that give them a safe platform to play.
The Real Reason you are there?
Your kids will enjoy their time on the playground so much that only the promise of ice cream will drag them away.  Make sure you bring the cash! We all know that's what parents are really there for – to buy things!