The time for holiday indulging has come to a close, and now it's time to get back on track with healthier habits.  Here are five simple switches that will be you to be a healthier you!
AVOID TAKE OUT FOOD
The New Year is a perfect time to rediscover the joy of cooking. Eating better is always among the top New Year's resolutions, and those three dreaded words "what's for dinner?" seem to come back to haunt us night after night. Figuring out the answer on your own can be challenging every night, but thankfully HelloFresh takes the guesswork out of dinner, so you can get into a routine that you'll be able to sustain year-round.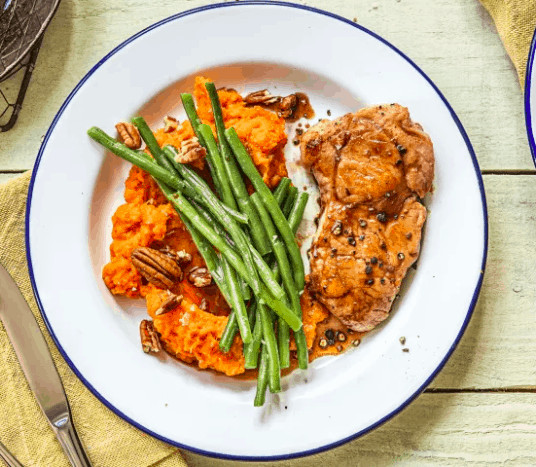 By covering the shopping, planning, and delivering step-by-step recipes and ingredients, you can relax and enjoy all there is to love about cooking and eating. In just a few easy-to-master steps, you can chop, zest, and sauté like a natural with recipes that take only 30 minutes.
Cooking at home is one of the easiest ways to eat better – you control the oil, butter, salt, etc., and whether you're looking to learn new recipes, expand your repertoire, or get out of your cooking rut, HelloFresh helps to solve your dinner dilemmas.
Prices start at $59 for 3 meals for 2 people.  You can order your first batch of meals nationwide online at www.hellofresh.com!  Check them out on Instagram and Facebook.
DITCH THE DECADENT DESSERTS
I have been a fan of Vita tops for a LONG time!  I am a dessert lover but after the holidays, the last thing I want is another decadent dessert. VitaTops from Garden Lites is a delicious indulgence that helps you stay healthy!  My absolute favorite flavors are the Deep Chocolate made with organic ingredients, like whole grain flour and cocoa powder and only 100 calories, and VitaTops Wild Blueberry, with organic wild blueberries and only 120 calories.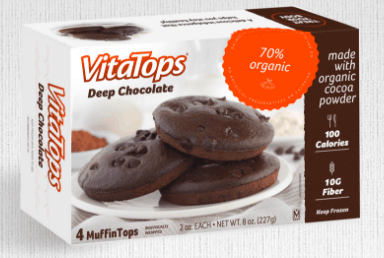 Vita tops are made by Garden Lites, a product I've talked about previously.  My favorites are the Super Food Veggie Cakes and Waffles.  I appreciate that vegetables are the first ingredient. They are great for breakfast, snacks, lunch and can be ready in minutes. All Garden Lites products use only clean and simple ingredients, are veggie-rich, gluten-free, and non-GMO.  They are all delicious and high in nutrients, fiber, and low in calories.  (I love giving my kids the superfood veggie cakes because they don't even realize they are eating veggies – score for mom!)
You can find Vita tops and other Garden Lites products in the freezer section of Publix, Target, and www.thehealthfoodstore or www.vitatops.com.  Check them out on Instagram and Facebook.
CHANGE YOUR WORKOUT

How many people say that they are going to join a gym once the New Year rolls around, go for a few weeks and then fall off the wagon?  Pilates is more of a lifestyle than a gym – and has gained popularity over time. Pilates helps to:
strengthen your core
develop/improve balance
help with tense muscles
Club Pilates, located in the Garden Shops in West Boca, opened in October 2017 and is a part of the largest network of premium Pilates studios in the world!  Anyone can do pilates – regardless of age or fitness level  You can choose from group classes or private lessons; and a membership program that best fits your schedule and budget.
I have a terrible lower back.  Pilates has helped me gain core strength to support my back, as well as tone my body.  I look forward to my classes – it is a true lifestyle!
DITCH THE SALTY CHIPS
Did you know that almonds are a great source of protein per 1 oz serving, an excellent source of vitamin E & magnesium, and contain high levels of healthy unsaturated fatty acid, fiber, and antioxidants?  I don't think potato chips hold a light to almonds!
Blue Diamond is my go-to brand for almonds because they come in so many different varieties and flavors (27 to be exact!) – my favorite being the Wasabi and Soy Sauce, but also enjoy the Whole Natural and Smokehouse varieties.  They are the perfect, healthy on-the-go snack to help me stick to my New Year's resolutions and stay energized during the day.  I keep a bag of them in my bag for those times when I am out-and-about and need a pick-me-up snack.  (I also stock Blue Diamond's Almond Milk in our fridge as a healthier alternative to cow milk.)
You can find Blue Diamond Almonds nationwide at major retailers and supermarket chains.  Check them out on Instagram and Facebook!
DITCH THE SODA
Unlike sodas and many diet colas, sparkling water contains NO sugar and NO artificial sweeteners.  If you're a fizzy drink lover, you can still quench your thirst but in a healthier way.  I'm a fan of the tropical flavors of Trader Joe's sparkling water.  My favorite flavor is pineapple with island colada a close second.  The fact that they have zero calories and no sugar makes them perfect drinks for my boys too!  No more soda for us!
You can find them at Trader Joe's nationwide (local Trader Joe's can be found in Boca Raton, Delray Beach, and Wellington).  A 1-liter bottle is $0.79 – $0.99.