I don't know if it is more exciting to open your front door to discover Halloween Boo gifts or to create them for your friends!
Halloween Boo Gifts have become a favorite Halloween tradition over the years. They customarily consist of a variety of holiday-themed goodies and gift tags.
HOW TO "BOO" SOMEONE
It's actually quite simple to put together a "Boo" gift. You'll need the following:
"You've Been Booed" gift tag (see below)
"You've Been Booed" directions for inside the gift (see below)
"We've Been Booed" sign (see below)
Gift bag
Goodies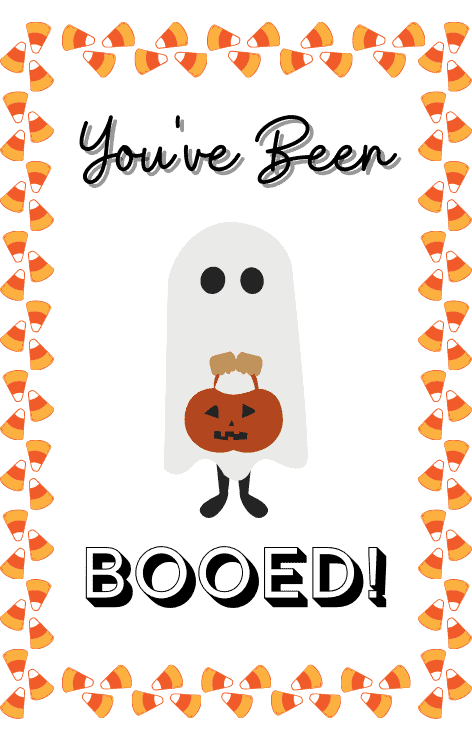 DOWNLOAD THE "YOU'VE BEEN BOOED" TAG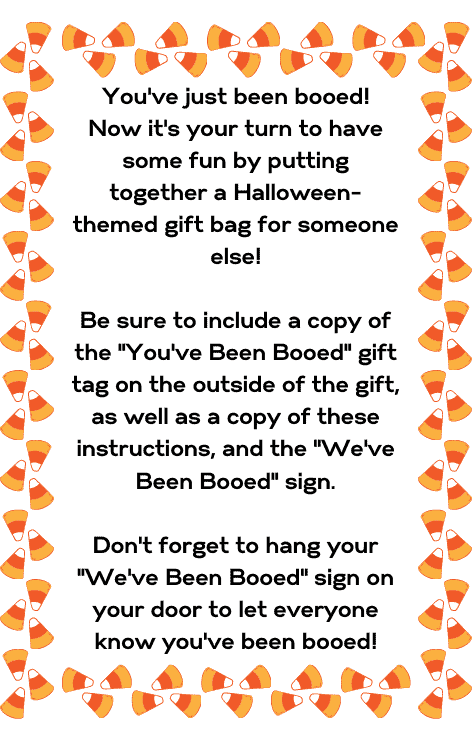 DOWNLOAD THE HALLOWEEN BOO GIFT DIRECTIONS
DOWNLOAD THE "WE'VE BEEN BOOED" SIGN
Once everything is put together, all you have to do is drop off the gift. You can try to "ring and run" and experience the full surprise effect. If you think you may be caught (or can't run fast enough like me), quietly place the gift on the recipient's door step. (Just hope they don't have a Ring doorbell.)
WHAT TO INCLUDE IN HALLOWEEN BOO GIFTS
Here are some items you could put in this fun Halloween gift:
Halloween treats and candy
Stickers
Cookies
Vampire teeth
Pencils
Flashlights or glow sticks (for Trick or Treating)
Trick or Treat bags
Halloween decorations
Halloween Treats
You can go for the traditional candy treats, but I like to include some "non-sugary" items too.

Halloween Boo Gift Bags
Halloween Boo gift bags can range from themed cellophane bags to elaborate containers. Below are some ideas that are budget-friendly and super festive!