As parents we all want our children to thrive as much as they can. We want the very best for them, to be happy and healthy, and to generally enjoy their lives and upbringing. But with all of that hope, we can all feel a huge amount of guilt and pressure when things don't go right or when things haven't gone to plan. We all won't get each day right, and we all will make mistakes in time. It is human nature after all, but with the intention of wanting to help your child thrive then, that is enough to be celebrated. 
You may be wondering if there is anything that you can do to help your children thrive each day. Big and small things you can try to implement into each day or generally change up some habits for a more positive effect on your children's lives. There are a few things that you can do that can help your daughter and son thrive. With that in mind, here are some of the ones to consider. 
Help Your Child Thrive By Encouraging More Reading
One of the first things that you could consider would be to encourage more reading. Reading is such an important and integral part of learning but can also benefit your child in other ways as well. For example, reading more can help them to feel confident in their English classes and for homework, and also can help them to relax and also unwind after a busy day.
Reading can also be great for their imaginations. Often it can be hard to encourage a child to read more or to develop that love for it. This is when you could look online to improve reading comprehension with pre-reading strategies and other options that could help improve their reading skills. You could also look to read with your child, either reading to them before bed or doing shared reading where you both enjoy a book or story together. It can be a great way to help your child thrive. 
Reduce Screen Time and Use of Online Gaming Where Possible
Another thing you could consider would be to try and reduce screen time and online gaming where possible. Many children these days use this as a virtual playdate or as a way to spend their spare time, but too much can cause other issues. This could be in the way of anger or frustration, losing patience as well as falling out with friends online.
Reducing screen time can help encourage your child to try other things and use their time in different ways. Online gaming and using devices are great but don't always rely on them as there can be benefits of reducing the amount of time spent using them. 
Eat Together 
When it comes to eating habits many parents can struggle when it comes to their children, so you may be wanting to look at ways that you can improve their eating habits. A great way to do this is to eat together. You are setting an example and also using the time as a chance to come together as a family.
Eating together means that at that moment you are all doing the same thing, so there is likely to be some distractions and more focus on eating a meal and enjoying good company and conversation. This could help encourage your child to spend more time eating and less likely to want to get away from the dinner table and avoid eating their meal. 
Encourage Your Child to Try New Foods
Eating new foods is another thing that parents can struggle with when it comes to their children, or at the very least enabling them to eat something that is good for them and healthy. Encouraging them to try new things at any age is important. Eating together can be a great way to encourage this but you could also challenge your children to try new things and experience different tastes and textures.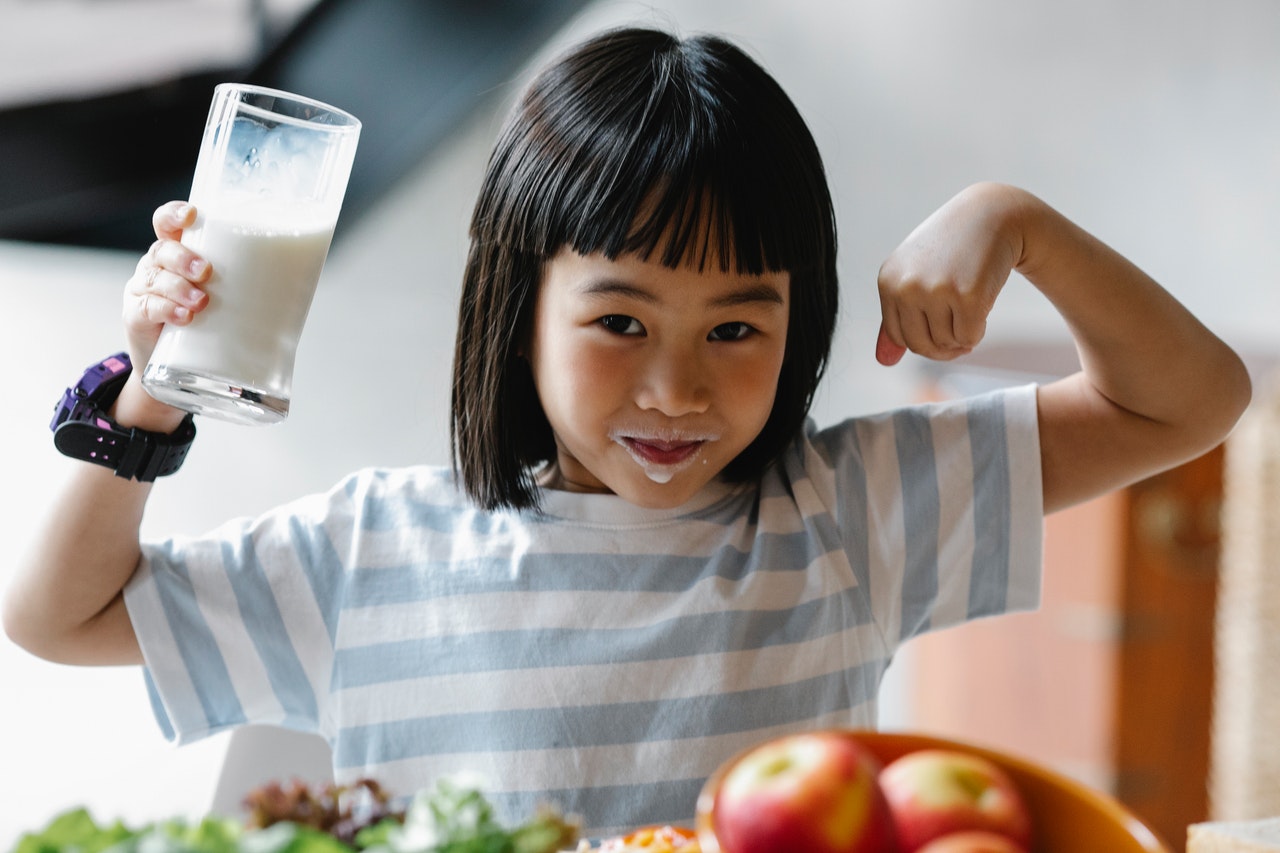 If you still struggle, then getting creative in the kitchen can help them to enjoy a balanced diet by hiding veggies in sauces and blitzing things into smooth sauces instead of leaving chunks of food. Last, of all, get them to cook with you in the kitchen and make their own food or even encourage them to understand where their food comes from and try growing your own. Children are more likely to be interested and willing to try new things if they have been involved in some way. 
Get Active as a Family
You could consider trying to be more active as a family and this can be a great way to help your child thrive. It could be that you look at walking together as a family, or maybe run with your children regularly. You could do workouts at home or ride bikes. The more active you are the better.
There are so many ways that you can encourage exercise around your family and it can be a great way to help you feel like you are doing more. The endorphins that affect you positively will also have the same positive impact on your children. With children's mental health and wellbeing an important subject right now, doing what you can help you and your children to thrive. 
Take Some Time to Focus on Wellbeing
One thing that you could be doing to help when it comes to your children's mental health and wellbeing is to focus on their wellbeing. There are a few things that you can do that can help your child in this way. It might be that you look at meditation or yoga apps to help your child wind down.
It could be that you encourage them to journal their thoughts and feelings or make a gratitude list each day so that they can focus on the good and positive things. Wellbeing is important for kids just as much as it is for us adults, so encouraging good habits in this area now will help them to thrive in the future. 
Well-being doesn't always have to be about mental health, either. Daily routines such as brushing your teeth, washing your face, brushing your hair or tidying up your room can all promote a stable routine and therefore soothe the wellbeing of your child. Leading by example as a parent is the best way of instilling these good habits in your kids.
For example, brushing your teeth properly for two minutes, which sounds simple but is often done poorly or not at all, is a great way to lead by example. If your kids don't brush their teeth properly and get into the habit of it, they could need Children's Dentistry work such as fillings or tooth removal to solve the problems this will cause.
Help With School Work and Studies
Children can struggle with school work and studies, there is no denying that. So if you feel that your child is struggling at the moment do what you can to help them. This might be taking some time out to sit with them and work through questions and answers. Maybe you can explain concepts in a different way, or perhaps you can do things differently using visual aids or games to help them understand.
The more you take the time to help, the more your child will understand and thrive academically. 
Encourage Hobbies and Other Interests
A great tip is to encourage hobbies and for them to try different things. This might be a musical instrument or learning a sport. Maybe they can become part of a team or compete at a high level. Hobbies are a great way to use spare time in a different way and can encourage them to spread their interests more variable rather than looking at playing online games and using devices. 
Enable Them to Be Social
Last, of all, it might be time to look at how you can encourage social skills. This might be hard right now with social distancing so this is where technology can help with FaceTime and Zoom calls. You could also look at setting up playdates in the park when restrictions allow and time spent outdoors. Learning social skills is vital for children now and in the future. 
Let's hope these tips help you when it comes to allowing your children to thrive.