This DIY
Kids Valentines Day Cards
project had to be one of my most favorite when the boys were little.  I had to dig it up and share it again this year!
You know what I love the most about it?  It's NOT candy!
I got this idea for the boys' Valentines Day cards via Pinterest and put my own little spin on it.  I was looking for something fun and not candy-related as their school is a 'healthy choices" school (translation: don't be THAT parent that sends your kid in with crazy sugary treats).
I'm kidding, but their elementary school was super healthy – they don't allow you to bring in cupcakes or anything like that to celebrate your child's birthday with his/her class.  I've sent in pretzels, Z-bars (a favorite in my household), and popcorn in the past for celebrations.  I like the idea a lot…have you seen my youngest after ingesting sugar???  I couldn't imagine 18 more of him in a classroom attempting to sit still and learn.  I digress…back to the Valentines Day cards.
So, this is what you need:
Love these little suckers!  You won't need all 300…they are useful for so many other projects though!
The original DIY called for heart-shaped mazes but I knew the minute I showed the boys they would get all, "Those are girly…".  Rather than listening to that, I searched for a gender-neutral maze and found these on Joann Fabric's site.  What I do for those little boys LOL.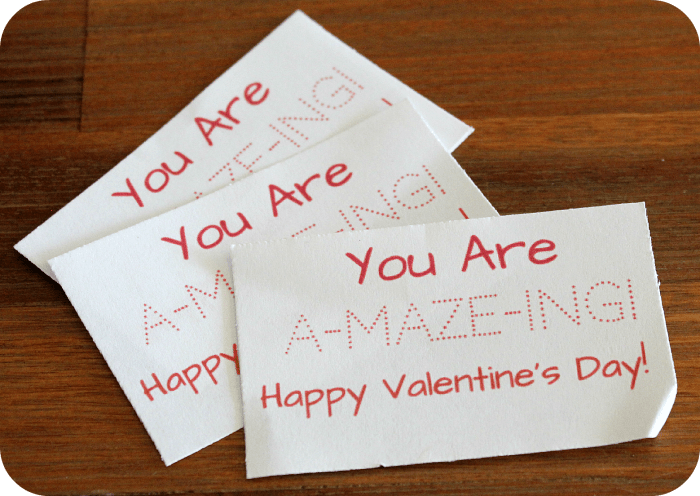 I printed these on regular printer paper and cut them out to fit the card stock (see below).  I left enough room on the bottom under "Happy Valentines Day" for the boys to sign their name.
I used plain card stock – you want to use something thicker than construction paper so that it supports the maze.
OK…so here is what you need to do:
Cut the card stock to the desired size – big enough for the maze and the little tag you printed (above).  Glue the tag to the bottom of the card stock – I'd use a glue stick if you have one….the glue dots are a bit overkill for this.
Take the maze and apply four glue dots to the back, then affix to the card stock above the tag.  Have your child sign the bottom and VOILA! a sugar free, handmade Valentines Day card!
The boys love the finished product as did I!  What do you think?  If I can make them then anyone can!
Here are all of the supplies you'll need!