I am super excited to share with you the recipe for the
Bourbon Sour
that Lisa Lotts of
Garlic and Zest
made on one of the LIVE in the Lounge episodes!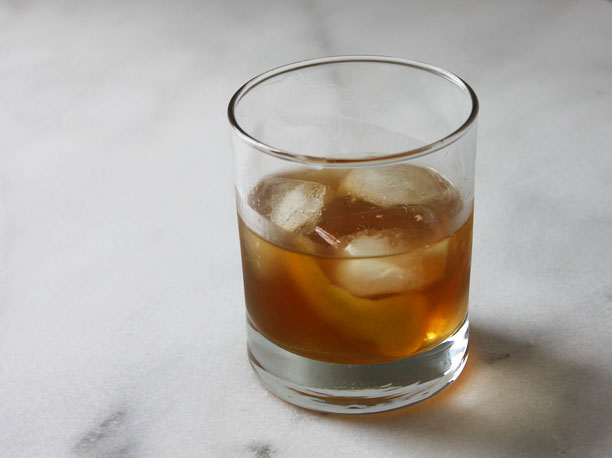 You don't have to make the lemon thyme simple syrup if you don't want to.  If you don't have amarena cherries, that's ok.  She drinks it without them all the time, though luxardo or a good "Bada Bing cherry" would work too.
I believe I had bourbon once or twice in my life before trying out this recipe.  I am not a liquor person as you know, more of a wine aficionado, but if Lisa said this is good – I had to try it!
Maker's Bourbon Sour
2 ounces Maker's Mark Bourbon
3/4 ounce fresh-squeezed lemon juice
1/2 ounce Lemon Thyme Simple Syrup (or regular simple syrup) 
Optional Garnishes:
Amarena Cherries (optional)
Twist of Lemon
Sprig of Thyme
In an old-fashioned glass combine the bourbon, lemon juice, and simple syrup. Stir to combine. Add ice and garnish with a cherry, twist of lemon, and/or sprig of fresh thyme.
Lemon Thyme Simple Syrup
1/2 cup sugar
1/2 cup water
zest of half a lemon
4-5 sprigs of fresh thyme
Add the sugar and water to a small saucepan and bring to a boil. Stir occasionally, until the sugar completely dissolves. Remove from heat and add the lemon zest and thyme. Give it a stir and let it cool to room temperature. Strain the syrup through a fine-mesh strainer into a small pitcher or jar. Discard the lemon zest and thyme leaves.