*I was given the Nutri Ninja in exchange for an honest review.  All opinions are 100% my own.
We are always looking for ways to eat even healthier than we already do.  We're sensitive about consuming the daily required amounts of fruit and vegetables, vitamins and minerals.  I have to tell you – it is hard.  We eat well, cooking healthy recipes such as my favorite tomato soup and our traditional Sunday gravy.  We limit the number of sugary foods that enter our pantry and incorporate fruit and vegetables as much as we can into the boys' diet.
The boys do eat some fruity and veggies, but don't let them fool you when they say that eating fruit roll ups should be considered part of their fruit intake.  N eats broccoli and carrots without a fight, whereas G eats raw green beans.  "Acceptable" fruit for N includes apple slices, strawberries, cantaloupe and green grapes.  G opts for the red grapes, agrees with the apple slices, but prefers blueberries over strawberries.  There may be a banana ingested here and there.  Aside from owning a farmer's market, I needed to find another way to incorporate more fruit and vegetables into their diet.
While I was at BlogHer, I passed by the Nutri Ninja AutoIQ booth where they were passing out smoothie samples.  The samples were green and the first thing that came to my mind was that they probably had a "healthy" bitter taste.  I was SO wrong.  It didn't taste "green" at all.  Could this be the way to introduce more fruit and veggies into the boys' diet without them flinching?!
After speaking with the representative, as I needed to know how I could replicate this at home, she explained that the green color was from the spinach.  Spinach?  I didn't taste spinach, but apparently I benefited from the vitamins and minerals.  This could totally work with the boys – SCORE!
I received the Nutri Ninja Auto IQ, compliments of the brand, to try it out for myself. Here's what was included:
So excited, I snapped a pic of the box and posted to social media.  Ninja Kitchen responded almost immediately with a genuine interest in what I was going to make with my newfound appliance!  One thing that I have noticed being in the marketing world for so long, is that if a brand takes the time to communicate with the public, that means a whole lot!
Smoothie Making Time
Back to my first smoothie experience…I found what I feel is the easiest smoothie recipe ever.
The Easiest Smoothie Recipe Ever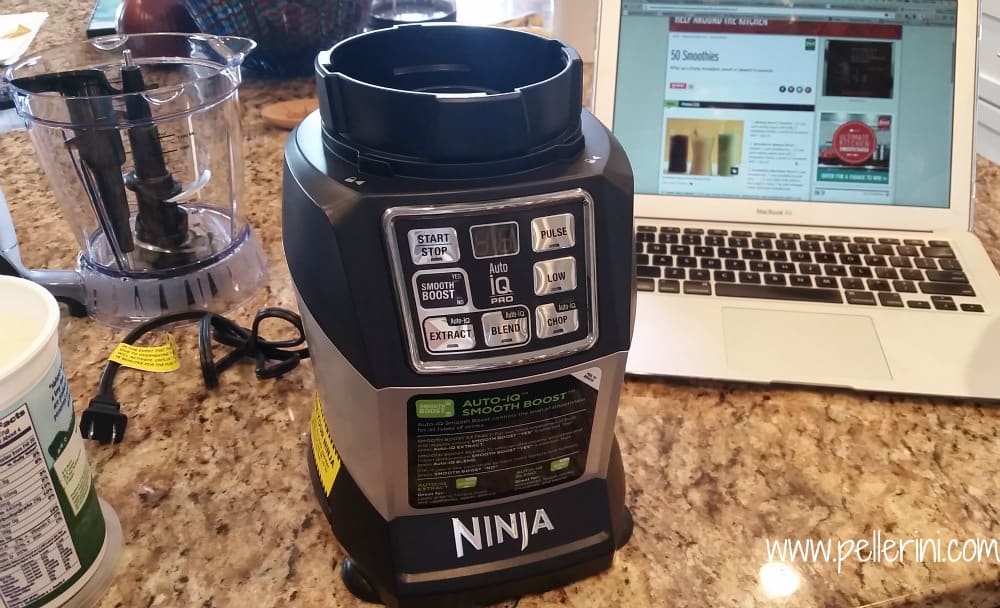 All you need is…
1 cup frozen strawberries
1 cup ice
1/2 cup vanilla yogurt
1/2 cup milk
1 banana
All you need to do is…
Add the banana, milk, yogurt, strawberries, and ice to the container.  Press "Start" making sure the "Auto IQ" button is set to "on".
Wait 60 seconds
Enjoy!
Seriously!
It was that easy.  I totally forgot the spinach but added it for the 2nd and 3rd smoothies!  A recipe booklet with recipes for smoothies and more was included in the box (& you can find it online too).
Here is my first-ever step-by-step video
I did some more research on the Auto IQ feature and was really impressed with what I read.  Auto-iQ™ Technology is one-touch intelligent programs designed specifically for each jar attachment. These intelligent programs combine unique, timed pulsing, blending and pausing patterns that do the work for you.
The Total Crushing technology is awesome…it delivers unbeatable professional power with blades that pulverize and crush through ice, whole fruits, and vegetables in seconds.
The Nutri Ninja® Cups can blend ice and frozen fruit in seconds! Traditional juicers provide little juice and remove the pulp which contains the healthy fiber. The Nutri Ninja® Cups coupled with the Pro Extractor Blades® provide juicing with the benefits of entire fruits and vegetables, not just the juice.
My Nutri Ninja is easily going to replace my blender and food processor, saving room in my cabinets!  As I make new-found smoothies I will be sure to post them here and on social media.
I would love to hear about your favorite smoothie recipes!  Please post them (or links to them) in the comments below!