Growing up in New York spoiled me as there were museums all over – and some of the best I have ever seen to this day.  Whenever we visit a new city, I try to fill our itinerary with local museums and aquariums.  Tennessee was no different.   Ripley's Aquarium Gatlinburg was the first spot on our tour once we landed and checked into the Dollywood DreamMore Resort.
There are actually eight Ripley's attractions within walking distance of each other within Gatlinburg.  A lot of people are familiar with the Odditoriums, as they are located throughout the United States (we visited the one in St. Augustine last year – so cool).  Gatlinburg offers 7 more Ripley's attractions, aside from the Odditorium:
Ripley's Movie Theater 5D
Ripley's Haunted Adventure
Ripley's Mirror Maze
TWO Ripley's Mini Golf Courses
Guinness World Records Adventures
…and of course, Ripley's Aquarium of the Smokies!
RIPLEY'S AQUARIUM GATLINBURG
My boys have loved aquariums ever since we visited the Georgia Aquarium.  When we told them we were going to Ripley's Aquarium, they were super excited (which made me VERY happy)!
We started out on the upper level, enjoying the Ocean Realm, Shark Lagoon, Touch a Ray Bay and Tropical Rainforest.

I especially liked how a large amount of the exhibits were either interactive or designed in a way to see all of the creatures in a different, more inventive way.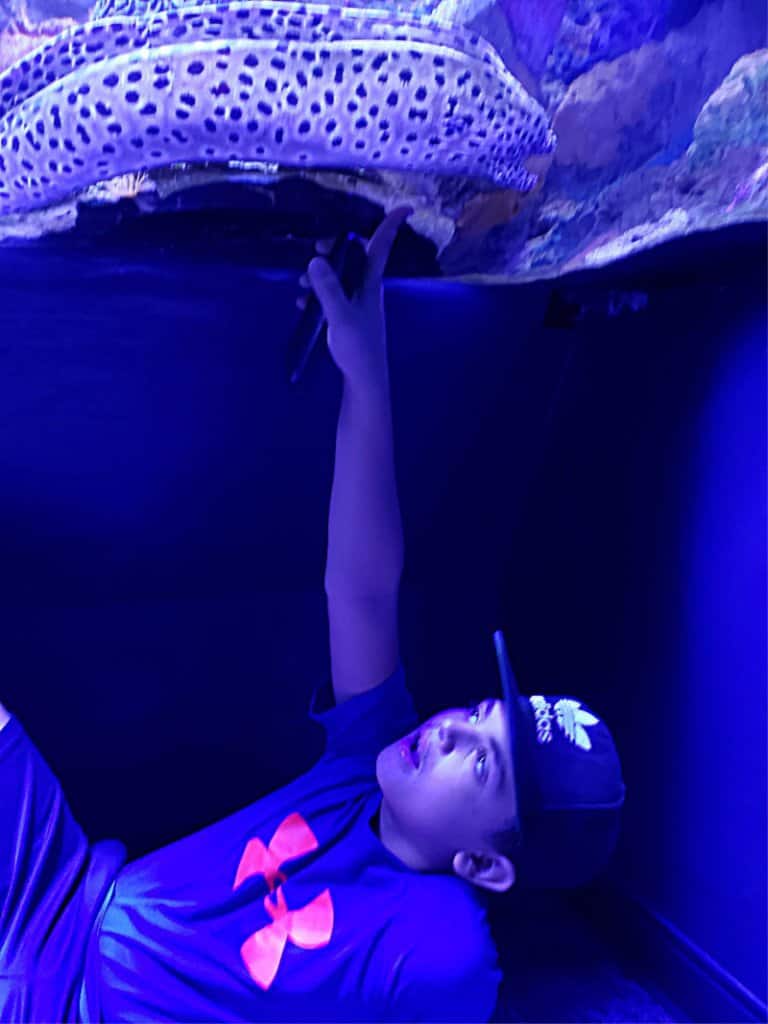 The boys loved the central play area – a perfect place to exert some pent-up energy!  Between this cool rainbow bridge and the different levels connected via slides and rope ladders, they could've stayed there for hours.
The lower level was equally as fun with the Coral Reef, Discovery Center, Gallery of the Seas, Stingray Bay, and Penguin Playhouse.
Gabriel had a blast popping in and out of the three HUGE fish tanks.  Definitely, a cool way to see the fish up close – he felt like he was swimming alongside them.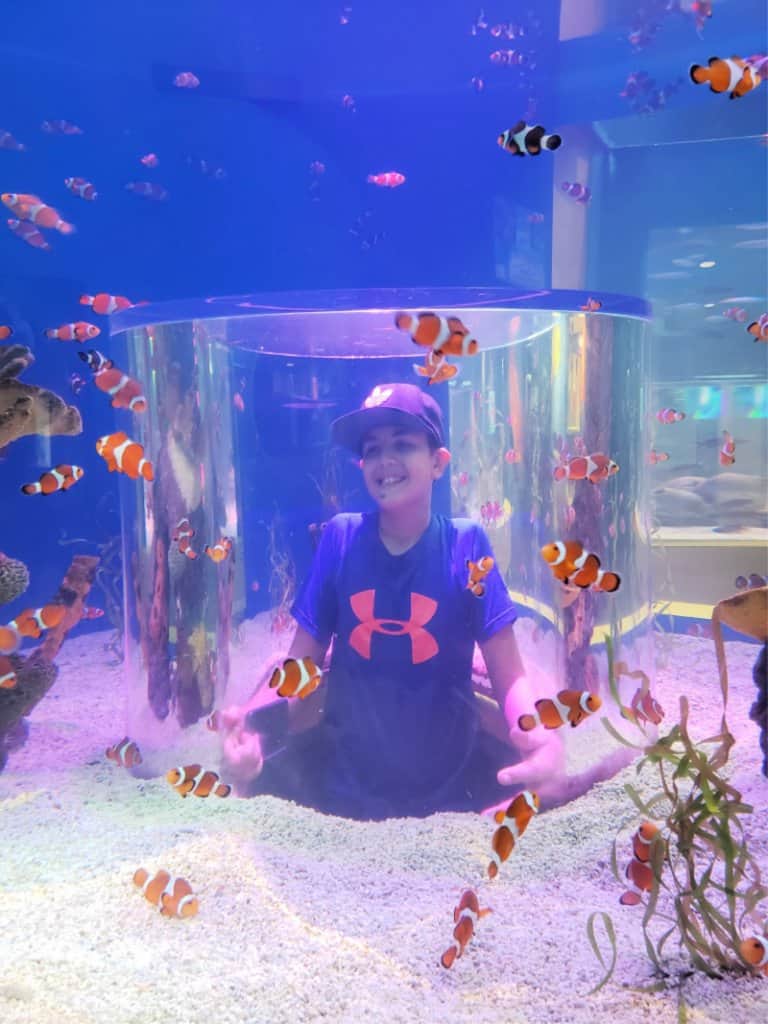 How cute is this puffer fish?  Did you know when a puffer fish feels threatened, it can blow itself up to four times its original size?
AND, even though this little guy looks super cute, it is one of the most poisonous animals on earth!  When they inflate they also release a chemical that is ten times more toxic than cyanide.  You don't want to mess with these guys!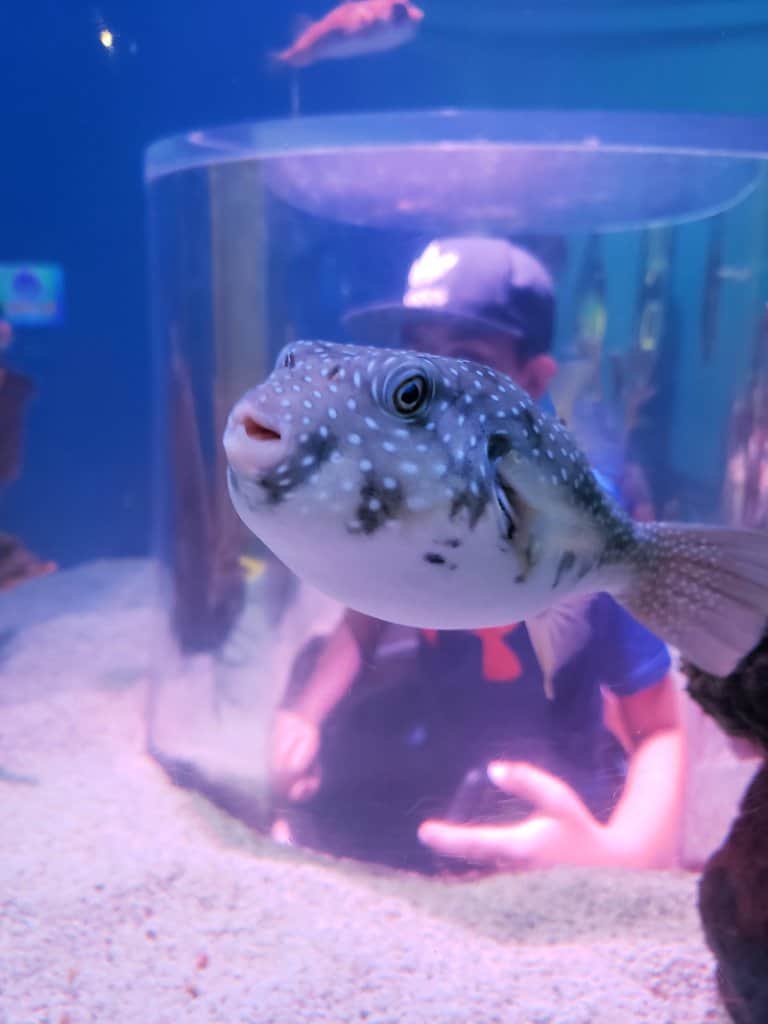 I don't know about you, but every time I see one of these guys below I automatically start hearing the Jaws soundtrack in my head.  dun dun. dun dun. dun dun….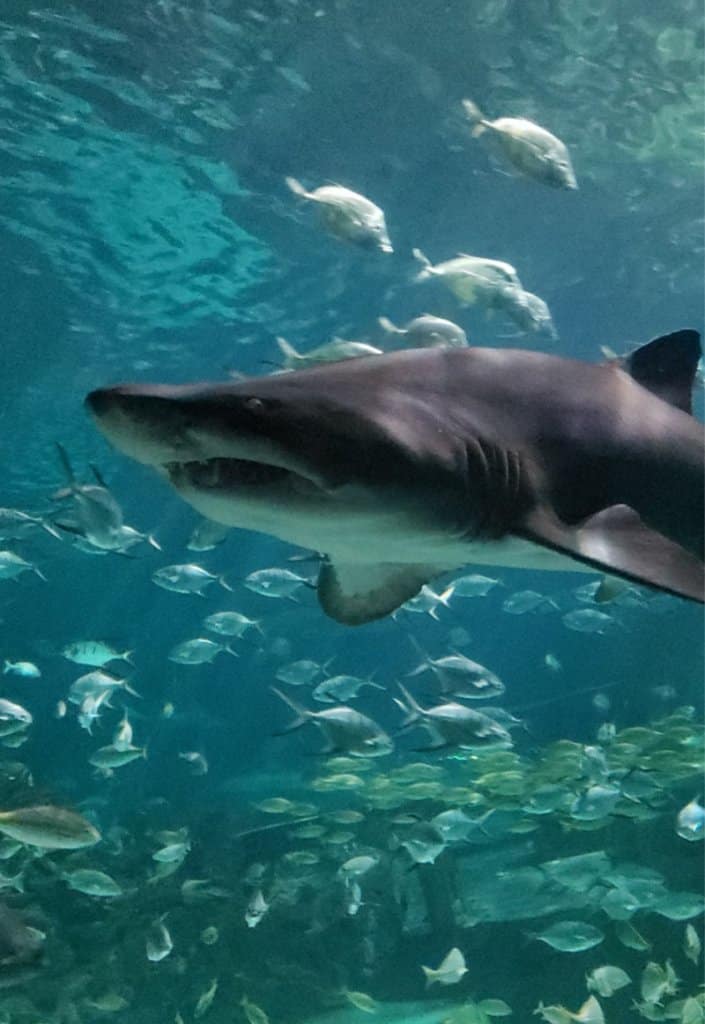 Our favorite part, hands down was walking through the underwater tunnel that is a football field long.  It was cool to see the underwater world from a different perspective…how about seeing this guy above your head!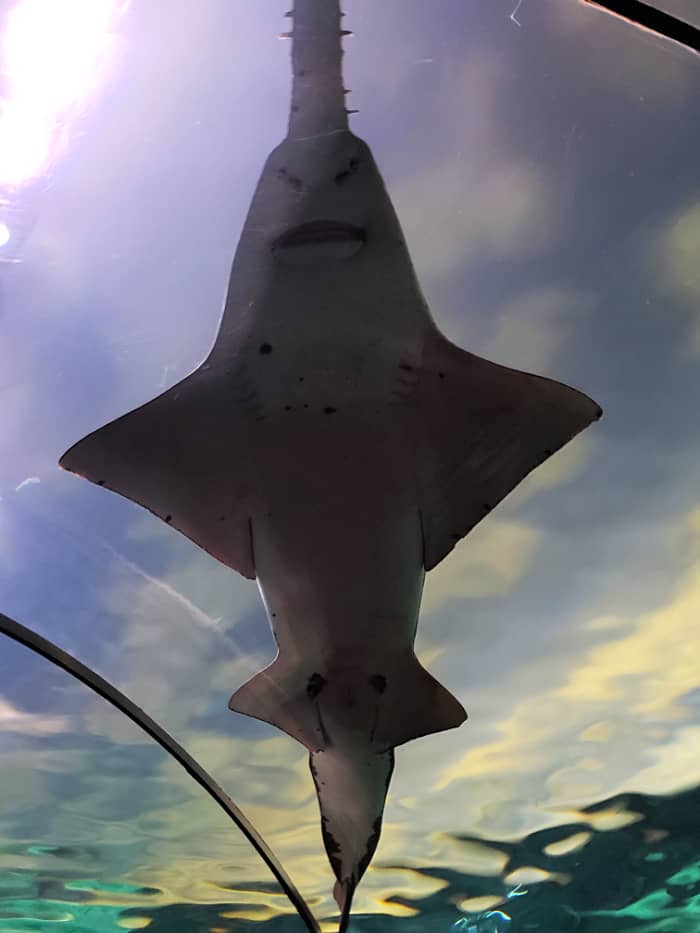 PLANNING YOUR VISIT
You can easily purchase tickets to the aquarium and all of the other Ripley's attractions via the website.  There are a lot of combo passes to choose from as well – definitely check them out if you intend on visiting two or more of the 8 attractions.
Make sure you review the live show start times and schedule fun unique experiences before you arrive.
If you find yourself in Tennessee – Galinburg in particular, I recommend checking out the aquarium!  Have you ever been?