You know I love me some subscription boxes, so when I stumbled upon Ipsy I just had to try it!  It is very similar to Birchbox in that it is a $10 monthly subscription to beauty samples.  The biggest difference I feel is that each month you receive the samples in a super cute make-up bag.  Not that I would need 12 make-up bags if I continue my subscription for one year, but it is a cute way to deliver the products and makes it stand out compared to the other boxes out there.
This month's Ipsy was great.  My past two Ipsys came in the same super-bright pink bubble envelopes so I was sure to see it as soon as I opened my mailbox.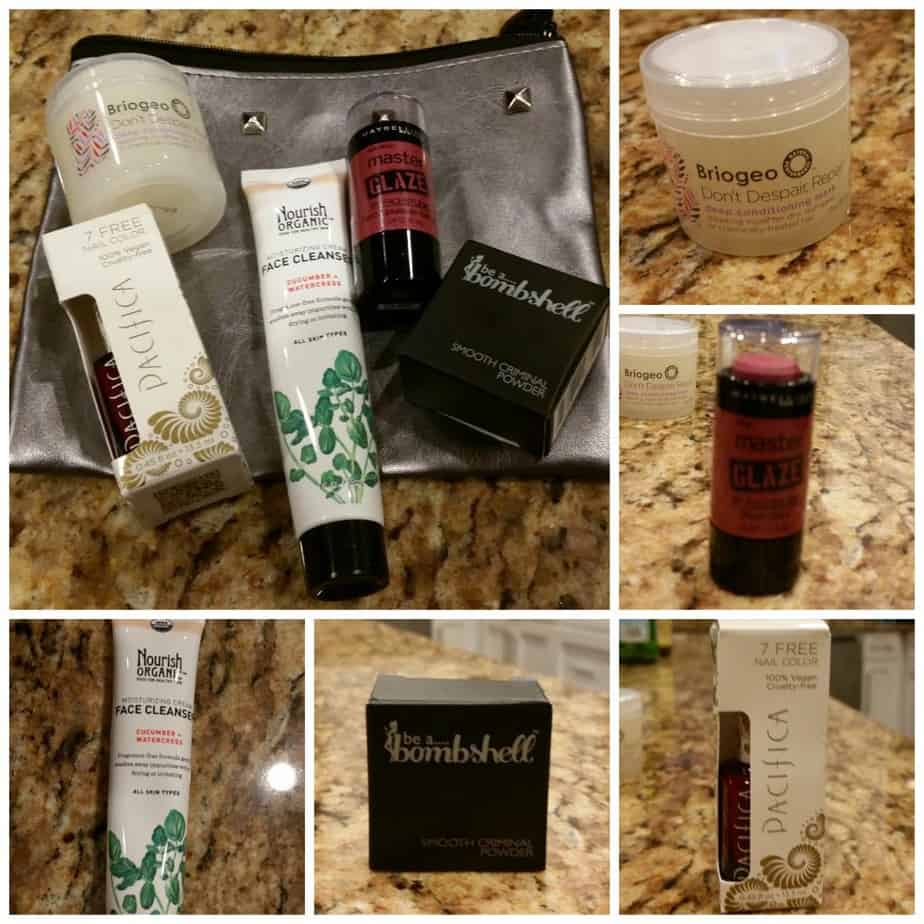 The metallic make-up bag is super cute with its studded top.  Inside was filled with:
Briogeo Don't Despair Repair: This is something I am looking forward to using tomorrow morning.  Between the coloring and keratin treatment, my hair needs some love.  It does state that if I have thin hair, which I do, to focus on the mid-length to the ends of my hair and to rinse thoroughly.  Maybe I'll try it tonight just in case.  Other reviews say that it smells delish so I can't wait to try it!
Maybelline Master Glaze Blush Stick: A little bit goes a long way when it comes to this blush stick.  I've used it a few times and the mauve color is really pretty.
Pacifica 7 Free Nail Color in Red Red Wine:  I love that this polish is 100% vegan and cruelty-free. 7 Free is formulated without parabens, phthalates (dibutyl phthalate), toluene, xylene, camphor, formaldehyde, resin, and animal byproducts. I am going to try it this week on my fingernails and toes – love my manis and pedis!
Be a Bombshell Smooth Criminal Powder: I didn't understand what this was at first – now I do.  You apply it to soften the look of fine lines and pores.  I'll try this, but I am not really a powder or foundation girl.
Nourish Organic Face Cleanser in Cucumber and Watercress:  This smells delicious and made my face feel super clean and not dried out like some other cleansers.  Out of all samples, this would be the one I would more than likely purchase a full-size version.
All in all, I liked my Ipsy bag this month and think it would be worth a try.  For $10 I received two full-size "samples" as part of the five piece offering.