One of the many things my mom taught me was the importance of taking great care of my skin.  She introduced me to facials, the best skincare products for my skin type, and the importance of sunscreen.  Every time I hear about a new product, whether its a serum, cleanser, lotion or tool – I want to learn more about it.  When Michael Todd Beauty offered to send me one of their new Total Refresher, a 3-in-1 Derm Rejuvenation System, I gladly accepted!  I was curious to see how this product worked.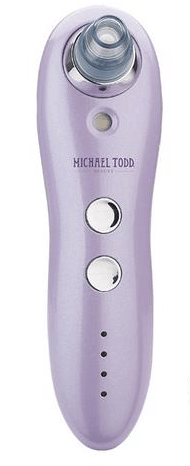 I've had innumerable facials, dabbled with microdermabrasion (loved it), and a peel here and there, so I was excited to see how an at-home system fared against my previous experiences.
I received the Total Refresher on Friday and couldn't wait to see what was included. I unpacked:
Rechargeable device handle 
Diamond tip microdermabrasion head
3 different sized suction heads 
USB charging cord
I read the instructions thoroughly, as this was going to be used on my face and I am super careful with ANYTHING that touches my face!
trial time
First, I applied a hot towel to my face for about 3 minutes. (I warmed a wet washcloth in the microwave for about 20 seconds.  Test the temperature before you apply it to your face!!)
I filled the toner area with my favorite rose scented toner, but you can use whichever toner you like best.
I used the microdermabrasion head first to buff away any dry skin and prepare my skin for the next step.  It actually felt like a gentle massage!
Next, I put on the smallest sized suction head, as this was the first time I was trying out the tool (and I didn't want to go overboard LOL).  I learned that after you clean the pores is the best time to apply toner and other serums of choice as they absorb much better.
The final step, which I think is such a cool addition, is the toner mist!
My skin did feel smoother and more refreshed (no pun intended!)  I will need to try it out a few times to see how to works but after my first experience, I am pretty impressed!  I think that if I use this in combination with my Soniclear, I will have a pretty solid skincare routine.
A LITTLE ABOUT MICHAEL TODD BEAUTY
Aside from the variety of devices that Michael Todd offers (the Soniclear being a favorite of mine), they also offer just about any skincare product you could think of.