Each morning, you get up and you start your day. But how DO you start your day? Every single person around the world does things in a different order with a different routine, and it's likely that you do the same thing. We create routines and things to do so that our mornings can lead to a successful day. If we didn't start the day right, the day just doesn't go the way we had planned.
It's important, then, that we create routines that work for each of us and encourage us to have the most successful morning possible. There's nothing worse than starting the day on the wrong foot!
8 Morning Habits to Start NOW!
It's time to stop waking up in a frenzy, slamming the alarm, and rushing your way through your morning granola. Planning a good morning means planning for success, and whether you are aware of it or not, the habits that you create now will set your morning up for good – or not.
You need to develop the healthiest habits possible to ensure that you are ready for success. It takes time for your habits to become intentional and successful ones, but that doesn't mean that you can't start right now. We've put together some of the best habits that you need to start your day right. Let's take a look!
Get Off The Technology
Rolling over to scroll through our notifications and social media is the new getting up to read the newspapers. If the very first thing that you do is get up and check your phone, it's time to start leaving your phone outside the bedroom.
Buy a separate alarm clock – you really don't need to use your smartphone as an alarm clock – and let go of the social media morning. You're going to get sucked into a world of scrolling and end up creating a reactive mindset for your day. It's not ideal for your morning habits to start with staring at social media first thing in the morning, because all you do is prevent yourself from getting up and getting going.
Cold Water To Start
Not to drink, of course. When you do your usual heading to the toilet, then to brush your teeth, start your day with a splash of water to the face. Not only will this little shock of cold wake you up a little, but it'll also give your skin the chance to wake up and feel refreshed after being pressed into a pillow all night. You don't have to dunk your head under the water, but you do have to consider a splash on the cheeks and eyes!
Warm Water Next
Coffee and tea are the go-to for most mornings, but you're going to have a better time getting your brain hydrated and ready to start the morning with some tepid water. Some people love freezing water, but warm water with a dash of something fruity is actually going to kick-start your system a little better in the morning. You can start your day feeling reinvigorated and prepared to start the day.
Consider Breakfast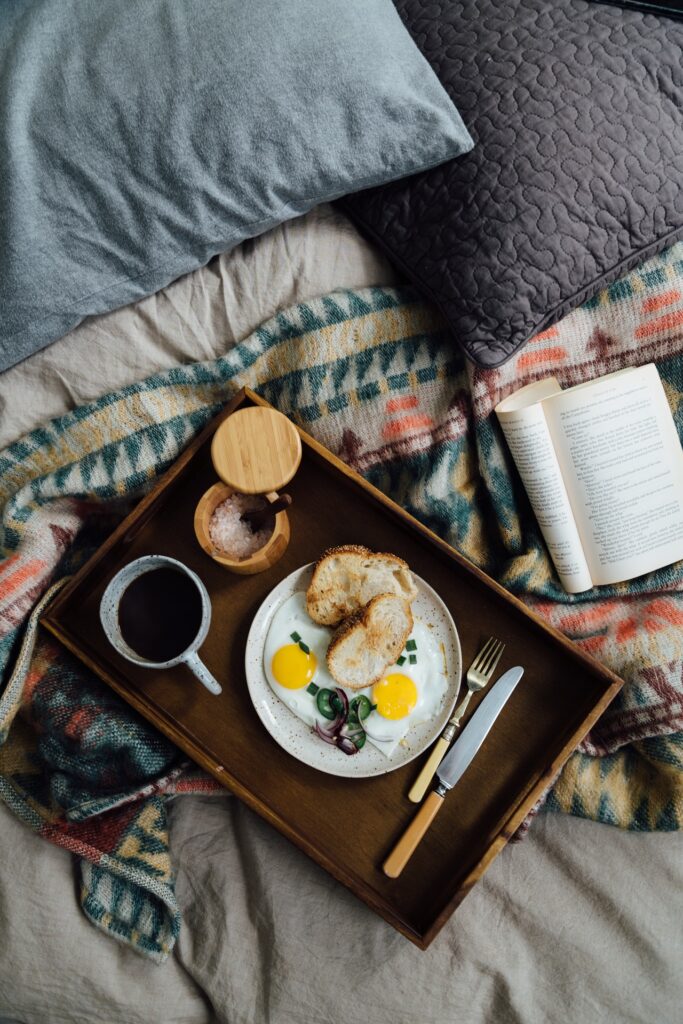 Some people love to start their day with a full spread, others don't. We all know the granola health benefits, but sometimes what you need is a stack of pancakes and syrup! The thing is, breakfast is a good way to get the metabolism revved up and ready to go, and it's a great way to feed your brain and your body. You need to decide how you want your morning to go, and breakfast – a sitting down, eating slowly breakfast – will help you to better start your day. Rushing out the door only leads to heartburn and stomach ache.
Make The Bed
Yes, we know, you're only going to get back into it anyway – we get it. The thing is, your bed NEEDS to be made in the morning.  This is one of the morning habits that was instilled in me at a young age!
They say a tidy space is a tidy mind, and it makes sense given that while it seems like a total waste of time, you're going to feel better about the way your sleep space looks. Let's also remember that you can straighten out your sheets and feel like you're getting into a brand new bed every single night.
Breathe
Each morning, take a moment to just breathe. You don't have to know much about meditation to know that taking slow, deep breaths is going to be a good idea to get your head cleared and make you feel ready for the day. You could set your intentions for the day and get clarity about what you want to achieve. Get into a comfortable seat and just take a moment to breathe and clear out your mind. That'll help you to feel ready to tackle whatever is ahead of you.
Move
Your body needs to stretch in the morning and if you want to incorporate some exercise, why not give Yoga a go? You can stretch your body out and make your body feel warm and supple for the day. You can do other exercises and HIIT, but Yoga gets your body warm and ready for the day ahead. A morning workout doesn't have to be complex at all; it just has to mean moving your body and feeling good.
Write a List
Lastly, make a list of goals and intentions for the day. Once you have a list, you can feel as if you have some direction for your day. Each time you complete a task you can tick it off the list and make your day feel ordered and better. Lists are going to give you a push and if you tackle the hardest things first, you can feel success in your day. You deserve to succeed and now you know that a list can help!
Sleep well and start your morning routine right, and you're going to be able to enjoy some healthy habits that you wouldn't be able to start anywhere else. Start with you and make your morning work – then your day will fall into place.