Next week is the 4th of July – the anniversary of the day the Declaration of Independence was adopted back in 1776.  To me, the 4th is the time for BBQs, spending time with your loved ones, and of course fireworks!
Are you hosting a party?  Here are some cool ideas for fun on the 4th parties:
Playing Cornhole – I first learned of this game from my old neighbor and dear friend.  If you  haven't yet heard of it, it is basically a bean toss lawn game.  You get 3 points for throwing the bag into the hole and one point if it lands on the platform.  The winner is the one that reaches 21 points first.  I have been seeing these cornhole platforms sold in a few places – I am thinking of getting this myself.  You can make a set yourself and save some money, or if you are like me, consider some of the ones below:
This option from Target is colorful and portable…great combination!
Colorful and patriotic…
or beachy!
Watch Fireworks: By me, one of the best places to watch the fireworks is at the beach.  Where do you go to watch the fireworks?
Cool Food Ideas: I found these on Pinterest and can't wait to try them out myself!
Patriotic Cookie Pizza – something both beautiful and healthy!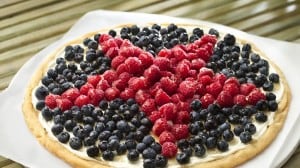 Festive edible wands for the kids!  All you need are blueberries, a watermelon, a star cookie cutter and skewers.  Consider cutting the sharp end off of the skewer for safety.
Another cool fruit option is to get snow cone cups and fill them with blueberries, strawberries, and raspberries.  Not only are they super easy to just grab and eat while hanging out, they make a cool decorative addition to the celebration.
Cheers! Beverage anyone? First a cool drink for the kids.  Note: there is a decent amount of sugar in this one.  Don't say I didn't tell you!
You will need the following:
Sobe Pina Colada (the white one)
G2 – light blue
Cranapple juice cocktail
Read the rest of the recipe HERE…it's a great blog by the way!
Now on to the adult drinks!
Rachel Ray's Strawberry Sucker sounds delicious and patriotic.  All you need is strawberry schnapps, vodka and club soda.  Add sliced strawberries and a swizzle stick with blueberries for added color
Watermelon is another great fruity option for celebratory drinks.  The non-alcoholic version is super easy and very refreshing.  The alcoholic version can be found HERE. YUMMMMM.
Like spice and tequila?  Guy Fieri has the perfect drink for you!
Oh, and of course red and white wine are always festive!
I have a lot to do to get ready!  Do you have any festive drink, food or activities that you'd like to share?  I'd love to hear about them!