It's officially Fall (not that it feels that way outside) and time for my Fall accessories roundup!  Fall is by far my favorite season of the year.  The air is crisp, the humidity dies down (a bit), and I can pull out some of my favorite items to wear.
This Fall is no different than any others, in that there are new accessory trends.  Check out my list of 10 must-have Fall accessories and comment below with which ones you will be adding to your wardrobe!
CHAIN BAGS
When I hear chain bags, the first thing that comes to mind is a classic quilted Channel bag.  This season, chain bags come in every shape, size, and color.  Below are 10 that caught my eye.  Click on the images for more details!

HANDS-FREE BAGS
Although very handy, I really didn't expect to see fanny packs make a comeback.  They did this Fall – and with a bang!  Just about every designer has their own take on the fanny pack or "hands-free bag".  Below are ten that I can see myself wearing!  Click on the images to get more details and to shop!

HATS
Whenever I see someone rocking a hat, I always wonder why I don't invest in some. They are super stylish and protect us from the sun at the same time! 
Tenth Street Hats
sent me over one of their most popular hats – Sydney – and I think I may be in love!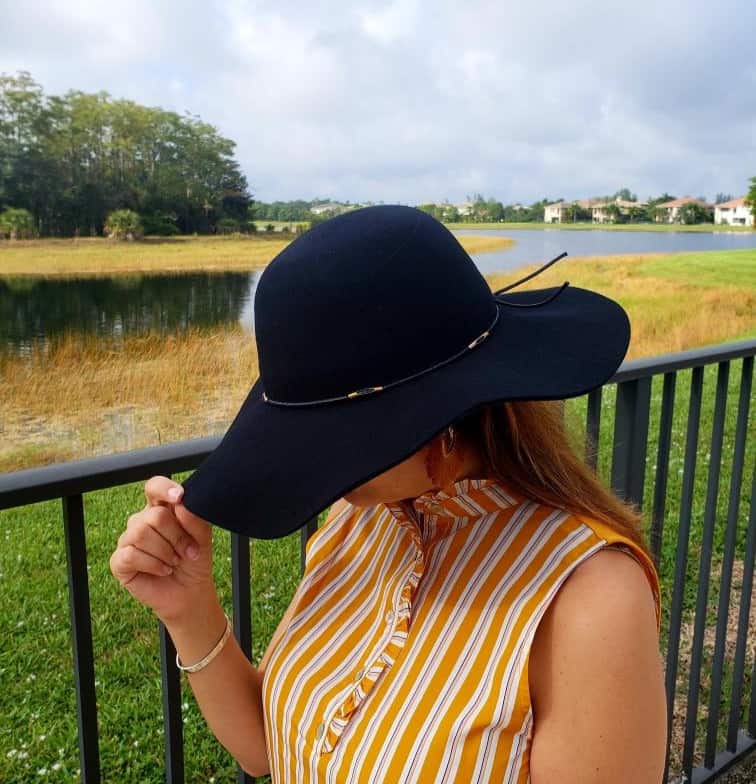 Made of 100% wool, Sydney comes in two colors and goes with any style outfit. It is the perfect amount of floppy. However, it is now unavailable so I found some other floppy hats you will love!

WORD JEWELRY
Remember when nameplates were all the rage?  I am totally dating myself, but back in the day, it was so cool to wear your name on your neck.  I still have my DANA nameplate – I am definitely going to be shining it up this season.

PLAID
Plaid comes in so many colors and styles, there has to be something for everyone out there!  I picked a handful of fun scarves, wraps, and even some hats to bring this trend into your wardrobe!

SHOES
Last week I talked about everything animal print trends.  When I first heard it was in for fall I couldn't really visualize how I would personally bring it into my closet.  I was surprised at how many different pieces I liked (and possibly purchased), shoes being my favorite!

STATEMENT SCARVES
I love scarves, even when it is 90 degrees outside.  Why you may ask?  Because I am always wearing a simple solid shirt and a pair of jeans, so the scarf is my pop of color – my go-to accessory.  Here are some of my favorites for the Fall season!

CUFF BRACELETS
It was hard to pick only ten cuff bracelets.  There were so many to choose from.  Prices range from uber-affordable to crazy, so I kept my selection under $125

CHANDELIER EARRINGS
I used to be the "put a pair of studs in and never look back" kind of earring person.  I never really got into any other earring style until the past year or two.
For some odd reason, I used to think that I couldn't wear long earrings if my hair was short.  Don't ask why because when I look back on that personal philosophy I can't seem to figure it out.  Now, I love seeing long chandelier earrings on people with short hair, long hair, you name it.
There were quite a few styles of chandelier earrings that caught my eye this season – especially the leaf ones by Kate Spade.  Click on the arrow to scroll through my top 5!

COLORFUL GLOVES
It's hard to imagine wearing gloves in South Florida, except for those one or two random days when it is super cold.  (And even then people look at you oddly – I know, it's happened to me!)
Aside from South Florida and maybe some other tropical climate locations, colorful gloves are in.  I envision wearing one of my momiforms (white or blacktop, denim jeans, super cute booties or flats, lightweight jacket) and a pop of color emanating from my gloves!  Here are my top ten picks!

FALL ACCESSORIES
Which of these must-have Fall accessories are you planning on adding to your wardrobe?