I'm rolling out the season with my 2020 holiday gift guide for kids. I've researched and derived a list of some of the most unique and useful gifts that the kids on your list will thank you for!
Science, Technology, Engineering, and Math Oh MY!
STEM toys have been popular for years, with cooler and cooler options coming out each holiday season.
How cool would it be to build your own gumball machine and learn physics lessons in the process?! A turn of a handle dispenses one gumball at a time out of the clear storage globe and down the track. As the gumballs roll down the track, they perform cool stunts and tricks.
Stunts include a pulley lift, pendulum, funnel, trampoline, variable-slope ramp, pinball launcher, and domino slide. Each segment of the track teaches a different lesson in mechanical physics, allowing kids (and moms) to explore topics including simple machines, force, motion, momentum, gravity, Newton's laws, energy transfer, and more. Trial-and-error experiments teach in a fun, hands-on way. AGES 6+ MSRP: $29.95.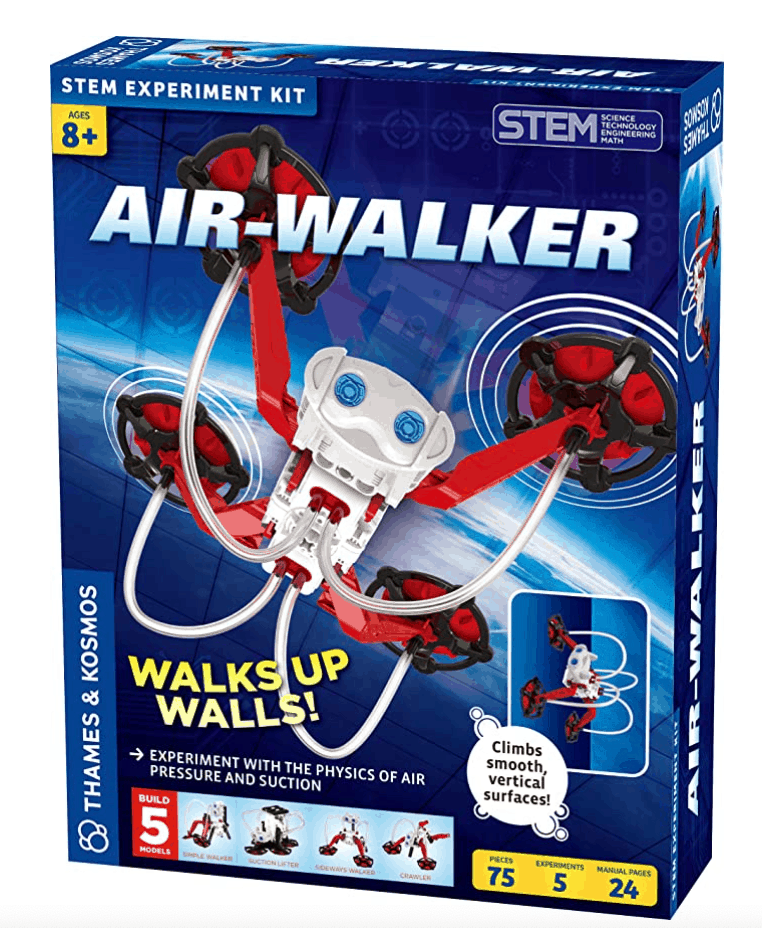 A robot that defies gravity?! That's Air-Walker, a four-legged bot that uses an ingenious system of suction cups and pumps to crawl along smooth, vertical surfaces like windows.
You can also build four other models with the same components and learn how suction and mechanical devices can be used in different real-world applications. A vacuum-suction machine sticks to and lifts flat panels, while a robot with just two suction cups rotates around a central pivot point.  This hands-on construction kit brings engineering and physics to life as it demonstrates the power of air pressure at work. Ages 8+ MSRP: $25.99
The new Insta Studio by WeCool Toys has everything you need to shoot your very own viral videos! Equipped with an adjustable base and rotating head to shoot at the best angle possible, this device allows kids of all ages to shoot viral videos hands free using your very own smart phone!

The best part is, kids can use their Insta Studio to shoot all types of viral videos! From cooking, crafting, and sliming, children have the freedom to create all types of viral videos, the possibilities are endless and so are the endless hours of entertainment!
Parents love the price point! Rather than spending a lot of money on professional equipment, the Insta Studio allows kids to enjoy all the perks of high-end equipment at a fraction of the price!

Includes fun and trendy backgrounds, mixing tools, various slimy compounds, and sparkly mix ins! Item includes the following: One Instastudio, 3 Bags of Scrented premade compound, 4 Bags of Foam Bead mix-ins, One Scraper tool, 2 Bags of Glitter Mix-ins, 2 Fun colorful Backgrounds, one Anti-relecting Background shield.
It's All About the Board and Card Games
My family loves board games.  The time we spend playing the game is the perfect time to hang out and talk.  Like, really talk.  It's funny what conversations arise!
I first learned how to play UNO as a child, which then morphed into the "Card Game of Hurricane Season", and now we play all  the time.  I love that they come out with different iterations of the classic game and am looking forward to challenging the boys to UNO® Showdown.  
UNO®  Showdown™  is  the  matching  card  game  everyone  loves  but  with  the  unexpected  excitement  of  a  card-shooting  smackdown!  When  the  lightning  sounds  and  the  UNO®  Showdown™  unit  signal  goes  off,  be  the  first  to  push  down  on  the  paddle.  The  quickest  player  wins  the  showdown  and  sends  cards  flying  out  of  the  UNO®  Showdown™  unit  at  their  opponents!  Players  race  to  get  rid  of  all  their  cards  by  matching  them  to  the  card  shown  on  top  of  the  deck.  When  players  are  down  to  one  card,  they  must  remember  to  yell  "UNO!"  Fun  for  kid,  family  or  adult  game  night  and  a  great  gift  for  players  ages  7  years  and  older.
You are "go for launch!" Apollo is a cooperative strategy game inspired by the NASA moon missions. The year is 1961, President Kennedy challenged the nation to land astronauts on the moon by the end of the decade. Now it's up to you to walk in the footsteps of NASA's pioneers and embark on the missions that made history… FOR ALL MANKIND!

Play as Mission Control and or an Astronaut. Both sides must worth together and strategize to complete flight stages, overcome obstacles, repair the spacecraft, and keep communications clear. It is the team that determines if the mission is a success or failure.

Includes two mission packs, Gemini and Apollo with real NASA mission facts for basic and advanced play.
So much fun!  It took me a little bit to get the hang of it, and Alexandra my 7 year old buddy may have won fair and square, but I loved every minute of it!
There's something about the cars and the people, and of course the money involved, that continues to draw my boys to this game.  I always wonder if I am going to have twins and what I'm going to be when I grow up!
I have to say, I am quite obsessed with Electronic Battleship.  I enjoy the traditional version, but the electronic version brings it to a whole other level!
This game is definitely going to be a favorite in our household (and a gift for friends and family members)!
The judge for each round flips the timer and holds a card up so that only they can see the answer, but everyone else sees the Incohearent phrase. Everyone else reads the front of the card aloud. Whoever decodes the phrase first wins the card. When the card has been decoded or the translators have elected to pass, the judge pulls the next card. Once the timer runs out or 3 cards have been decoded, the round is over, and the next person becomes the judge.
Holiday Gift Guide For Kids
I'd love some other ideas for the kiddos!  Please comment below!