Living in Palm Beach County has afforded me the luxury of experiencing some of the best places to dine in, take out or order delivery from!
This will be a living article in that I will update as I come across newbies to add to the mix!  I am also planning on creating one for each of the counties here in South Florida that I frequent the most.  If you have any recommendations, I'd love to hear about them in the comments below.
WHERE TO EAT IN PALM BEACH COUNTY
I grew up in a household where both my mother and father enjoyed cooking – and did so very well!  I had, and still do, the best of both worlds.  My dad is Italian Catholic while my mom is Russian Jewish, so you can only imagine the amazing scents and dishes that came out of our family kitchen.
Being married to a foodie just adds another dimension to my love for great food.  Below are some notable Palm Beach County restaurants that I frequent.
CHINESE FOOD
First introduced to us by our neighbors, Grand Lake Chinese Cuisine has become a staple eatery to visit (and most currently order in from) for the BEST Chinese food we've had in ages.  Grand Lakes is located on Okeechobeee Blvd. just east of Lyons (Sansbury) and west of Jog Road, on the south side of the street.
Grand Lake offers legit dumplings this side of Din Tai Fung.  Traditionally, on Saturdays and Sundays they go around from table to table with a cart offering different dim sum options.  Simply fill out the paper menu with what you desire and it arrives to your table as soon as it is  it is cooked.  For appetizers, I am a huge crystal shrimp fan but also enjoy the steamed sui mei, fried taro cakes and BBQ spare ribs.  I love their vegetable tofu soup (it is a hearty serving too) and the roast pork noodle soup (enough for 2 and then some).
For the main course, I highly recommend the Peking pork chop, Mongolian lamb (my husband's pick as I am not a lamb lover), Shrimp with Lobster Sauce, and definitely the Young Chow Fried Rice.  For a side, I would highly recommend the Garlic Bok Choy.
They do deliver within a three mile radius, but we enjoy eating in (pre-COVID) and cannot wait to dine inside there again soon.  In the meantime, we order to go or delivery.
JAPANESE FOOD
If you are looking for super fresh and tasty sushi and Japanese food, you need to check out Kabuki.  There are 3 locations in Palm Beach County – Wellington, downtown West Palm Beach and Palm Beach Gardens.
Kabuki offers the best lunch specials from opening until 3:00 p.m. – namely the You Pick Two.  I opt for the JB Tempura Roll (tuna in lieu of salmon, soy paper in lieu of seaweed) and Buddha's Delight (with steamed tofu), but there are so many other options to choose from – all at only $12.95.
The Happy Hour is amazing as well (beginning and ending times vary on location so be sure to confirm before heading out).  House wine is only $4 per glass, specialty cocktails only $6, as well as a variety of sake and beer specials.  Choose from a nice-sized list of sushi rolls for only $5, with other tapas ranging from $4 – 6. Happy Hour specials are only offered when dining in, but the lunch specials are honored for takeout and delivery.
RAMEN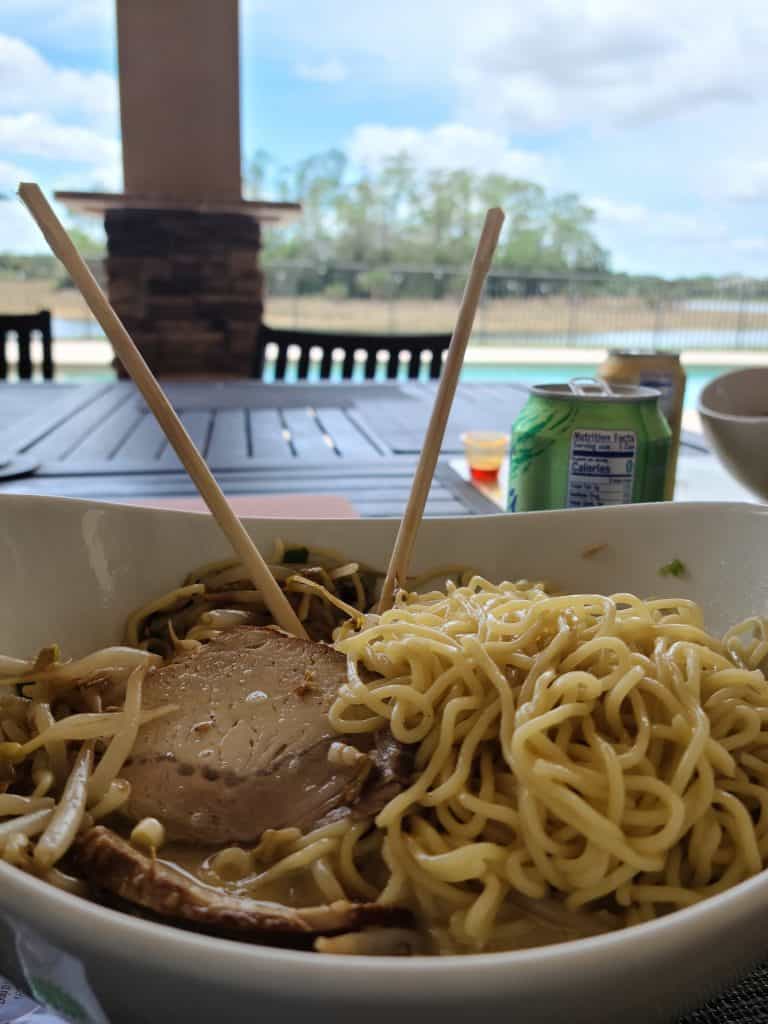 I questioned telling you about this little-known place, but sharing is caring – right?  Cha-cha is AMAZING for ramen.  They also offer a variety of Japanese dishes but their ramen is phenomenal.  I'm not exaggerating that I dream about it sometimes and always compare other ramen places to this very charming one.
Located on the west side of US-441 between Southern Blvd. and Forest Hill Blvd., this gem is one to definitely visit!
There are only a handful of tables in the restaurant itself, and they used to not allow pick up.  Since COVID, they have changed that one stipulation, and we take advantage of it at least once a month.
ITALIAN FOOD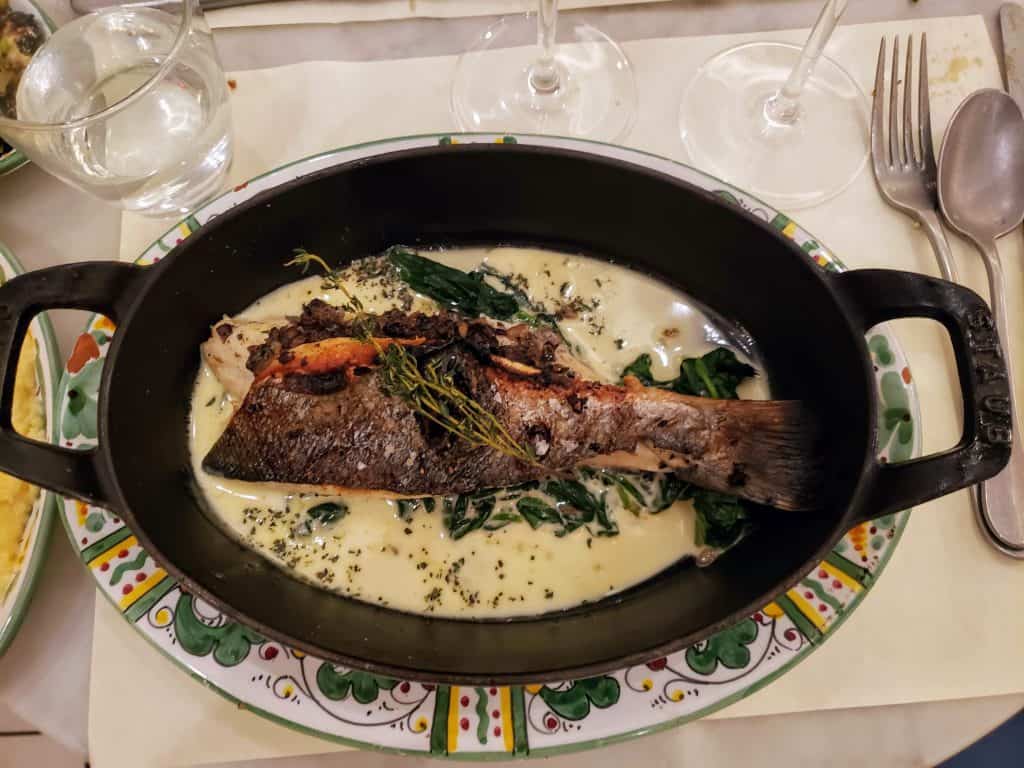 I am very picky when it comes to Italian food.  Every Sunday (except for some in the summertime) was Sunday gravy in my home.  I have learned to enjoy, and make, the best marinara and meat gravy this side of Italy.  My husband and I enjoy many an Italian specialties at home – chicken francese, veal saltimboca, stromboli…the list goes on and on.  If we are to eat Italian out, it has to be different.
Scuci Trattoria, located in Palm Beach Gardens, on PGA Blvd within PGA Commons, is our "different".   The first time we dined in (pre-COVID), we dined on burrata to start, followed by the wood baked branzino, and an amazing veal milanese that isn't currently on the menu.
Dessert had to be the homemade gelato (of course)!  Their pizza looks fabulous as well as the meat and cheese charcuterie options.  Scusi currently offers dine in, take out and delivery.   Brunch sounds divine and I can't wait to try it out in the coming weekends.
PIZZA
I am from New York and have dubbed myself a pizza expert of sorts.  Moving to Florida from NY has discounted me of a few delicacies such as edible bagels, Chinese food, and of course PIZZA.
Pizza Girls, located both in downtown West Palm Beach and Palm Beach Gardens, is hands down the best pizza I've had in South Florida.  You can order traditional cheese pizza by the slice, one of their specialty slices, or grab a whole pie and go!
Pizza Girls also offers sandwiches and salads too.
AMERICAN/CHOPHOUSE
I'm all about locally-sourced food, and have enjoyed dining at Proper Grit for that very reason.  Located within The Ben a new boutique hotel in downtown West Palm Beach, it is a super cool dining spot with indoor and outdoor seating options.
Executive chef Andre Sattler and Chef de Cuisine Jesse Pita offer up Old Florida flavors.  I wouldn't have initially defined Proper Grit as a chophouse, but see why it is.  The hamburger is both beautiful and delicious, with the roasted fingerling potatoes au gratin something definitely to go back for as well.  I practically inhaled the above photographed filet – it was that good!
Their brunch looks delicious – another addition to our to-brunch list for sure!
Looking for a rooftop site to enjoy the WPB skyline?  Take the elevator up to Spruzzo for breakfast, lunch, dinner, or a crafted cocktail.
GREEK
The best avogolemono soup starts off my order each and every time.  Chris' Taverna, located in the shopping center on the southeast corner of Lantana Road and Jog Road is our go-to for Greek food.  I watched it grow from a small restaurant to a much larger venue with outdoor dining and butts warming seats waiting and waiting for their turn to enjoy the food.
My hubby loves his gyro while I switch between the spanikopita, mousaka, stuffed cabbage and shrimp santorini.  The dressing and super fresh vegetables that make up the Greek salad are another staple, and come with most lunch specials. Rich loves octopus and sways between the appetizer and the salad…both amazing options in his book!
We have never ordered something that has been below par – all you will find here is consistent and fresh meal options.  Did I mention that the sides of pita and tzatziki are hard to not gobble up?!
VIETNAMESE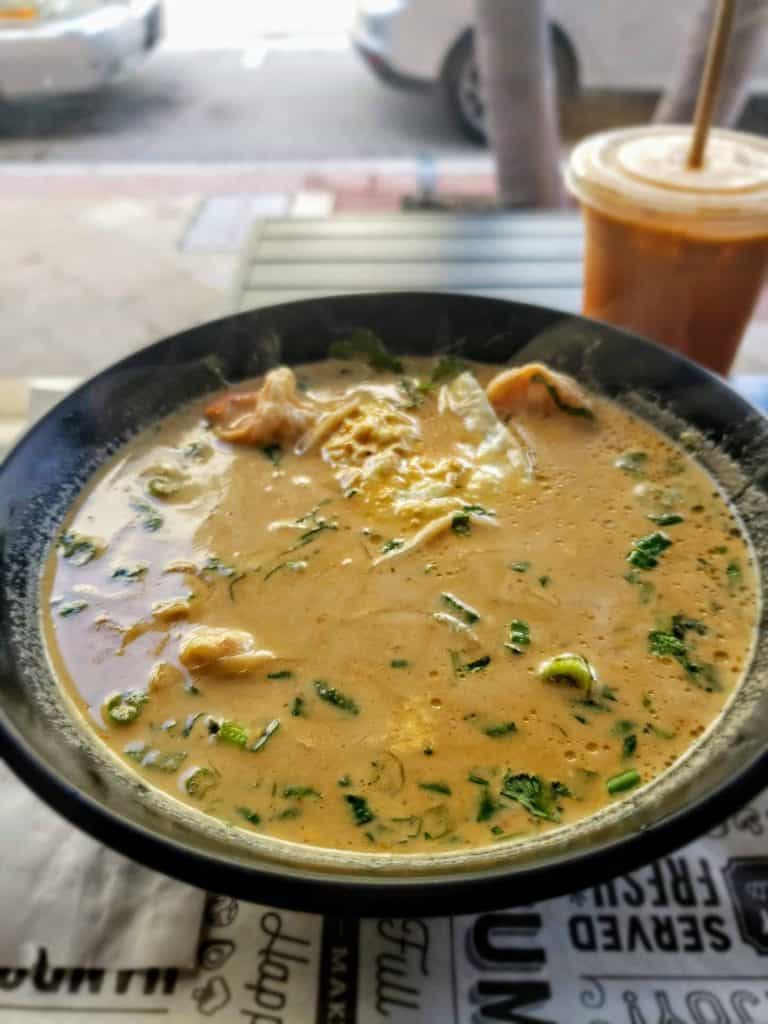 Another favorite located on Clematis Street in downtown West Palm Beach is Inches and Ounces – a mix of traditional and modern Vietnamese offerings.  I personally go for the pho – 40 ounces of noodle soup deliciousness.   Pick your broth and two proteins and you're good to go.
My hubby enjoys the short rib banh mi and the coconut and curry pho with shrimp.  I couldn't find a website for the restaurant but if you google it, it comes right up.
CUBAN
If you're looking for genuine Cuban food, you have to check out Havana.  Located on the southwest corner of Forest Hill Blvd. and S. Dixie Highway in West Palm Beach, Havana is the real deal.
They are technically open 24 hours, since they have the super convenient pick up window.  I wish I knew about this place when I was in college and looking for flavorful food at 3:00 a.m.
We usually hit up Havana for lunch – their specials are GREAT!  My dish is overflowing with arroz con pollo or bistec de palomilla.  The hubby opts for a Cuban sandwich or the bistec.  Pair that with the tostones and that garlic dipping sauce…oh goodness!
Wrap it up with a cafe con leche and don't forget to bring home some of their delicious empanadas.
SANDWICH SHOP
Super soft, fresh baked Italian bread and flavorful meats.  The place itself is small and discrete.  you could drive by it and not even know it is there.  I am so glad we found it though!
We also cannot rave more about their party-sized white garlic sauce pizza, a staple at our holiday parties.
Family-owned and operated, this tiny yet mighty spot is perfect for family dining and bakery treats as well.
THAI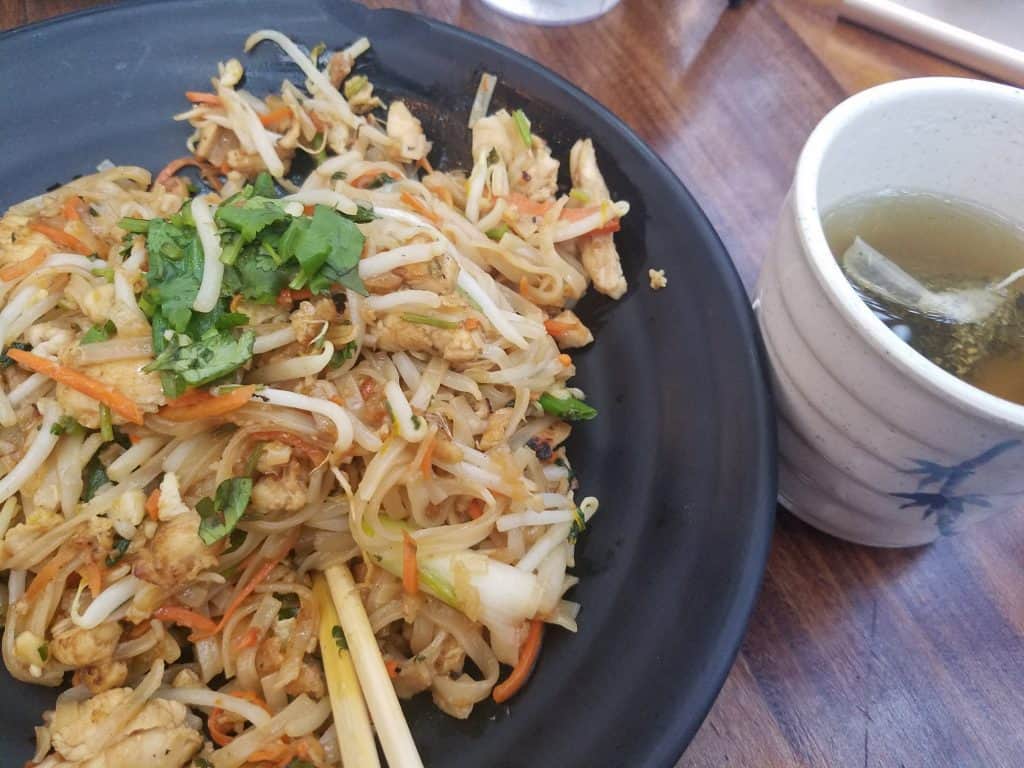 Another small yet mighty spot, New Thai, located on the south side of Forest Hill Blvd just east of US-441, is a hidden gem as well!
Anything you order, whether it is pad thai, panang curry, pad woon sen or basically anything on the full menu is legit.
SEAFOOD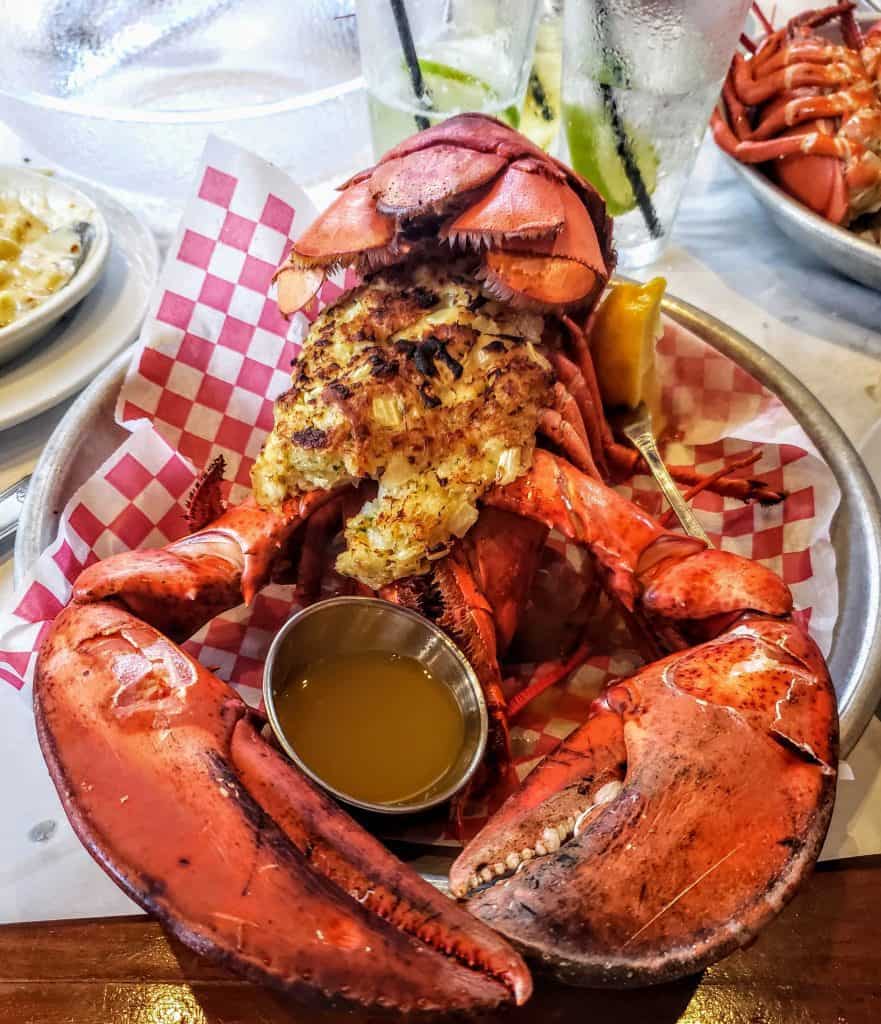 Ask anyone in my family where they want to go to celebrate their birthday and nine times out of ten, they will say The Station House.  Located (conveniently) in Lantana on Lantana Road just west of Federal Highway, The Station House is THE place to go for Maine lobsters.
We don't really order anything other than lobster when we are there, so we cannot account for the other menu options – although they look delicious when they pass our table.  The Station House offers a lot of amazing lobster specials so be sure to check their website and social media.  Sign up for the Lobster Lover Club – something that we didn't know existed until now but you bet we signed up for it!
YOU WILL NOT GO HUNGRY IN PALM BEACH COUNTY
It is hard to find restaurants that consistently offer delicious food.  I enjoy finding new places to try and will continue to do so, but in the meantime I have been loving the ones mentioned above.  Supporting small businesses is one of my passions, with each of the ones mentioned in this article being dear to my heart.  Quality food, cleanliness, and great service.
Stay tuned to this article for updated dining options in Palm Beach County!