You know how I am – when I see a new clothing subscription box come up in my news feed, I can't help but become curious as to what it's like.  Next thing you know, I am filling out the personalized survey.  I've tried Stitchfix, Wantable Style Edit, and DAILYLOOK Elite – all fashion subscription boxes with a similar premise:
Fill out a personalized survey of your style, likes and dislikes.  Some garnish a styling fee.
Receive a box with items that are picked just of you.
You keep and pay for what you like and return the rest.
The box arrived at my doorstep like all of the other ones.  I brought it upstairs and opened it in the same manor as the others.  The contents…well, you tell me.
ONE POCKET BOYFRIEND PLAID SHIRT (LEVI'S): Not needing a flannel shirt, I tried this on just to see what it looked like with the rest of the pieces I received.  It was so cozy and fit so well, I felt like it was perfect for me.
LAUREN BLAZER (PEYTON JENSEN): There is something about tweed that always gets me!  The zippered sleeves and pockets added to the love.  It can be worn for work with a black tank (silk or cotton) and black skinny pants – preferably ankle length, and black heels or pointed flats.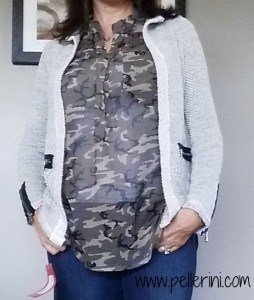 PLAY NICE RAGLAN (JUNK FOOD): Junk Food is one of my favorite brands, for both myself and my family!  The fact that it was lightweight and had the burned out look.  The only negative – it was a bit tight in the chest area, which made "Play" look a bit out of sorts.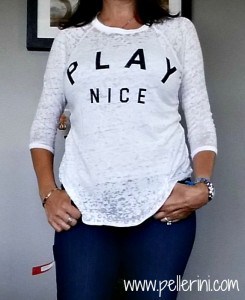 TASSEL AND CHARM NECKLACE (GILDED): Long necklaces, especially the ones that can be layered are totally on trend, and this one fit the bill.  I am a fan of tassels and loved the added charms.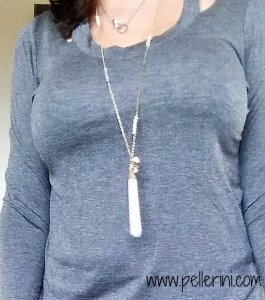 TRANSCEND VERDUGO CROP (PAIGE DENIM): Paige always fits so well.  When I unpacked this pair, I was super excited.  They had the right size and the color was perfect, but I couldn't swing the price ($169).
HUDSON CAMO TOP (PEYTON JENSEN): What a great, versatile top – perfect for the season!  This could be worn with black skinnies, dark blue, or even white skinnies.  If it's chilly out, pair this with a black cardi or unstructured blazer.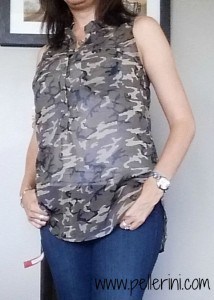 HYDE CUTOUT TEE (PEYTON JENSEN): At first, I didn't understand the top but once I put it on, I liked it.  The neckline was very different –  a nice change from the basic tee.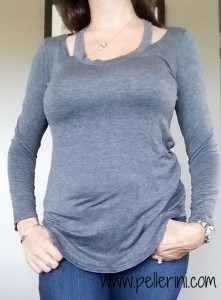 As you can see, the pieces that were chosen from me were mostly from the neutral color palate – that's me!  I loved everything and can strongly say that this has to be my most favorite box to date!  I wish some of the prices were a bit lower, but these are quality pieces – I could tell by the fabrics.
Do I recommend Trendsend?  Yes, definitely with two thumbs up.  Be wary that they are a bit pricier than the other boxes but I was SO happy with all that I received.  You do not need to pay a styling fee so there is no stressful feeling of commitment, like you HAVE to pick one piece because you already paid a set fee up front.
What do you think of my Trendsend box?  Interested in trying them out?  Click HERE to learn more!