Summer is here!  Living in Florida, we don't really "feel" the season changes as they all seem to meld together – but with Summer we get the added extra humidity and the almost-definite daily afternoon shower.
Growing up in the Northeast, Summer meant BBQs, beach days, summer camp (when I was little), changing over my closet from sweaters and cords to t-shirts and shorts, longer hours of daylight, and fireflies.
Here are some of my favorite shorts and t-shirts for this Summer.  Click on the image to get more info!
Denim shorts are a staple for the summertime.  I love these Gap shorts because of the frayed ends…you could always roll them up a bit if you want too!
I love the J Crew Factory t-shirt above!  I am a camo print fan and the fact that this shirt is linen makes it even better!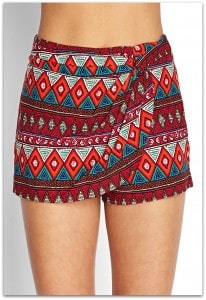 I know what you may be thinking – yes, I chose a pair of shorts that are colorful AND are a print!  I saw these in a magazine and especially for under $16.00, these Forever 21 shorts may make it into my closet!!!  It is a minimal investment for a cute trend.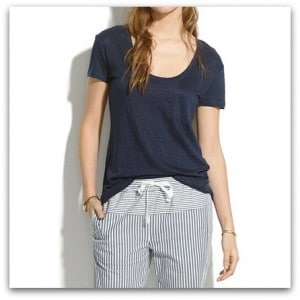 As I mentioned earlier, I love linen t-shirts.  There is something about the weight of them and the way they lay – and they come in just about every color!  The Madewell one above has a great scoop neck too!
Chino shorts – another staple.  J Crew has some great colors – I like the robin egg blue pair above.  Yes, I am starting to like color!
Cargo shorts – my favorite brand is Sanctuary.  Nordstrom is my go-to for Sanctuary cargos (shorts and skinnies).
J Crew Factory has this great tank (above) in linen (also in navy blue and white stripe).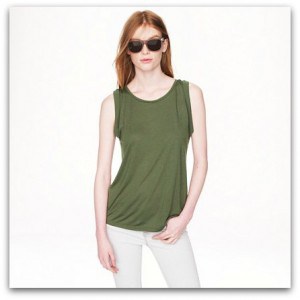 Although I lack the muscles, this muscle tank from J Crew caught my eye!  I love the color and think the edgy-ness will go well with the H&M shorts below!
Which shorts and t-shirt are your favorite?  Have any go-to places for shopping for these versatile pieces?  I'd love to hear about them!