It's hard to come up with new and exciting dishes to make for dinner, especially when you work all day and the last thing you want to do is try to be inventive and creative in the kitchen.  That's where my husband comes in.  Sorry, but I do have to brag a bit – he cooks dinner and does a damn good job!  He takes into account my dietary constraints (gluten-free) and my new-found extra 10 pounds that I need to shed ASAP.
The other night I came home to him in the kitchen, telling me that I inspired the dinner choice.  It stemmed from a dish I like to order from our local (and delicious) Greek restaurant.  It was delicious, hence the reason why I am sharing!
INGREDIENTS:
1 large eggplant, cut lengthwise
1 yellow pepper, cored and diced
12 grape tomatoes, chopped
Grated parmesan cheese
Turkey meat, browned
1/2 cup gluten-free bread crumbs
Shredded mozzarella
Core the eggplant, placing the eggplant "meat" in a bowl along with the yellow pepper, grape tomatoes and turkey meat.  Mix the concoction together well.  Add the bread crumbs, and mix well again.  Place the cored eggplant shells on a baking sheet (lined with aluminum foil).  Stuff the eggplant with the mixture from the bowl.  Sprinkle the parmesan cheese over the eggplant halves, then sprinkle the shredded mozzarella on top as well.
Bake in the oven at 350 degrees for about 25 minutes or until the cheese is fully melted.
This is what it looked like…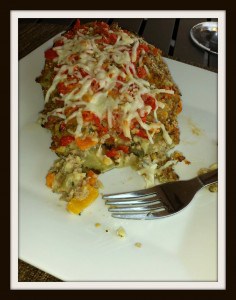 We ate it all alone – no side dishes needed – but if you feel the need, a nice spring mix salad could go along nicely with this.
It was delicious.  I mean DELICIOUS.  It had such great flavors, was healthy and totally filled me up!  As my husband says, "We are definitely adding this to our rotation."