I don't want to talk about hurricanes as much as you don't BUT it's imperative that we are prepared.  I've written about what we need to do to ensure the family and home are safe, but what about your pets?
One thing I am extremely grateful for is that we receive ample notification that a hurricane may come our way.  There are many times hurricanes choose a different path than ours (which we are thankful for), but when they are on target for South Florida, I need to make sure that my entire family is safe, including my pets.
Here are some very helpful tips to ensure your furry friends are at ease.
MAKE A PLAN
If a hurricane is coming your way, are you going to hunker down or head out?  If you plan on heading out, you need to decide if you are going to bring your pet with you or find a safe haven for them.
Few public shelters allow pets so be sure to make the appropriate accommodations.
Many veterinarians and pet hotels offer shelter but be sure to book early as there are others that are in the same mindset.  Leave a familiar toy or blanket with your pet to ease them a bit during the separation.
If you are going to bring them with you and plan on staying at a hotel, make sure that it is pet-friendly!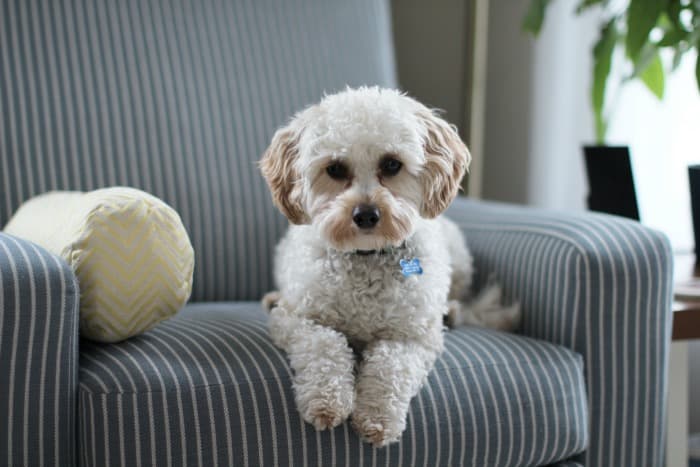 Should you have an exotic pet such as a turtle or other reptile, try to find a friend or relative outside of the storm area that can tend to them.  I learned that they are much more sensitive to environmental changes than cats or dogs, and require specialized care.
PET EMERGENCY KIT
If you plan on staying at home, you will need to have a proper emergency kit for your pets.  Key items to include:
Water for three days
Can opener for any canned pet food
Food for two weeks
Carrier if needed
Medicine if required
Extra leash and collar
Your pet's medical records in a waterproof bag
Photos of your pet should you get separated
It would be ideal if your pet has a microchip.
WEATHERING OUT THE STORM
If you plan on staying at home during the storm, aside from the pet emergency kit mentioned above, here are some tips to make sure your pet is OK.
If your dog or cat has a cage/kennel at home, it may be best to secure them in there.   It's more to keep them calm than anything.  I know that when Sadie is not feeling well or there is a thunderstorm, she heads for her kennel.  It's like her safe haven or den.  I make sure some of her favorite stuffed toys and one of our blankets are in there for extra comfort.
Once you've located the safe room in your house (interior room without windows in the center of your home usually), be sure that everyone, including your pet travel to that location, should you need to.
PET HURRICANE PREPAREDNESS IS IMPORTANT!
One of the most important things you can do is to keep calm – for you, your family – both furry and otherwise.  They can sense before we do that a storm is coming (usually due in a drop in the barometric pressure).  Take care of everything you need to ensure safety for you and your family – giving love to the furry ones especially along the way.