When I hear "Hollywood, Florida" it reminds me of my Spring and Summer vacations to visit my grandparents.
Almost every spring break and summer we would pack up our warm weather clothing (I lived in New York until I was out of high school), and fly south for some quality family time and fun in the sun.
My grandparents lived in Fort Lauderdale, but our go to beach was Hollywood Beach. We'd head to the beach equipped with sand pails, shovels, and brown bagged lunches. I'd make friends with nearby kids and play in the ocean, dig moats, and build sand forts.
When I returned to Hollywood, it infused me with a bit of nostalgia.
Where to Stay in Hollywood
I am all about modern, boutique hotels so CIRC Hotel was right up our alley. Located at Hollywood Circle, CIRC is central to just about everything you'd want during your visit.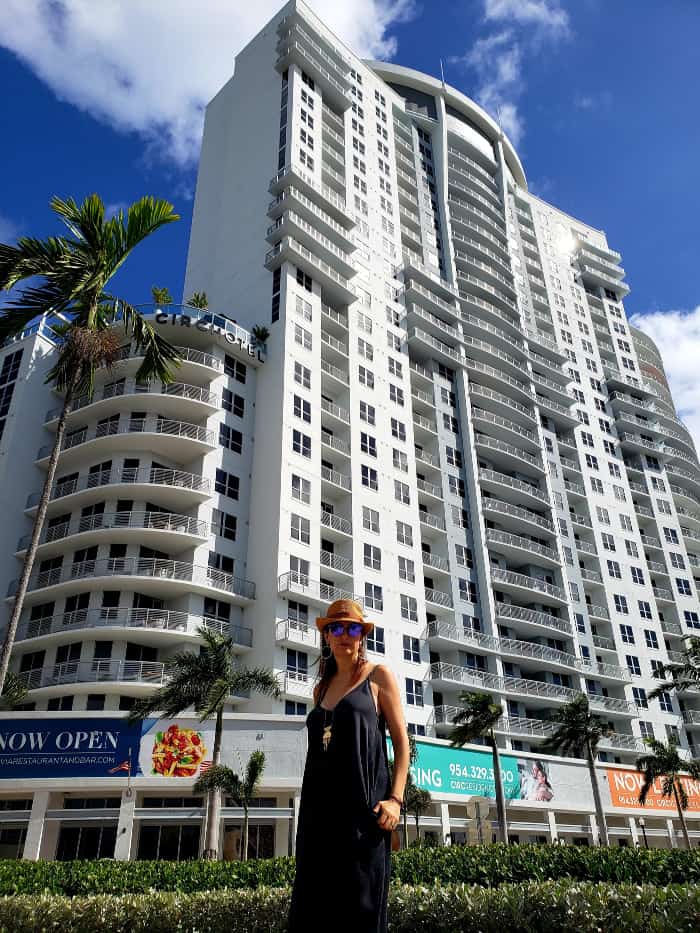 With only 111 hotel rooms, this super cool hotel nestled right in downtown Hollywood, is perfect for even an overnight stay bridging your time before or after a cruise from Port Everglades or a flight overseas!
Drive 7 minutes and you're on the well-known Hollywood Beach. Flying in and out of Fort Lauderdale International Airport is a breeze to get to and from – only 15 minutes away! Walk out the door of CIRC and explore a variety of restaurants and shops.
Maybe you don't want to go anywhere (my kind of vacation!). Relax at their rooftop pool or hang out at MUSE, the rooftop bar, overlooking the Hollywood skyline.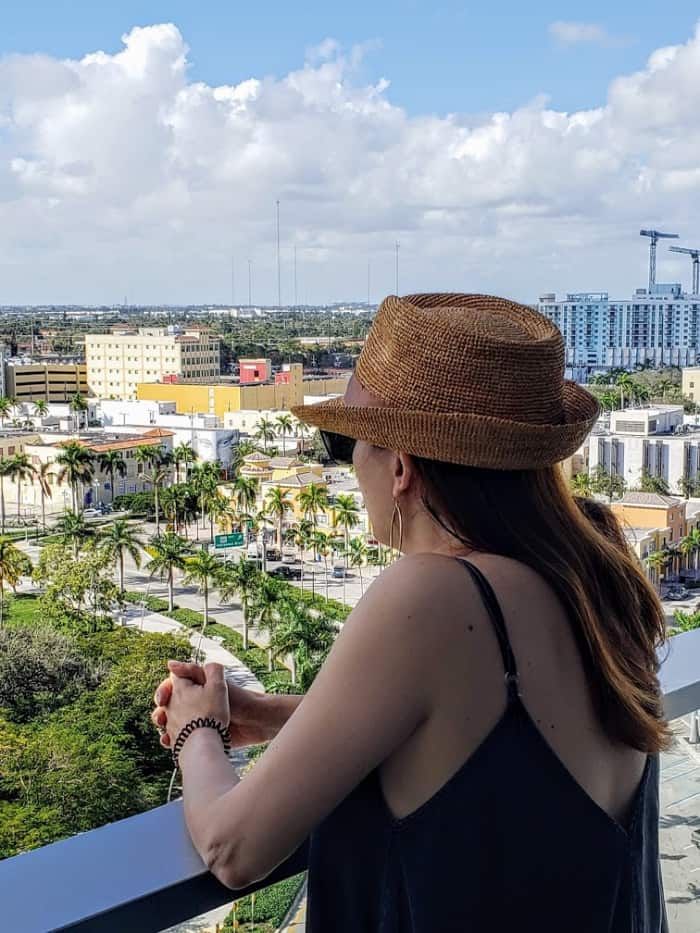 The rooms themselves were spacious and super clean. I especially appreciated the in-room Keurig coffee maker, the beautifully-tiled shower with rainfall shower head, spacious balcony, super comfy bed (SUPER comfy bed), and in-room fridge.
Dining at CIRC
When we stayed over at CIRC for a media event, we dined at Olivia right in the hotel. We enjoyed a variety of the appetizers available on the menu, including a few options from their Mozzarella Bar. (Yes, you read that right…they have a mozzarella bar.) It was the softest most delicious mozzarella, and the best is you can configure your cheesy app however you'd like!
It was hard to choose what we wanted to eat for dinner as the options were great. I opted for the lobster and yellow risotto and my hubby couldn't pass up the osso bucco (one of his favorite dishes!).
Everything was delicious, no exaggeration. The service was on-point. I loved that they had a mini version of a coat rack placed by the table for my handbag and scarf. Details such as that really mean a lot to me.
Dessert was ridiculous. Fruit tart, cheesecake, pistachio tartufo…you had to roll me out of there.
…and right upstairs to Muse, the rooftop bar, for a nightcap. I had never been to a rooftop bar (don't judge) and was loving it! The DJ had the crowd dancing, the drinks were flowing, the weather was gorgeous as was the view.
Looking for a weekend brunch place? Olivia now serves brunch on both Saturday and Sunday!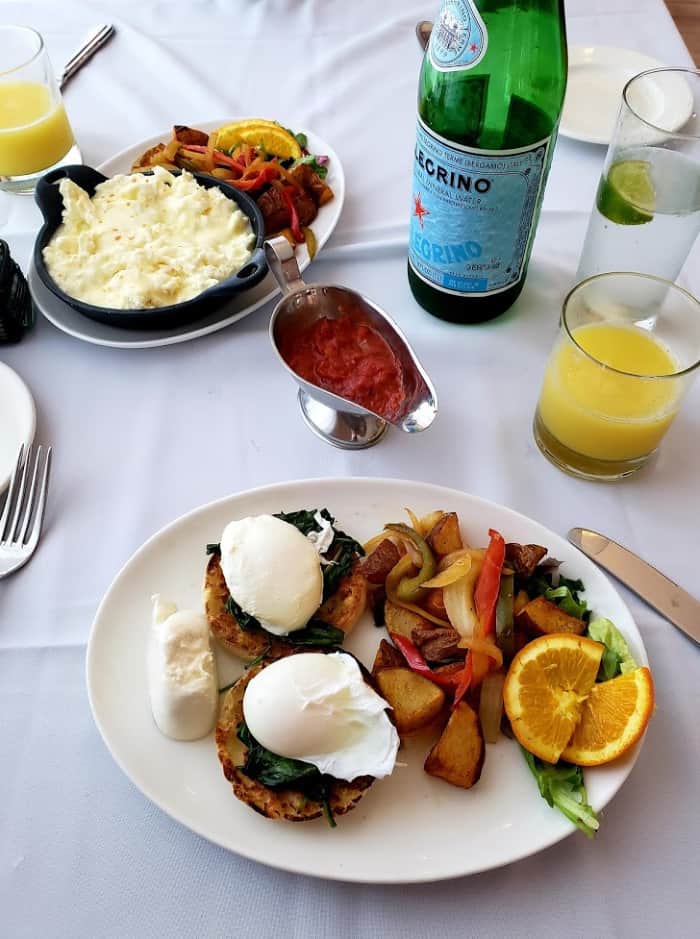 Address: 1780 Polk Street, Hollywood, FL 33020
Website: http://www.circhotel.com
What to Do in Hollywood
Fun in the Sun!
Every summer when I would visit Florida, we would schedule our days around the weather. Summer is rainy season down here. More times than not, it would start raining at about 3:00 p.m., cooling the day off a smidge.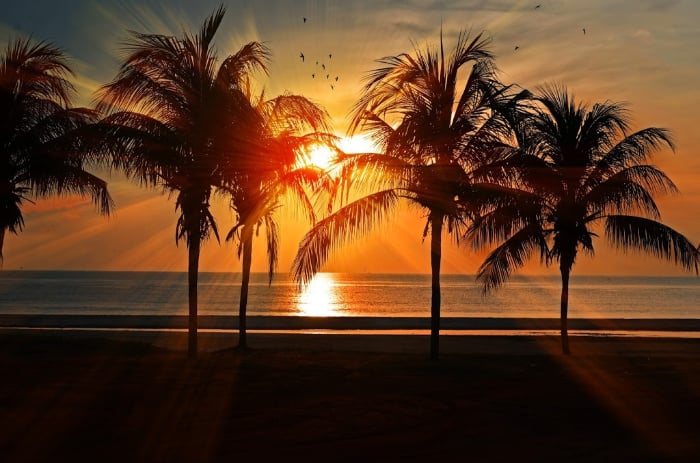 In my opinion, beach trips should be planned before that time regardless of the season. Make sure to bring sunscreen!
Stroll the brick-paved beach boardwalk, named one of the Best Beach Boardwalks by Travel + Leisure Magazine. Grab a slice of pizza or ice cream along the way and enjoy the view!
Street Art Hunting!
My husband and I love street art, so we were looking forward to checking out some of the cool murals in the area.
There are over 2 dozen murals to find – have fun with it!
Visit a Hollywood Icon
When I would visit in the summertime, it would always be during my birthday. Each birthday my grandparents would bring me to Jaxson's Ice Cream where I would get an ice cream sundae with sparklers in lieu of candles.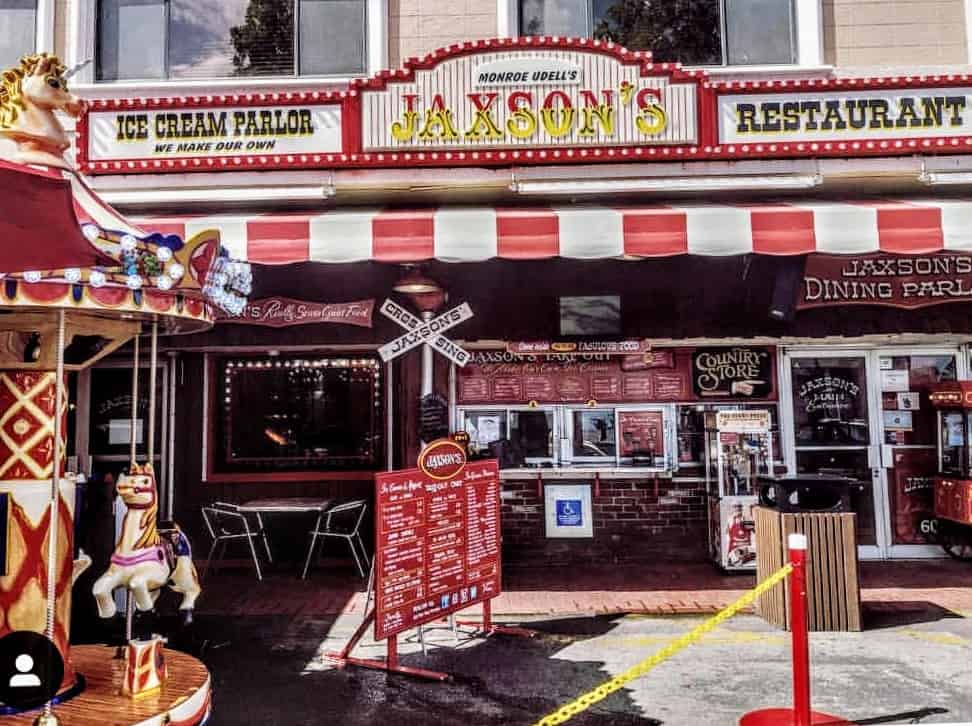 Jaxson's is an iconic locale, serving more than delicious homemade ice cream (my boys loved their hot dogs and fries), and really brings back sweet memories for me.
The restaurant almost always has a line so bring your patience unless you go at an off time. When you walk inside, you are brought back to the old school candy stores. Note to parents – your kids' eyes will expand exponentially when they see the mecca of sugar before them. I'm warning you now!
Address: 128 S. Federal Highway, Dania Beach, FL 33004
Website: http://www.jaxsonsicecream.com
ArtsPark
Infuse a little bit of culture into your Hollywood stay by visiting ArtsPark. Located at Young Circle, this 10-acre park houses a variety of artists – glassblowers, a silversmith, and gallery with rotating exhibits.
Address: 1 N. Young Circle Hollywood, FL 33020
Website: http://www.hollywoodfl.org/65/ArtsPark-at-Young-Circle
Hollywood is one of the must-see cities to visit when you're in Florida. It's a melting pot of old and new Florida, filled with culture and of course – sunshine!