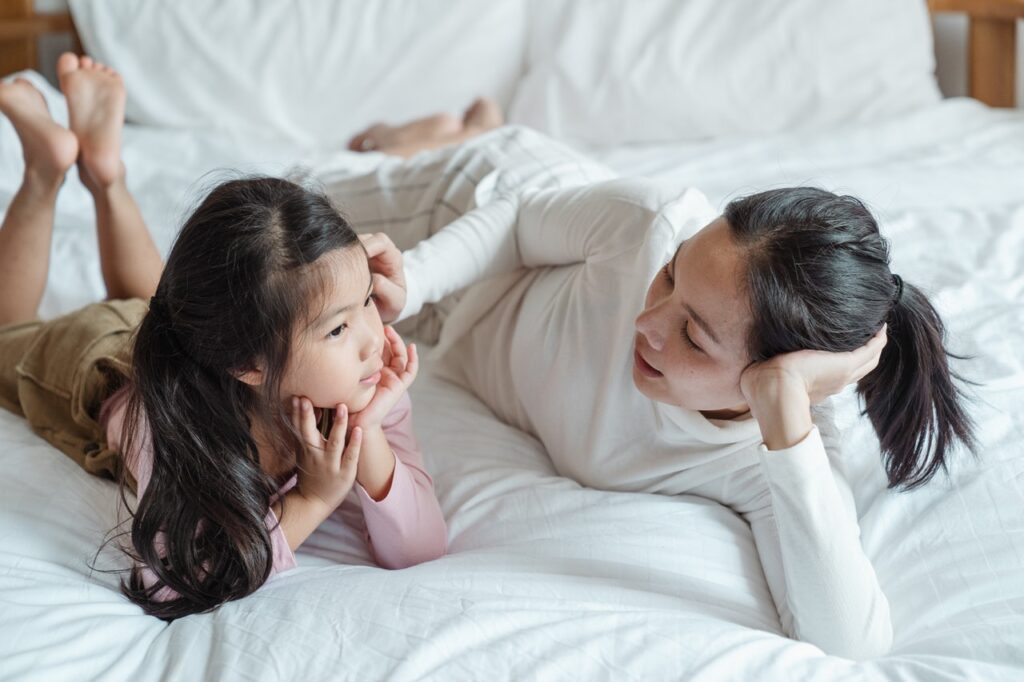 I remember when the boys were little and they would say absolutely anything that came to mind.
ANYTHING. There was NO filter.
And you know what? I embraced it. Of course, if something came out that was inappropriate I'd take them aside and explain why they shouldn't say what they did. It happened here and there, hence the well-known phrase
Out of the mouth of babes.
As our children get older, they understand and learn about the difference between right and wrong. They learn from what we teach them, from school, and less attractively – from social media and their friends.
Toddlers and Elementary Ages
It is a give-in that we cannot shelter them as much as we'd like from what they learn from the latter two, but we can proffer up our ears should they need someone to talk to.
When the boys were little and I noticed either frustration or sadness (and of course happiness), I wouldn't jump up and exclaim, "Oh no! What's wrong?!" I felt that would make them more hypersensitive to whatever did occur to make them fret and not be willing to talk about it.
Instead, I'd sidle up next to them, and in a normal tone just ask what's up. Maybe ask how they are feeling. More times than less they would take a deep breath and explain what happened, opening up the conversation and allowing me in to help.
As They Get Older
As our kids get older, they start to confide and rely on their friends and us parents may not be "as cool" as we once were.
I've learned that they can be somewhat guarded as to what they divulge about their day and how things are with their friends (and girlfriends), so I tread lightly.
Introduce QT
Dinnertime is quality family time in our household. With sports ramping up big time, we can't eat together as much as we'd like to, so when we do we take full advantage of it.
It got a little old when we'd ask them, "What did you do today in school?" and the response was, "Nothing".
Really? You just sat in your class(es) and stared at the wall? So, we started asking the kids to tell us 5 things about their day.
Enlist Props
Something as simple as a card that asks an open-ended question can literally open up the modes of communication.
Grab a card game, like Table Topics, or something along those lines. We use the family version, but there are so many different ones to choose from.
It's actually quite interesting what we've learned about each other. Some make us laugh. Some make us really stop and think. I definitely recommend them – or make your own!
Indirect Conversation
I've learned that if I get wind that something either occurred in school or with a friend, I start a conversation about something totally different with them.
It could be something as simple as, "What did you have for lunch?" that morphs in to, "How was lunchtime?", which can then lead into what maybe happened at lunch with a friend – you get where I'm going.
Listen. Just Listen.
We are all busy, but we need to take the time to listen.
I let them speak and get their entire thought out before jumping into what I may think is the appropriate solution. Sometimes just letting them talk it through can help lead them to a solution.
Hugs are also extremely powerful. Hugging and listening can be a superpower duo to help calm your child and open up.

Go On Adventures Together
Kids love adventures, and there's no better way to get them talking than by going on one together. Plan a day where you and your kids can explore a new place or do something fun and exciting. This will allow them to share their thoughts and experiences with you. It will also help you to build closer bonds with your children. This can be a big overseas adventure like a range of Galapagos cruises or a simple short road trip up state. Experiencing life with your kids is always a great way to bring everyone closer together.
What Do You Do?
I am by far no expert when it comes to this but I enjoy sharing what works with our family in hopes that it may spark something for yours. I'd love to know other tips on how you get your kids to open up and talk! Please comment below so I can add them to my arsenal of info!