During my super fabulous vacation in Paris, Anouk and I stumbled upon these great chairs on exhibit at the Pompidou!
Here is an article about those very chairs on
Houzz
:
"An orange slice, a pumpkin, a ribbon and a tongue. These four things have one thing in common: They all served as inspiration for sculptural chairs designed by Pierre Paulin (1927–2009). Their shapes and volumes are futuristic with a midcentury modern spirit. Some appear to be cut from solid volumes; others look like upholstered origami; some even swipe their geometry from fruit and fungi. The common thread is that they are soft and sculptural, and your intrepid guests will make a beeline for them when choosing a seat.
Speaking of intrepid, the man behind these chairs designed furniture since the midcentury era (hence the aforementioned spirit), for people including French presidents Georges Pompidou and Francois Mitterrand. Upon Paulin's death in 2009, then-president Nicholas Sarkozy paid tribute, saying, "He made design into an art form. … The beauty of his work spread far and wide, from the furniture of the presidential palace to the daily lives of millions." Museum curators at MoMA and The Victoria and Albert Museum also hold Paulin in high esteem and have added his designs to their collections.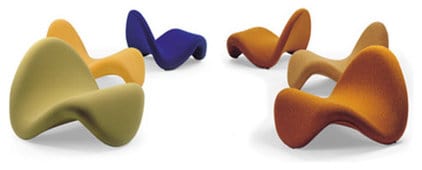 Paulin said, "A chair should be more than simply functional. It should be friendly, fun and colorful." These Tongue Chairs certainly fit the bill."
Article by:

Hi There! I currently live in a 1920s cottage in Atlanta that I'll describe as "collected." I got into design via Landscape Architecture, which I studied at the University of Virginia. I've been writing about design online for quite a few years over at Hatch: The Design Public Blog.