Maxi dresses have to be one of the best fashion inventions of all time (aside from slippers) in terms of comfort.  At first I thought I couldn't wear maxi dresses because I am a bit on the vertically challenged side, but I put my height aside and am glad I did!
Maxi dresses come in every color and pattern, as well many different styles (halter, t-shirt, strapless) to fit any occasion.  You can find them in just about any store in the mall and of course, online!  Here are some of my faves:
I am a big Banana Republic fan, even more so since they introduced their petite line of maxi dresses.  It is sad that I get excited over the fact that I don't have to first bring the dress to the tailor for shortening before wearing it.  It happens way too much, but not with Banana maxis!
While waiting for the Diva Duck tour bus/boat to come, I had some time to browse Macy's and found this maxi.  I didn't have time to try it on, and am glad I didn't because I searched online that night and found the petite version…can't wait for that package to come (and I got clearance from the husband for the purchase so there will be no back-talk when it arrives).
Piperlime is one of my favorite websites to shop from.  Free shipping and returns, great brands, great sales…Here are some of the maxis I love (and own some of them)!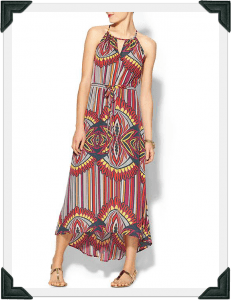 I own the one above in black and mushroom…and the fact that it is on sale for under $45.00 now…that is a GREAT buy!
Loft is another one of the websites that I frequent that has some great maxi options, and sales!  I purchased this maxi to wear at my son's birthday party.  It was a bit long, but once hemmed, fit so well…perfectly hiding some of those areas you want hidden with its empire waistline.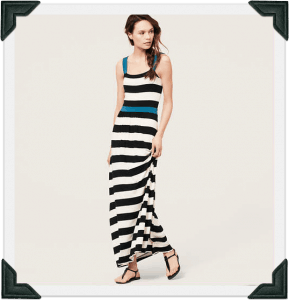 I love that maxi dresses are super comfy and totally on trend.  Pair with a cardigan or blazer for work, on its own, with a pendant necklace, and heels or flats.
Which dress is your favorite?  Where do you shop for maxi dresses?