Seeing and/or making someone smile always makes me smile.  Having a healthy smile is even more important.  Here are 5 tips for a healthier smile AND an intro to my new fave ultrasonic toothbrush!
I love to smile, and the first thing a person sees when I do so, are my teeth.  The health of your mouth leads to good health in other areas of your body, so it is important to take care of your teeth, gums, and tongue health as well!
Dentist Appointments: This is a healthier smile tip give-in but I have to mention it.  I go every 6 months for a cleaning, and at the year mark, they do x-rays to make sure all is well.
Be Gentle: I used to think that if I brushed my teeth super rigorously I was giving them an amazing cleaning.  That wasn't the case.  I was inadvertently promoting a receding gumline.
Four Score: The way the electric toothbrush is set up, in terms of timing, is breaking your mouth down into four sections.  You brush your teeth in the first section for thirty seconds – wait for the first burst to end, and then move on to the next section.
Alcohol-Free: I already use alcohol-free mouthwash as I felt the others actually dried out my mouth more.  It is recommended to also use an alcohol-free (and non-abrasive) toothpaste as well.
Floss: I love the individual flossers.  I keep a bag in each of my cars as well as in the kitchen and bathrooms.  It makes flossing that much easier.
I've always wanted to try an electric toothbrush, as I didn't think my manual one was doing the job.  When I was offered to try out the Smile Brilliant cariPRO Ultrasonic electric toothbrush, I figured it was about time I retire the old school manual version.
I was like a kid in a candy shop when the package arrived – super curious to see if this electric toothbrush really made a difference in my oral hygiene.
After unpackaging the brush, I charged it for a full 24 hours on the included charging base.  Once that little red light turned green, I was good to go!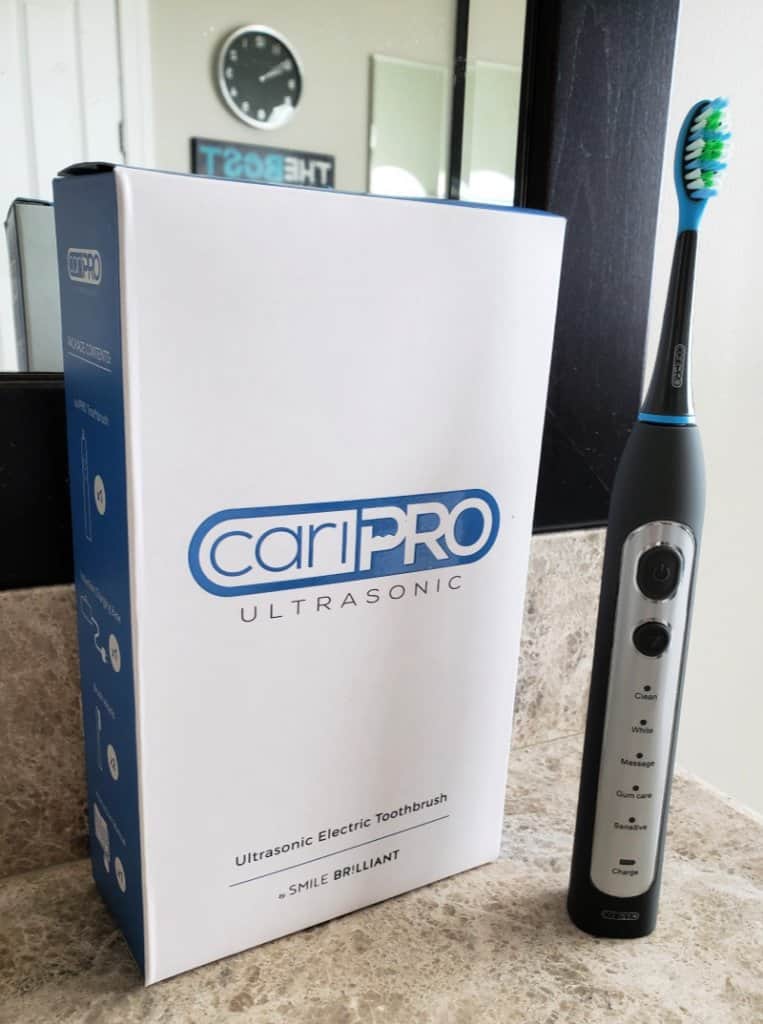 The brush itself has five different settings:
Clean: the standard mode for daily cleaning, leading to a healthier smile
White: (my favorite) the most powerful mode perfect for surface stains and polishing.  I love red wine and coffee – two items that can drastically stain your teeth.
Massage: I use this mode along with the "Clean" mode as it is best for gum stimulation (perfect for increasing blood flow in your gums, which equals healthier gums!)
Gum Care: I felt this mode was similar to the "Massage" mode.
Sensitive: If you have sensitive gums and teeth, this mode is for you.  My gums are super sensitive, and this mode is a bit gentler than the "Clean" mode.  I started with this mode and after the first week graduated to the "Clean" mode.
It is a lot easier than you may think to create and keep up a healthier smile.