There are SO many options when it comes to dining out in South Florida, especially downtown Delray Beach.  I personally happen to gravitate toward either Asian or Mediterranean cuisine, so when I learned that Amar Mediterranean Bistro opened up, I needed to check it out!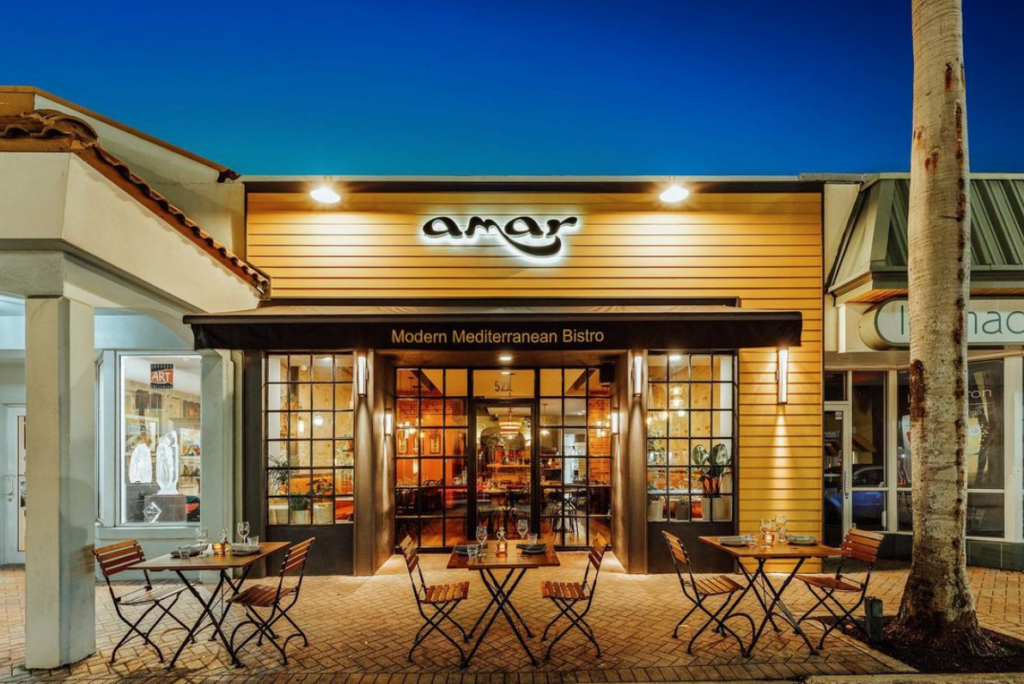 It was a typical rainy summer evening in South Florida when I met my friend and fellow foodie, Destiny, at Amar to learn about what all of the hustle and bustle was about.
Walking into the bistro, I appreciated the cozy atmosphere of minimal tables (maximum occupancy 48 inside, approximately 12 outside).
The menu, although not overwhelming in the Cheesecake Factory sense, was a lot to take in.  Perusing the variety options – from the cold and hot mezze to the kebobs and signature dishes – proved there were a lot of solid decisions to be made!  (There was an impressive selection of vegetarian and vegan dishes to choose from.)
We started out with a chilled glass of the Lebanese red blend, Chateau Musar "Jeune" which was perfect for the hot and humid Florida evening we were experiencing.
My eyes gravitated toward the Hummus with Lamb, as I am a big hummus fan.  The lamb added that extra richness and tang that made the homemade hummus even that more delectable.
The Arnabeet Mekle was next, and I can justify that it is a fan favorite for a reason!
Anything with octopus is a must-order, although knowing that it could be hit or miss depending on the locale.  The Octopus with Lentils was on point.  The chef boils the octopus and then places it in the wood-burning oven, topping it with a tomato and pepper sauce that does not take away but compliments the octopus.
We also ordered the Sweet Potato Kibbeh, which paired so well with the Mint-Cucumber vegan yogurt.
For an entree, we opted for the Sheikh El Mehchi – eggplant stuffed with mnced meat, baked in a tomato sauce.  This entree, prepared as it is, is not something you would see on a conventional Mediterranean menu.  It's something you'd enjoy at your grandma's home – a true sentiment to the thought put into the dishes offered.
We couldn't NOT end the evening with assorted baklava – each piece with the perfect amount of sweetness.
If you can't decide on what to offer, you can opt for the "Taste of Amar".   This great alternative to ordering traditionally offers you the opportunity to dabble in the different dishes available.  For $52 per person (price as of the publishing of this article), your table will start off with:
Hummus
Baba Ghanouj
Fattouch
Warak Enab Falafel
Arnabeet Mekle
Batata Hara
Moudardara
…and yes that was just starters!
You can then choose from one of these four popular entrees:
Chicken Shish Taouk
Kafta Kebab
Grilled Branzino
El Mehchi
The chef then chooses a dessert to finish off your dining experience on a sweet note.
A Little About How Amar Came To Be
Aside from overly enjoying the meal, I was able to spend a bit of time with the owner, Nicholas Kurban, and his uber-talented wife, Susanna (she's the magical baking hands behind all of the sweets you enjoy at Amar).
For 25 years prior to opening this new Lebanese food hot spot in the heart of Downtown Delray Beach, Florida, Nicholas managed food and beverage programs for infamous locales such as the Borgata in Atlantic City and Las Vegas' Wynn Resorts.  Opening up a restaurant of his very own was fueled by the home-cooked meals he'd enjoy as a child in Beirut.
Amar's menu is a culmination of modern Lebanese dishes morphed from family recipes.
Ready to Make Reservations?
Will I see you there?  I recommend making reservations as the bistro tables fill up quite fast!
You can visit Amar Mediterranean Bistro at:
522 East Atlantic Avenue
Delray Beach, FL 33483