Who ever thought that making baked brie in puffed pastry would be this easy?
There are no less than 8 people at each holiday event, so I need to find appetizer recipes that are easy to make and of course, delicious!
Baked Brie in Puff Pastry
Every dinner party we have includes an appetizer with cheese. I love to make a charcuterie but it's nice to switch it up a bit every once in a while!
My sister made this for the first time a few years back and I have been following suit ever since. What I especially like about this baked brie recipe is that you can mix and match some of the ingredients to fit your taste buds. Swap out the sliced almonds for walnuts, the dried cranberries for dried blueberries, etc.
You can serve the baked brie with:
Wheat thins
Carr's Water Crackers
Pita chips
Baby carrots
This is the perfect appetizer for Thanksgiving dinner!
Ingredients
One 12 ounce wheel of brie cheese
One puff pastry (defrosted)
Honey
Butter, melted
1 cup sliced almonds
1 cup dried cranberries
Instructions
Place the wheel of Brie in the middle of your defrosted, rolled out puff pastry.
Smother with 3 tablespoons of honey.
Sprinkle almonds and cranberries onto the honey.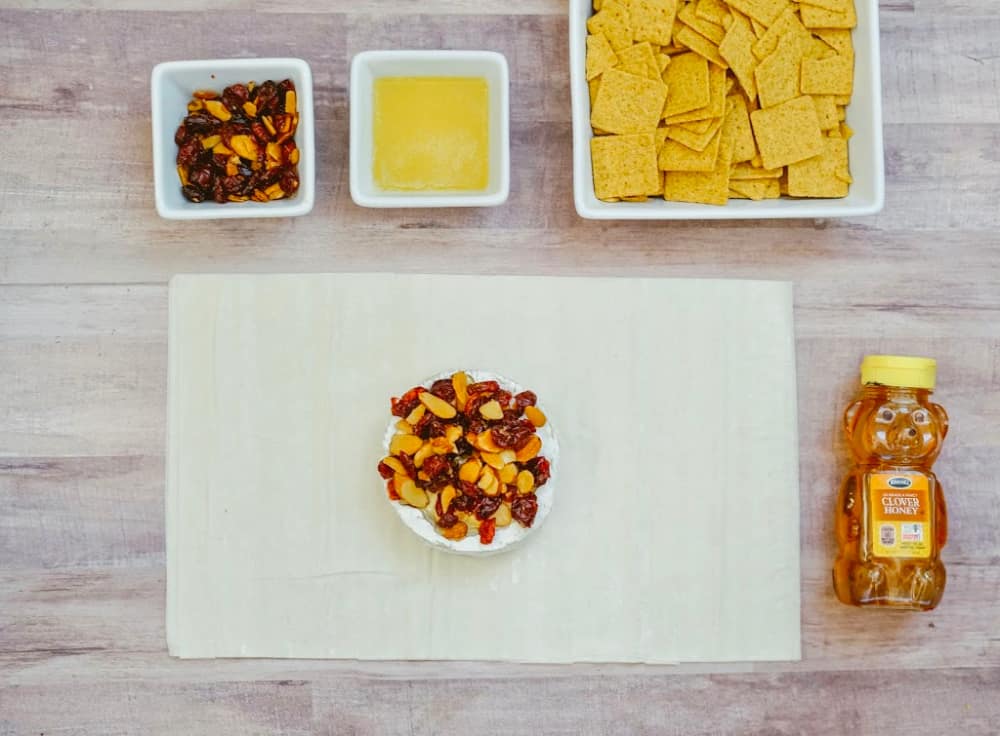 Fold up the corners of puff pastry one at a time, brushing all the dough with the butter as you go, using it like glue to hold the pastry together.
Bake the brie at 400 degrees for 10 minutes.
Below are some other super easy appetizer recipes:
Creamy Tuscan White Bean Dip via Garlic and Zest
Roasted Red Pepper Hummus via April Golightly
50 Easy Appetizer Recipes via Food Network
What do you like to make as an easy appetizer for the holidays?